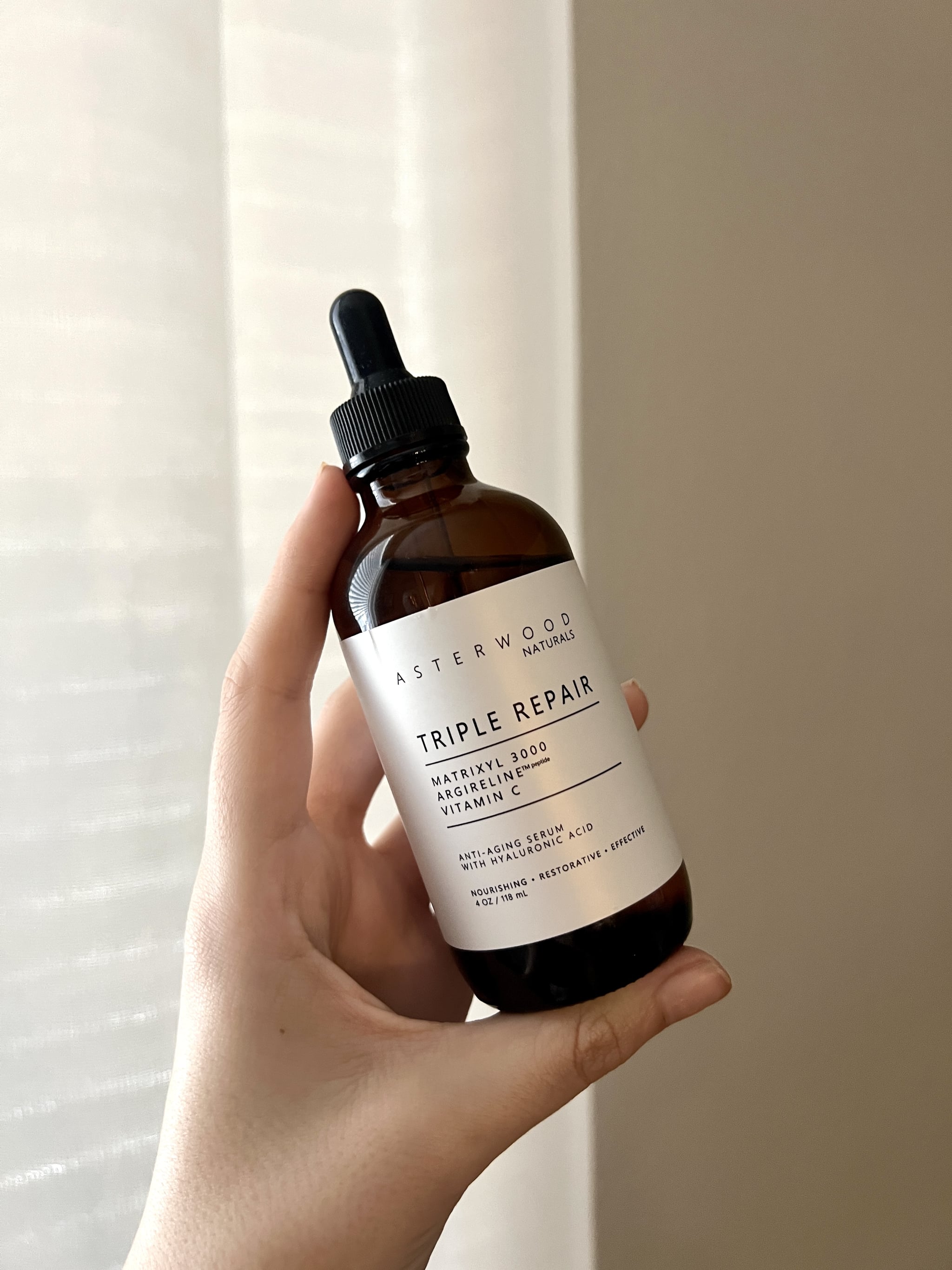 Of all my wildest beauty confessions, perhaps the one that garners the biggest surprise is the fact that I've never dabbled in the world of Botox — cue the audible gasps and stunned expressions, I know. Seemingly everyone these days has tapped into the benefits of Botox in one form or another — whether it be for their skin or relieving jaw tension. Don't get me wrong, I'm far from opposed to the skin-enhancing procedure — if anything, I'm mostly scared that it will work too well for me, and then I'll be tasked with spending money on the treatment for eternity. (I'm only 25 after all, so I figure I can postpone it for a little longer.)
But besides ushering in a new generation of Botox-obsessed beauty gurus, the treatment has also inspired a wave of over-the-counter skin-care products that claim to provide all the same wrinkle-eliminating benefits of the serum — but at a fraction of the cost. The Asterwood Triple Repair Anti-Aging Face Serum ($27) is one of many such products that's been trending all over my TikTok feed, with users claiming it's comparable to "Botox in a bottle." Even better, it's available to shop on Amazon and with a price tag that comes in under $30.
Intrigued by the serum's 5,000 (and counting) five-star reviews on the site, I decided to test the product out for myself to see if I noticed any real difference in the texture, elasticity, and vibrance of my skin. Ahead, I break down all of the product details behind the Asterwood Triple Repair Anti-Aging Face Serum — and explain why it's quickly become a staple in my evening skin-care routine.
About the Asterwood Triple Repair Anti-Aging Face Serum
This all-in-one serum boasts a number of nourishing ingredients, including hyaluronic acid, vitamin C, Argireline, and Matrixyl 3000.
The product is designed to target a number of skin concerns like discoloration, wrinkles, vibrancy, and dryness.
Asterwood's Triple Repair Serum is made to work for all skin types, and per the brand, it's recommended to use in the evenings as part of your normal nighttime skin-care routine.
The solution is also free of parabens, sulfates, and oils, and it's fragrance-free.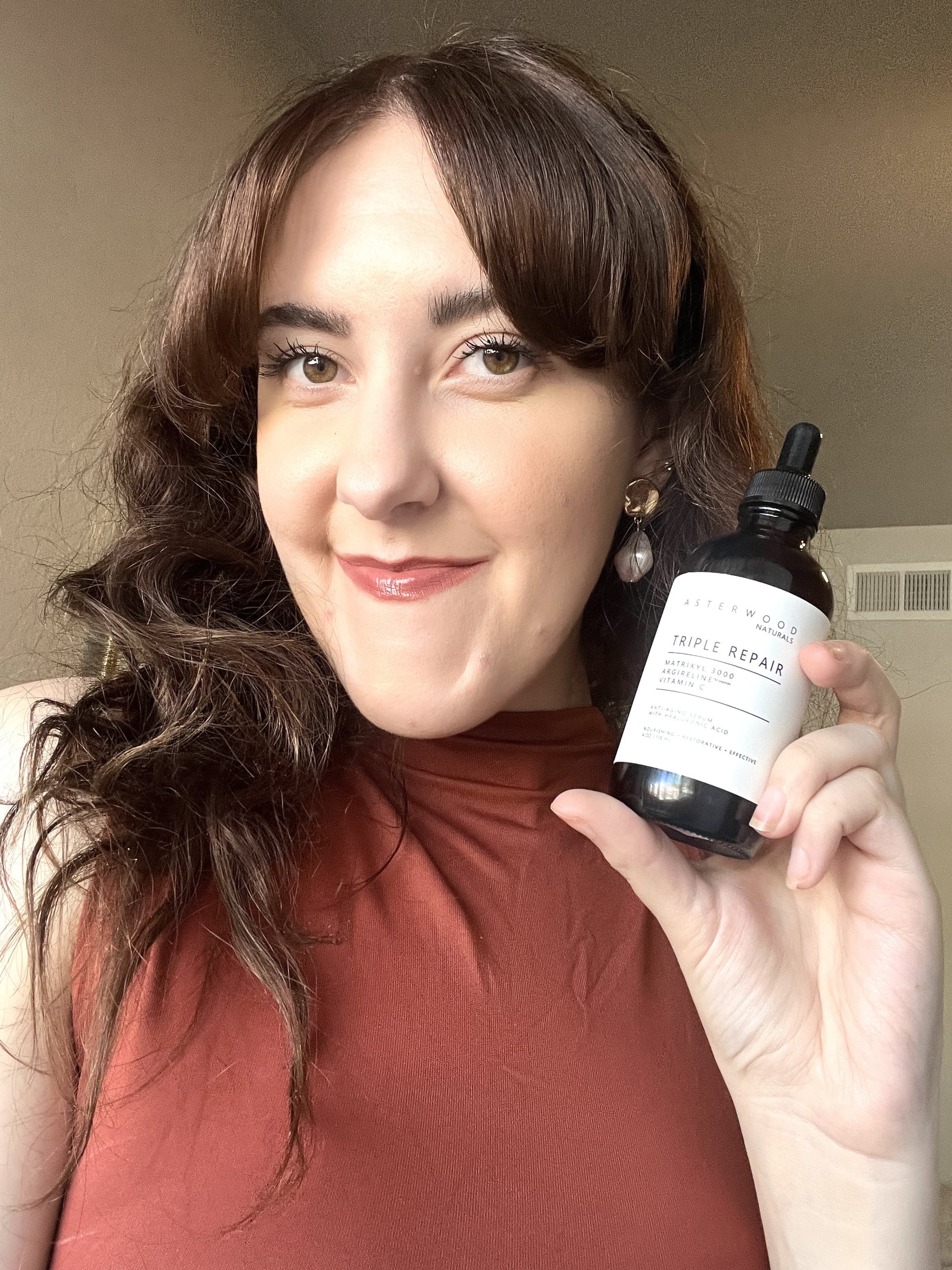 What I Like About the Asterwood Triple Repair Anti-Aging Face Serum
I like that the formula feels incredibly lightweight and instantly seeps into my skin. I've historically struggled with using certain serums or oils in my skin-care routine because they've had a tendency to sit on my skin's surface rather than properly absorb or mesh with other products. This formula feels completely unique in that it's thick enough to feel like it thoroughly coats my skin (a little goes a long way), but not so much so that it disrupts my use of other products.
With this serum, I would very much say that the results are a slow burn — it took me a few weeks before I started noticing a visible difference in the texture and vibrancy of my skin, but I did eventually begin to notice a change. Given the product's affordable price tag, I'm more than happy to take my time using it before I see any real results. And I also appreciate that unlike other "Botox in a bottle" dupes that promise an overnight upgrade on skin, this solution relies on organic ingredients that I can trust will nourish and transform my skin over time rather than overwhelm it.
How to Use the Asterwood Triple Repair Anti-Aging Face Serum
Because this formula has so many active ingredients, I wanted to make sure to follow the brand's recommended directions carefully. I have notoriously sensitive skin, so any hiccup in my daily routine will immediately have me breaking out or showing noticeable signs of redness. Per Asterwood, this serum is recommended for nighttime use and can easily be incorporated into your normal skin-care routine. Before jumping all in on the product, I decided to do a quick patch test on my wrist one evening just to make it didn't inspire any immediate irritation. Once that cleared, I swapped it into my standard evening regimen.
To start, I generally take my makeup up off with makeup removers and then follow up by washing my face with a gentle cleanser. To ensure my skin is hydrated enough to absorb all of the formula's ingredients, I lightly pat my face down with a towel until the skin is damp. Historically, I've used separate hyaluronic acids and vitamin C serums in my nighttime routine, but because this formula has both already incorporated into it, I've decided to forgo them altogether — that way I can see the full benefits of the product in action. Per the brand, I release four to six drops of the anti-aging serum into the palm of my hand, rub my hands together gently, and then proceed to rub the actual product into the skin on my face and neck. Despite it being a liquid serum, the product doesn't feel overly oily, and I've found that it absorbs really well into my skin — which is a refreshing departure from some of the other serums I've tried that have a tendency to sit on the skin's surface.
From there, I opt for a brightening eye cream and finish off my routine with a rich moisturizer that can seal off all of the serum's ingredients into my skin.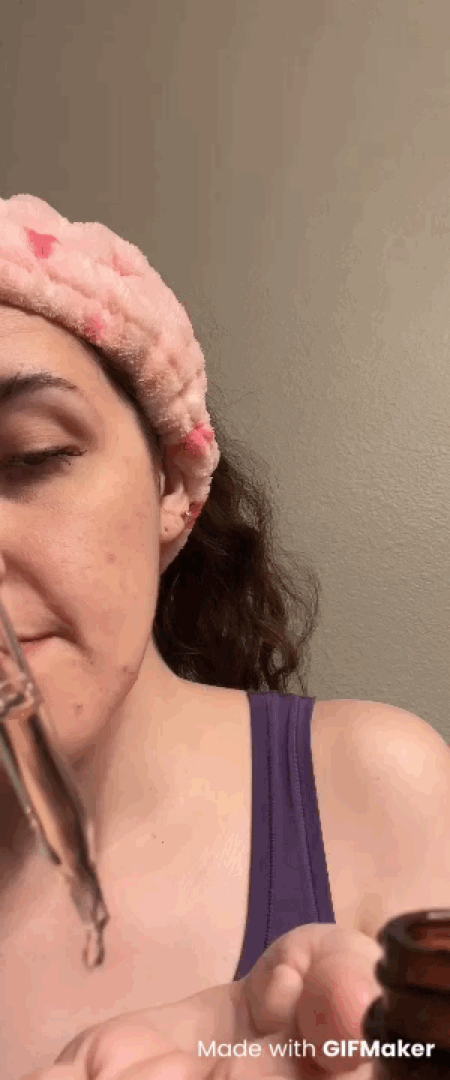 What to Consider Before Trying the Asterwood Triple Repair Anti-Aging Face Serum
Despite being branded as a product that works for all skin types, some reviewers have noted that the serum didn't produce noticeable results for their skin — even after a month of use. Others also acknowledged that they got a rash or red spots on their skin after using it several times. With any ingredient-heavy skin-care product, a good rule of thumb is to always do a patch test before incorporating it into your skin-care routine. Everyone has a different skin type, and the notion that it will yield similar results for you as it did for others isn't realistic. It's important to patch test the formula, gently ease it into your routine, and even remove other high-ingredient products accordingly to ensure your skin doesn't get overwhelmed.
Another thing to note is that in my own experience with this serum, it takes time to start noticing real results. While it certainly has wrinkle-defying qualities, you won't see any skin-tightening changes happen overnight as you might with a typical Botox treatment. I noticed that my skin looked slightly tighter and more rejuvenated after about two weeks of use, and it looked good enough after a month that my friends and colleagues started taking notice and asking what I had been doing differently.
Rating:

Image Source: POPSUGAR Photography / Kyley Warren