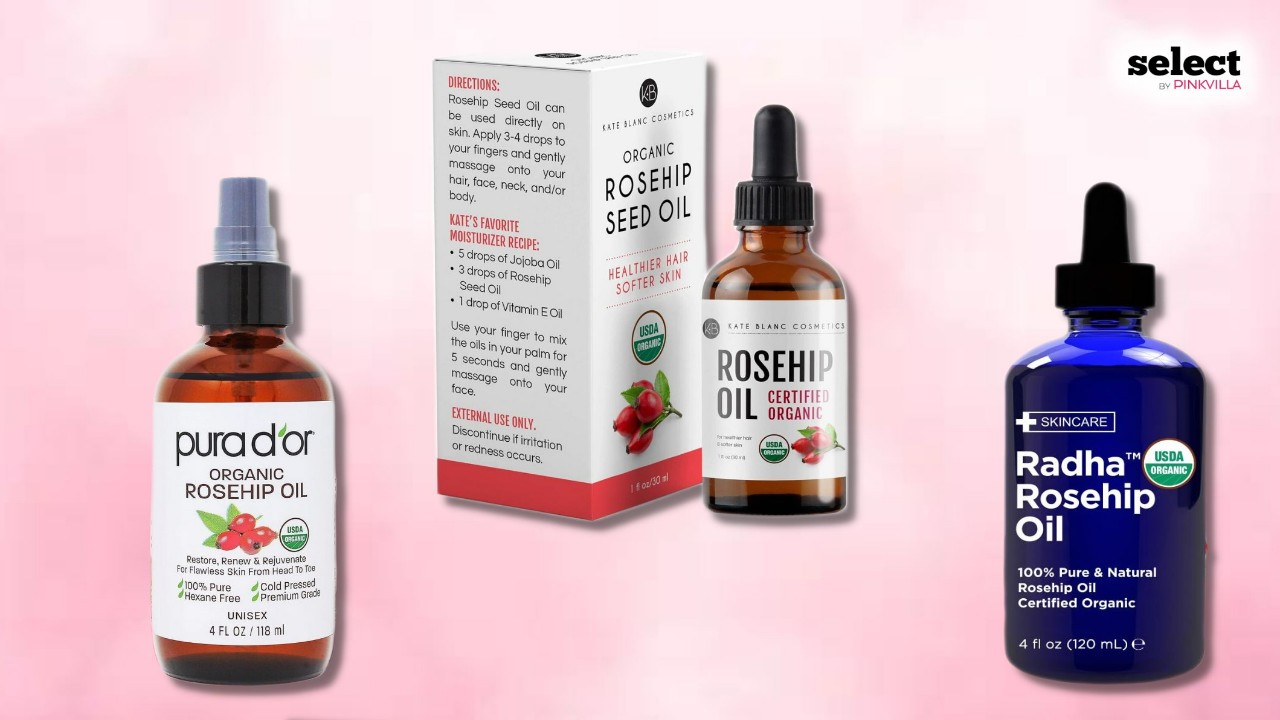 The products curated for this article are independently chosen by the
editorial team. If you make a purchase through the
links
mentioned below, we may receive a commission. Check out our
product
research & curation process
Rosehip oil is one magical product that deserves a place in everyone's beauty stash and skincare routine for its numerous benefits! Not only as a skincare product, but also as a hair care ingredient, it provides promising results that any other average oil fails to give. And thus, drawing from our experience, we are here with the list of the best rosehip oils that can be your doorway to get smooth hair, younger-looking skin, and healthy nail beds. Enriched with vitamin A, C, omega 3,6,9 fatty acids, linolenic and linoleic acids, the potent product heals the skin while slowing the aging process. It also reduces hyperpigmentation and generates new cells while reducing inflammation and enhancing appearance of uneven skin for a healthy glow.
Rosehip oil works excellently as a carrier oil as you massage your body with it for achieving radiant skin. Not only that, but the oil also takes the upper hand at smoothening the hair shafts, minimizing split ends, and reviving hair health. Plus, it also benefits your nail cuticles by strengthening the nail beds at the same time. Now that you know about the truckloads of benefits of the revolutionary product, take a look at our top recommendations for rosehip oils –
Our top picks
Best Cruelty-free Product
Best to Increase Skin Elasticity
Best Non-comedogenic Formula
Best to Exfoliate Skin Surface
Best for DIY Beauty Blends
15 Best Rosehip Oils to Get the Skin of Your Dreams
With a distinct nutty and earthy aroma, the rosehip oil comes in a natural cold-pressed form that works like magic as a carrier oil for hair, skin, and nails. It not only moisturizes the skin but also minimizes the signs of aging and makes the skin brighter while evening out the skin tone. On the other hand, the oil provides great shine and softness to your hair strands that you will fall in love with! Besides, the certified organic oil, rich in fatty acids, antioxidants, vitamin A & C, is cruelty-free and vegan-friendly that can be used even on the most sensitive skin.
Pros
Tantalizing aroma
Cruelty-free
Vegan-friendly
Minimizes signs of aging
Provides soft tresses
Rich in antioxidants
If you are into Gua-sha massage, this is probably the best rosehip oil for your face to include in your regime. The brand proudly claims that the cold press oil helps to minimize acne scars, fine lines, and pigmentation gradually! Moreover, packed with the goodness of vitamin E, the product takes the upper hand at promoting youthful glow, skin elasticity, and skin regeneration. The lightweight texture of the product also gets quickly absorbed by your skin without leaving any greasiness or residue. Liked it? Grab it now!
Pros
Promotes youthful glow
Moisturizes face
Works on eyelashes and eyebrows
Increases skin elasticity
Fades away acne scars
Lightweight
Enriched with rare and exotic ingredients, the brand boasts of providing you with the best formula packed with purity in every bottle. The cold pressed rosehip seed oil works like magic to even out the skin tone, diminish dark circles, fade acne scars and pigmentation. The best part? The natural oil is non-comedogenic and ensures a lightweight and quick-absorption texture that will minimize the chances of breakouts for an even clearer skin. Not to miss, the product also contains retinol in an active form that helps you blur out the fine lines and wrinkles.
Pros
Diminishes dark circles
Fades fine lines
Absorbs quickly
Evens out skin tone
Lightweight
Non-comedogenic
The rosehip seed oil goes a step ahead and claims to work like magic on not only fine lines, wrinkles and other signs of aging but also on pesky pigmented spots and stretch marks. It thoroughly moisturizes the skin while firming and toning it at the same time. Also, the 100% pure cold pressed oil works like a charm to brighten and nourish the skin as it mildly exfoliates the upper layer of the skin surface. Note – apply it before bedtime to wake up to a youthful look that you have always wanted!
Pros
Works on pigmented spots
Exfoliates skin's upper layer
Nourishes skin
Firms skin
Promotes youthful look
Brightens skin
Cons
Packaging could be better
This is one of the best organic rosehip oils that comes in a 100% pure and unrefined form to diminish advanced skin problems like stretch marks, eczema, psoriasis, sun damage, skin irritation, etc. The calming properties of the oil also help to deal with sensitive skin while moisturizing the blotchy and patchy areas for an unwavering glow! What's more? It works excellently as an anti-aging moisturizer that will make your skin look visibly plump for a youthful look. Add it to the cart right now!
Pros
Calms skin
Treats dehydrated skin
Makes skin visibly plump
Works on sensitive skin
Works on extreme skin condition
Treats stretch marks
The cold pressed rosehip oil works in more ways than you can imagine! It is loaded with pure and natural formula harnessed from the seeds of wild rose hips. The brand boasts of adding zero additives and fillers to deliver you the best quality, helping you soothe your skin and plump it at the same time. It also helps your skin regain elasticity while fighting pesky spots, stretch marks, and scars. Apart from working as a great skincare product, it also works wonders as a hair oil, cuticle oil, and feet oil to treat various problems like rough hair, brittle nails, and dry heels.
Pros
Zero additives
Helps in regaining elasticity
Fights pesky spots
Smoothes stretch marks
Plump skin
Soothes skin
Leven Rose rosehip oil has some rave reviews online that talks about how effective the product is when it comes to taking care of your skin, hair, and nails. Packed with anti-aging active ingredients like vitamin C, vitamin E, and retinol, it works like a charm on your fine lines, wrinkles, pigmentations, and scars. Not only just that, apart from thoroughly moisturizing your skin, the product also boasts of working like magic on dry hair and brittle nails. Furthermore, the lightweight texture gets absorbed quickly without leaving a residue in the first place.
Pros
Smoothes fine lines
Lightweight texture
Moisturizes thoroughly
Evens out skin tone
Works on brittle nails
Gets absorbed quickly
It is one of the best rosehip seed oil brands that offers you a finely balanced formula to let you use in DIY beauty blends. The product works as an organic medium to make your skin hydrated, hair nourished, and nail surfaces smooth for an overall polished appearance. It is also so lightweight in texture that it won't clog your pores; rather it gives you a clear skin without any blackheads, whiteheads, or acne. Add this to your cart right away because your skin deserves nothing but the best!
Pros
Makes skin hydrated
Gives overall polished appearance
Won't clog pores
Lightweight formula
Best for DIY beauty blends
Organic medium
The brand Premium Nature brings you a cold pressed unrefined rosehip oil that does countless jobs for your hair, face, nails, and even body. Extracted from the seeds of Rosa Canina, the rosehip oil can be used during massages, in face masks, body lotions, and hair oils. Free of harmful chemicals, the oil also gets absorbed quickly into the skin without leaving a residue or greasiness. Furthermore, it is a healing formula that infuses shine and replenishes the skin to increase regeneration of cells for a youthful glow.
Pros
Reduces wrinkles
Replenishes skin
Infuses natural shine
Contains healing properties
Great as a carrier oil
Reduces sunburn
Apart from rosehip oil, the product is also infused with turmeric, vitamin E, sea buckthorn, calendula, camelia, and chamomile to work wonders on mature skin. Other than moisturizing your skin, it also reduces fine lines, evens out complexion, and makes the face glowy while keeping the face hydrated for the longest possible time. Moreover, made of 100% natural ingredients, the alcohol-free beauty product is also eco-friendly and comes in a biodegradable packaging.
Pros
Packed with all natural ingredients
Vegan-friendly
Cruelty-free
Plant-based formula
Works on sensitive skin
Vegan-friendly
The facial oil is formulated with vitamin C and rosehip fruit oil to provide hydration to your skin while reviving it and balancing the moisture levels. It also helps to brighten up the skin as it reduces inflammation at the same time. Furthermore, the rosehip oil boosts the collagen production of the skin while improving the elasticity for a more youthful appearance. Plus, the product ensures to improve radiance by evening out the skin tone for a more polished look.
Pros
Nourishes skin
Boosts collagen
Brightens skin
Improves radiance
Non-greasy
Evens out skin tone
The cold-pressed rosehip seed oil is loaded with antioxidants that promise to rejuvenate the skin while making the face appear brighter and more even toned. It has a nourishing formula that thoroughly moisturizes the skin without clogging the pores. Formulated with safe ingredients, the cruelty-free formula of the product further gets quickly absorbed by the skin without leaving a greasy residue. It also contains vitamin C, omega 3, 6, and 9 fatty acids for a more plumper and brighter complexion.
Pros
Rich in antioxidants
Hydrates skin
Brightens skin
Vegan-friendly
Cruelty-free
Minimizes dark spots
The best feature of this organic rosehip oil is that it not only brightens or hydrates the skin, but also minimizes the appearance of wrinkles and fine lines. Plus, its ability to even out skin tone, blurs stretch marks, and scars deserves a special applause. The unscented oil further visibly repairs your skin while renewing the skin cells at the same time. Adding to that, the carefully crafted oil has zero adverse impact on the environment and on your skin health.
Pros
Provides optimal nourishment
Reduces stretch marks
Paraben-free
Non-GMO
Minimal impact on environment
Blurs wrinkles
Pursonic rosehip oil is loaded with vitamin A, C, and E that works like magic on your hair, skin, and nails. Addedly, if you are witnessing sagging skin lately, it is the ideal time to incorporate this magical product to improve the elasticity and firmness of your skin. Rich in antioxidants, it also diminishes the appearance of scars, blemishes, and stretch marks while reviving the tired-looking skin as you travel or work for long hours.
Pros
Reduces wrinkles
Fights eczema
Minimizes sun spots
Naturally hydrates
Treats pigmentation
Revives tired skin
This rosehip facial oil comes as a therapeutic grade unrefined oil to deliver you the best result for a youthful glow. With a soothing faint nutty aroma, it gets absorbed easily by the skin without leaving a greasy residue. Apart from increasing the collagen levels, it provides a greater amount of elasticity as it works on your skin to give you a youthful glow. What's more? The promising ingredients are gentle on your skin and hair, as after all, its extraordinary quality doesn't infuse any unsatisfactory component.
Pros
Hexane-free
Solvent-free
Gives youthful glow
Gentle on skin
Promotes healthy hair
Nourishes scalp
Now that you have checked out the products, take a look at how you can choose the best one for yourself—
How to Choose the Best Rosehip Oil?
Here are the parameters to consider before buying the best rosehip oil – 
a) Packaging- You must always choose a rosehip oil that comes in a dark bottle to minimize the exposure to light so that doesn't change its effectiveness. An oil with a dropper will also work well in terms of ease of use.
b) Consistency- A good rosehip oil comes with the right consistency, not too thick, not too runny, which also gets dissolved into the skin without leaving a residue. This kind of consistency will work best on every skin texture and type, including dry skin, combination skin, and even oily skin.
c) Extraction Method- Look for the 'cold-pressed' tag when you are buying your holy grail. The cold-pressed status signifies that the properties within aren't changed during the extraction process. If it doesn't mention anything about the same, the rosehip oil may contain harmful additives or chemicals. Another way to ensure if it doesn't contain preservatives is to check if the label says to use within 90 days.
d) Fragrance- The pure rosehip oil has a woody aroma just like rose.
e) Color- Rosehip oil has a slight reddish tint if you place it on a white surface. However, a cold-pressed oil may come in a clear color due to the refining process.
So, there you go! You have our top recommendations for the best rosehip oils that indeed deserve all the attention they are getting. Our research indicates that these premium products rich in antioxidants, if used correctly, can bestow you with numerous benefits for your skin, hair, and nails. The bottom line is that you need Kate Blanc Rosehip Seed Oil when you want to improve your skin's elasticity. On the other hand, Radha Rosehip Oil comes with excellent properties that will exfoliate the skin surface. Lastly, Teddie Organic Rosehip Oil is an excellent product to minimize the appearance of stretch marks. So, which one are you getting? Grab any one today to get all the benefits of rosehip oil.
FAQ's
Is it OK to use rosehip oil everyday?
Not only just everyday, rosehip oil can be used twice a day, in the morning and in the night. You can also add it to your favorite moisturizer for added benefits.
What are the disadvantages of rosehip oil?
The only disadvantage of rosehip oil is that it may not work for sensitive skin people. It also has a record of causing allergic reactions to some. Mild rash or irritation may occur as well.
Who should not use rosehip oil?
People with extremely sensitive skin or prone to allergies should refrain themselves from using rosehip oil.
Should rosehip oil go over or under moisturizer?
As the thumb rule follows that we should apply the most concentrated products first, rosehip oil must be applied after cleansing and before moisturizing to fetch maximum benefits.
o dermatologists recommend rosehip oil?
Absolutely! Dermatologists suggest the personalized uses of rosehip oils according to your skin type and concerns.
Should I put rosehip oil all over my face?
Well, technically you can. But if you want a more subtle glow, mix a couple of drops with your moisturizer before dozing off at night.
Why Trust Pinkvilla
Our in-house skincare coach, Anoushka, is a big fan of everything natural and organic. Rosehip oil, which is one of the greatest inventions of science extracted from nature, has multiple benefits on our skin, hair, and nails. While jotting down the same, Anoushka also went through numerous products that have some rave reviews online. She considered parameters like added ingredients, formula, and effectiveness on hair and skin to come up with her verdict. We are sure her recommendations will work exceedingly well for you!
Our product experts study the specifications of every product we suggest and try them out to bring what's proven to be worthy of your money, time, and energy. We also have subject matter experts from various fields like Fashion, Skincare, Haircare, Home Decor, and Health and fitness on board to make sure our suggestions are credible and trustworthy. You can trust Select to be your faithful shopping guide for all the right reasons. Happy shopping!
Author BIO
Anoushka is certified in Professional Skincare and is a Mass Media (Journalism) graduate from Mumbai University. As a More