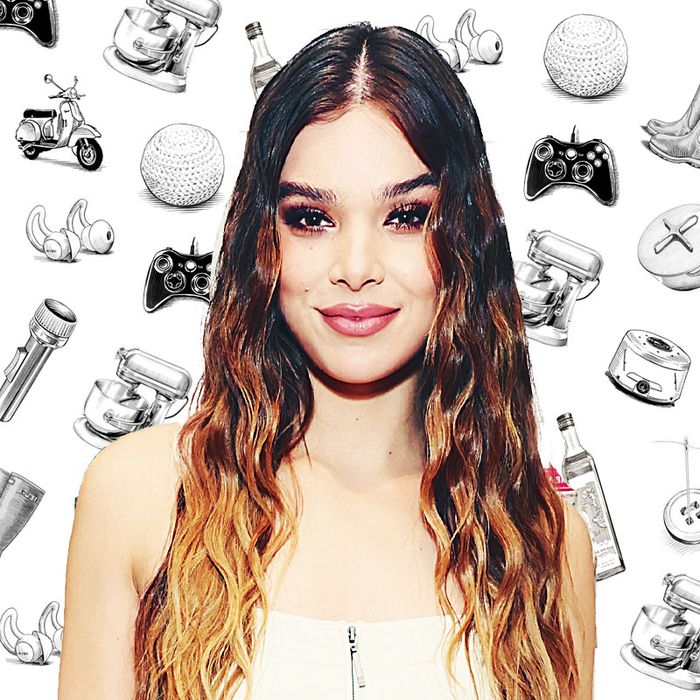 Photo-Illustration: The Strategist; Photos: Getty, Cindy Ord
If you're like us, you've probably wondered what famous people add to their carts. Not the JAR brooch and Louis XV chair but the hair spray and electric toothbrush. We asked actress and singer Hailee Steinfeld — who is also an ambassador for beverage brand Core Hydration — about the ring that goes with all her jewelry, the funky glassware she uses to serve spicy margaritas, and the dry brush she uses to jump-start her mornings.
This mascara is so good. Honestly, anything Tower 28 is, but I'm obsessed with the mascara specifically. Some mascaras that I've used in the past wouldn't wear super-well, or when you go to wash it off, it pills and it's all over your face. But this Tower 28 mascara — first of all, the wand itself is so awesome. It's so buildable. It looks like I've applied lashes after I use this mascara. It's an easy cleanup. I also love the packaging — I'm a sucker for some good packaging. But this mascara is my absolute go-to right now.
I love Paper Source. I can spend so long in there. When I went to go get my planner for next year, I spent 25 minutes looking at the wall of planners, and of course I just went with the one that I've been using. I love something that I can write in physically — I'm sitting at my desk and I'm looking at three journals right now. I love compartmentalizing and feeling like I have something tangible in front of me that I can take with me and reference, and I don't need Wi-Fi to access it.
I've always gotten such a sense of release with writing, getting your thoughts out of your head and onto the paper. I was listening to a podcast recently — somebody was talking about how when they make it through an entire journal, they throw it away. I thought that was really interesting, though I've never done that. I hang on to everything. I'm probably never going to go back through any of these, but there's some part of me that's like, maybe one day I'll pull them out and see what the heck I was going through that year.
Waking up, hitting the ground, and just slipping my feet into these cozy fluffy things is the best ever. I have the chestnut and I've worn them so much, it's about time for a new pair. I love a good slipper because I just really dislike being barefoot. So to have this as an alternative, how can you turn that down?
I've become obsessed with lymphatic drainage, and this brush really helps to promote that. I love waking up in the morning and doing a quick full-body dry brush to get everything going. It's definitely made a difference with my energy and feeling more awake. It's great for circulation and it only takes a few minutes. And they're so easy to find — if ever I forget one, I can run into a drugstore and pick one up.
It's easy to wake up, get out of bed, and run out the door. But when you take five minutes to do something as small as give yourself a dry brush, you feel the difference. It could be meditating or stretching — it's the act of just taking the time. In the morning especially, it's so important because you're setting the tone for your day.
I've recently been working on my house, and I finally got to my bar area. Instantly, when I knew I would be able to create this little bar, I bought all these mixology books and I was like, All right, I've got to be able to make my favorite cocktails really, really well. So that when I have guests over, I can blow 'em away a little. I love a spicy margarita, especially in the summer. And a cute glass to go with it is a dream. It's so fun to fill your bar with funky glasses. I feel like it's such a great gift to give as well.
I feel so fancy when I use this in the morning or after a shower. La Mer is such a luxurious brand and it feels like such a treat using their products. I've used the La Mer Soft Cream forever, and I've just recently started using the Body Crème. The tub that it comes in is beautiful and I love having it out on my counter. I love products that I can have out on display. The scent is so beautiful and the ingredients are great, really natural. That's always comforting, when you're putting something on your entire body.
My brows can take on a life of their own when I'm out and about. I would literally carry around a spoolie, or I would grab an extra from Sephora if I walked in there, and just keep it on me at all times. But this eyebrow gel is a lifesaver. I put it on in the morning and I'm good all day. It doesn't get flaky. It doesn't get funky after a couple hours. Also, if I'm really hitting the town, I'll throw on the Anastasia Brow Freeze, and these things aren't moving. It is such a great product. Also, side note, I recently listened to this incredible podcast with Anastasia and I really didn't know her story, and it was so incredible. It made me love her products and the brand that she's created even more.
This thing has saved my life. I can slip it in my bag and it's so compact. It's my whole world on this tiny little thing. I just love how efficient I can be with it. It's easy to take everywhere and it makes me feel very official. I use it way more than my computer. The only thing I use my computer for anymore is anything editing- or music-related, where I have certain softwares on my computer. But this is my everyday go-to for work and everything else in life.
"Privé Revaux" means private retreat, and they really do give me that sense — if you're throwing on a pair of shades, you feel like you can fly under the radar. I love the shape of these sunglasses. They're not too big for my face, but they still they give me that coverage. They never leave my bag. Privé Revaux has so many different styles that really suit any look, any feeling, any mood, any occasion. But the Victoria sunglasses are what I lean toward the most. Funny enough, I used to be the queen of misplacing sunglasses, but I've done a really good job with these. They've stuck around for some time. They've been around the world and back, and they've held up very well.
Photo: The Strategist; Photo: Retailer
My parents gifted me this ring the day of the Dickinson season-one premiere, and I've worn it every day since. I love mixing metals and I feel like whenever I have this ring on, it gives me the green light to do so. If I have this one piece, then everything else can mix and match and still feel cohesive. My job doesn't allow me to wear my own personal jewelry all the time, especially when I'm filming, so jewelry was never really something that I spent much time thinking about. But I've become invested in these timeless pieces because they last forever. If you do take care of them, their sentimental value increases daily. And this is a ring that is so special to me.
My partnership with Core has been an incredible reminder of the importance of staying hydrated. Finding your balance is so key and makes all the difference. There's nothing like going through every day feeling energized. I truly never leave the house without Core. When I'm in the gym, I'll bring the bottle with the sports cap. The tall bottle of Core with the regular cap, I use for my dog all the time as a tiny bowl. Last night a friend randomly FaceTimed me and was like, "I have to show you something." And they opened their fridge and it was stocked with Core. There are few things that make me happier than that.
The Strategist is designed to surface the most useful, expert recommendations for things to buy across the vast e-commerce landscape. Some of our latest conquests include the best acne treatments, rolling luggage, pillows for side sleepers, natural anxiety remedies, and bath towels. We update links when possible, but note that deals can expire and all prices are subject to change.