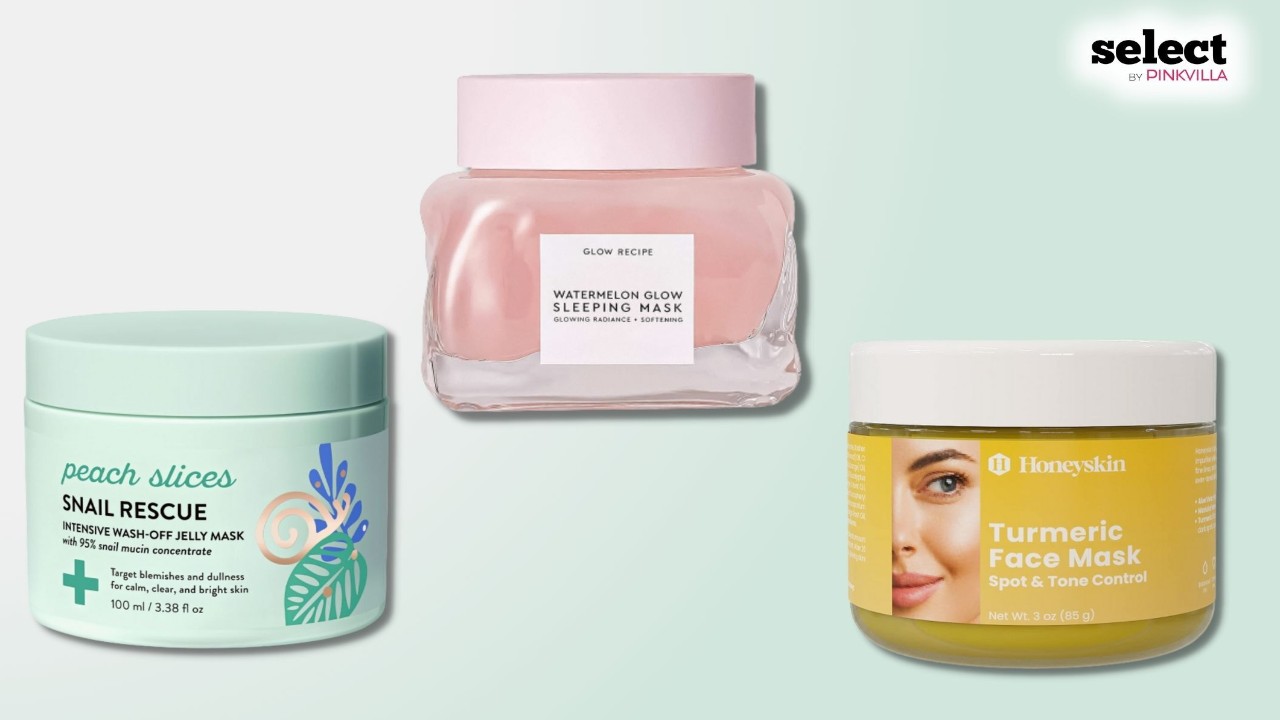 The products curated for this article are independently chosen by the
editorial team. If you make a purchase through the
links
mentioned below, we may receive a commission. Check out our
product
research & curation process
Taking care of sensitive skin requires special attention, and one essential aspect of a skincare routine is choosing the right face mask to pamper and nourish the skin. The best face masks for sensitive skin offer soothing and gentle care while addressing specific skin concerns. Whether you're dealing with redness, irritation, dryness, or a combination of sensitivities, drawing from our experience, we know that finding the perfect face mask can make a significant difference.
As per our expertise, we have chosen the best face masks exclusively for sensitive skin. These masks have been picked for their gentle formulations, hypoallergenic ingredients, and the ability to provide relief and nourishment without irritating the skin. This guide aims to help you discover the ideal face mask to pamper and rejuvenate your sensitive skin, providing the care and comfort it deserves.
Say goodbye to skincare woes and hello to a renewed, healthy, and radiant complexion with our carefully curated selection of the best face masks for sensitive skin.
15 Best Face Masks for Sensitive Skin to Cleanse And Nourish It
Experience a soothing self-care routine with this luxuriously creamy Amazonian clay mask designed to deep clean pores while improving skin tone and texture to leave skin feeling clarified and refreshed. It is formulated with two different types of clay, bentonite clay, and Amazonian (kaolin) clay, which work together to pull out dirt and gently exfoliate without stripping the skin of its natural moisture. This mask is designed for oily, sensitive skin and is specifically formulated with apple seed extract to gently exfoliate and lift away dead skin cells. It remains creamy and will not harden when used as directed, and is designed to minimize excess oil and shine. 
Pros
Deep cleansing
Nourishing
Suitable for oily skin
Suitable for sensitive skin
This exfoliating mask for sensitive skin is designed to exfoliate, moisturize, smoothen, and brighten the skin. It features a mix of AHA, BHA, and exfoliating enzymes that work together to tackle hyperpigmentation and smooth surface texture. The mask is designed to be used as an at-home facial and can be applied for just 2 minutes once per week. The mask contains lactic, glycolic, and salicylic acid, and enzymes that provide instant brightening results with full, long-term skin improvement in 4 weeks. The mask is also designed to minimize pores and resurface the skin, boosting cell turnover and rejuvenating dull, tired complexions. 
Pros
Effective exfoliation
Pore minimization
Skin resurfacing
Moisturizing
Vegan
Cons
Potential sensitivity for some skin types
The Glow Recipe Mini Watermelon Sleeping Mask is a hydrating and pore-refining overnight mask that comes in a 30ml/1oz size. It contains AHAs, hyaluronic acid, and pumpkin seed extract, which work together to provide anti-aging benefits and leave the skin soft and glowing. The mask is clinically effective and has been shown to increase cell turnover while improving the skin barrier. After putting it to test, we found out that the product is also pillow-proof, meaning it won't rub off on your pillow while you sleep. The mask has a concentrated 2.5% pH-balanced AHA complex that gently exfoliates the skin, hydrates, and visibly brightens it. The nourishing mask has a unique texture that absorbs quickly into the skin.
Pros
Hydrating
Pore refining
Skin plumping
Rich in antioxidants for skin health
Cons
May be too strong for sensitive skin
The Differin Clay Face Mask is a multi-benefit face mask designed to address acne-related concerns by reducing excess oil and minimizing the appearance of pores and redness. The 2-step treatment includes a self-warming Kaolin clay sensitive skin face mask that gently draws out impurities and a leave-on cooling gel mask that soothes and hydrates the skin. The mask is suitable for acne-prone sensitive skin and is gentle on the skin.
Pros
Deep cleansing
Nourishing
Suitable for oily skin
Suitable for sensitive skin
Cons
May not be suitable for very dry skin
This hydrating face mask for sensitive skin is designed to clear skin and target dark spots, blemish-prone skin, pores, and dullness immediately, leaving you with radiantly hydrated clear skin. Our research indicates that the mask boasts a gentle formula featuring 95% concentrated snail mucin, which not only locks in essential moisture but also offers gentle exfoliation. It's enriched with hyaluronic acid for deep hydration and has Centella Asiatica extract, also known as Cica, to nurture and soothe the skin. The mask is formulated to feel instantly refreshing and calming as it's applied to the skin. It is a fast track to hydrated, bouncy, vibrant skin and an even glow. 
Pros
Hydrating
Targets blemishes
Refreshing
Calming
Cons
May not be suitable for dry skin
The First Aid Beauty Ultra Repair Mask is a deeply hydrating mask that helps nourish, calm, and rejuvenate distressed-looking skin. It is the perfect solution for dry, skin. The mask contains a pair of protective oats, including colloidal oatmeal and avena sativa oat bran, which helps to soothe and calm the skin Additionally, the mask contains bisabolol, which also helps to soothe and calm the skin. The mask is rich in vitamins and antioxidants, including camellia sinensis leaf extract and zingiber officinale root extract. The omega-rich shea butter in the mask provides nourishment to the skin.
Pros
Hydrating
Calming
Soothing
Suitable for sensitive skin
Cons
May not provide intense deep cleansing
If you're looking for a good pore cleanser, then this exfoliating and pore-cleansing activated charcoal mud mask is the one for you! It moisturizes the skin with vitamin C, green tea, and pumpkin. The mask contains bentonite clay, kaolin clay, and bamboo charcoal that gently pull impurities from the skin. It also has ginseng that brightens and evens out skin tone. Our findings show that the mask is designed to moisturize the skin while cleansing it.  It is gentle on the skin and is suitable for people with dry, oily, and sensitive skin types.
Pros
Exfoliating
Pore cleansing
Suitable for both women and men
Enriched with vitamins
Cons
May not be suitable for extremely dry skin
The Turmeric Face Mask by Honeskin is an organic face mask for eczema that deeply cleanses pores and moisturizes the skin. The product contains Manuka Honey, Kaolin Clay, and Bentonite Clay Mask, which are all known for their skin benefits. We have found from using this product that, this can help keep the skin hydrated and prevent dryness. The product is organic, which means it is free from harmful chemicals that can lead to irritated skin. Turmeric is a key ingredient in the product, which is known for its skin-brightening properties. It can help correct discoloration, soothe acne, eczema, and dryness. 
Pros
Gentle on sensitive skin
Natural moisturization
Deep pore cleansing
Organic ingredients
This natural mask gently clarifies skin with BHAs from white willow bark, fruit enzymes, aloe, and blue tansy essential oil. It is a calming gel mask powered by blue tansy and fruit enzymes to help visibly clarify skin and minimize pores. The mask is designed to target blemishes, clogged pores, and redness. It is gentle enough for various skin types and is made without synthetic ingredients, dyes, fragrances, and preservatives.
Pros
Acne clarifying
Vegan
Cruelty-free
Reduces redness
Cons
Potential sensitivity to blue tansy
The Proactiv Amazonian Clay Mask is a creamy, natural cleansing skin care face mask that is designed to help purify and restore the skin. The mask is formulated with bentonite and kaolin, a blend of Amazonian white clay and minerals used to absorb impurities and excess oil. The mask is designed to deeply cleanse and help restore the skin. The mask is rich in vitamins, nutrients, and antioxidants, and was developed to help moisturize the skin for a softer, smoother, and healthier-looking complexion. The mask contains aqua, kaolin, glycerin, Cetearyl alcohol, petrolatum, propanediol, bentonite, stearyl alcohol, and other ingredients.
Pros
Nourishing
Enriched with minerals
Antioxidants rich
Moisturizing
The Summer Fridays Jet Lag Mask is a hydrating and nourishing face mask that helps renew tired skin. It is an enhanced, fragrance-free formula that contains niacinamide, glycerin, hyaluronic acid, and antioxidants. The mask is designed to help nourish, hydrate, and calm the skin, leaving it looking renewed, radiant, and ready for anything. These active ingredients naturally attract and hold moisture to relieve dryness and dehydration. The gentle face mask contains antioxidants that help to protect the skin from environmental stressors and free radicals.
Pros
Hydrating
Nourishing
Contains antioxidants
Suitable for sensitive skin
Cons
May not be suitable for oily skin types
The TATCHA The Violet-C Radiance Mask is a creamy, hydrating mask that contains two types of vitamin C and 10% AHAs to improve skin texture, brighten skin tone, and unveil a soft, dewy glow. This product is non-irritating and non-sensitizing. It is designed to prevent the signs of premature aging and works to hydrate and plump the skin. The mask's indulgent texture glides onto the skin smoothly, imparting a luxurious and pampering experience.
Pros
Firms skin
Promotes radiant glow
Vitamin C helps brighten skin
Suits mature skin
The Mario Badescu Azulene Calming Mask is a gentle, clay-based mask that is ideal for all skin types. It is specially formulated to help comfort and re-balance the skin, making it a must-have for aestheticians and makeup artists. The mask contains olive leaf extract, vitamin E, and kaolin clay, which work together to soothe and purify the skin. The kaolin clay helps to minimize the appearance of pores, while the olive leaf extract and vitamin E provide antioxidant benefits. This mask can be used 2-3 times per week at the end of the day, after cleansing the face. The soothing mask has a pleasant scent and goes on and comes off easily. 
Pros
Calming
Suitable for all skin types
Includes vitamin E
Moisturising
Promotes healthy skin
Cons
May not provide deep cleansing
The Exfoliating Enzyme Face Mask is a skincare product that helps to treat acne, uneven texture, and sensitive skin. It is a moisturizing facial exfoliator treatment that is suitable for dry skin, dark spots, blackhead remover, hyperpigmentation, brightening, removing dead skin, and minimizing pores. It is also organic and clean. It is suitable for sensitive skin and helps to even out the skin tone, making it clearer and brighter. It is particularly effective for treating acne, uneven texture, and hyperpigmentation. This beauty product is also suitable for dry skin and helps to moisturize the skin. 
Pros
Effective at exfoliating
Addresses acne
Improves uneven texture
Brightening effect
Cons
Doesn't suit all skin types
Get a good night's sleep with this hydrating and moisturizing mask that is designed to soothe and repair the skin while you sleep. It is suitable for sensitive and acne-prone skin. It is the final step in your nightly skincare routine. It is a decent nighttime moisturizer that hydrates and moisturizes the skin, improves skin texture and tone, and nourishes and repairs the skin. The product contains ingredients like sodium hyaluronate, tocopheryl acetate, and bisabolol that help to soothe and repair the skin. 
Pros
Visibly reduces skin redness
Improves hydration
Safe for sensitive skin
Suitable for acne-prone skin
Now that you know all about the top-rated face masks for sensitive skin, have a look at our buying guide which will surely clear all the doubts you might face while choosing the best masks.
What to Look for in a Face Mask for Sensitive Skin?
When searching for a face mask for sensitive skin, consider the following factors to ensure you choose a product that is gentle, soothing, and suitable for your skin's unique needs:
Hypoallergenic Formulation
Look for face masks specifically labeled as hypoallergenic. These products are less likely to trigger allergic reactions or skin sensitivities. Opt for masks with a short and straightforward ingredient list. Fewer ingredients reduce the risk of irritation. Avoid masks with synthetic fragrances, parabens, sulfates, and artificial dyes. Choose fragrance-free or naturally scented masks. Artificial fragrances can be a common source of skin irritation for those with sensitive skin.
Calming and Soothing Ingredients
Seek masks that contain soothing ingredients like aloe vera, chamomile, calendula, or cucumber extract. These ingredients can help reduce redness and inflammation.
Look for masks with hydrating components such as hyaluronic acid, glycerin, or natural oils. Hydration is essential for maintaining skin barrier function and preventing dryness.
Non-comedogenic
Ensure the mask is non-comedogenic, meaning it won't clog pores or exacerbate issues like acne or blackheads.Products that have been dermatologist-tested are generally safer for sensitive skin, as they have undergone professional evaluation for skin compatibility.
Patch-test
Always perform a patch test before applying the mask to your entire face. Apply a small amount to a discreet area of your skin and wait for 24-48 hours to check for any adverse reactions.
Texture And Consistency
Consider the texture of the mask. Creamy, gel, or sheet masks are often gentler on sensitive skin compared to clay masks, which can be more drying.
Cooling or Anti-Redness Properties
Some masks include ingredients like menthol or green tea to provide a cooling sensation and reduce redness. These can be soothing for sensitive skin.
pH-Balance 
Look for masks with a pH level close to that of your skin (around 5.5) to help maintain the skin's natural acid mantle. Be aware of any ingredients that your skin may be sensitive to and avoid products containing those allergens or irritants.
Customer Reviews
Read reviews from individuals with sensitive skin who have used the product to gauge its effectiveness and suitability.
By considering these factors, you can make an informed choice and select a face mask that is gentle, nourishing, and tailored to the needs of your sensitive skin, helping you achieve a healthier and more radiant complexion without irritation or discomfort.
Benefits of Applying Face Mask to Sensitive Skin
Applying a face mask to sensitive skin can offer several benefits when chosen and used correctly:
Soothing Relief
Many face masks for sensitive skin are formulated with calming and anti-inflammatory ingredients, such as aloe vera, chamomile, or oatmeal, providing immediate relief from redness and irritation.
Hydration
Hydrating masks help replenish moisture in sensitive skin, preventing dryness and flakiness, which can exacerbate sensitivity.
Reduced Redness
Masks containing ingredients like green tea or niacinamide can help reduce redness and even out skin tone, leaving your complexion looking more balanced.
Strengthened Skin Barrier
Certain masks are designed to strengthen the skin's natural barrier, making it more resilient to external irritants and reducing sensitivity over time.Regular use of a face mask can lead to smoother, softer skin, reducing the appearance of rough or uneven texture often associated with sensitive skin.
Balanced Oil Production
Masks with natural oils can help balance oil production in sensitive skin, preventing excess sebum and breakouts. Using a mask before applying other skincare products can help those products penetrate the skin more effectively, maximizing their benefits.
Relaxation and Self-Care
The act of applying a face mask can be a relaxing and self-care ritual, reducing stress and promoting a sense of well-being. Using a face mask can be a luxurious and pampering experience, allowing you to take a break from your daily routine and treat your skin with care and attention. It's essential to choose a face mask specifically designed for sensitive skin and to follow the recommended usage instructions. Additionally, perform a patch test before applying any new mask to ensure compatibility with your skin and to avoid potential adverse reactions.
Temporary Skin Tightening
Some masks can provide a temporary tightening or firming effect, improving the appearance of sagging or loose skin.
CONCLUSION
Finding the best face mask for sensitive skin can be a game-changer for anyone seeking a skincare routine that nurtures, soothes, and rejuvenates. With the right face mask, you can transform your skincare routine into a self-care ritual, giving your sensitive skin the love and attention it deserves. Your skin's well-being and beauty are worth every moment of care and consideration. Enjoy the soothing embrace of these masks and embrace the radiant, healthy skin that follows.
FAQ's
What is sensitive skin, and how can I identify it?
Sensitive skin is characterized by heightened reactivity to various factors, leading to redness, irritation, burning, or itching. You can identify it by experiencing discomfort, redness, or stinging sensations when using certain skincare products or when exposed to environmental triggers like wind, sun, or harsh chemicals.
How often should I use a face mask for sensitive skin?
For sensitive skin, it's advisable to use a face mask once a week or every two weeks. Overusing masks can potentially exacerbate sensitivity, so be mindful of your skin's reactions.
How long should I leave a face mask for sensitive skin on my face?
Follow the specific instructions provided on the face mask's packaging. Most masks for sensitive skin should be left on for 10-15 minutes, but this can vary depending on the product.
What types of face masks are best for sensitive skin?
The best face masks for sensitive skin are often formulated as hydrating, soothing, or clay-based masks. Look for masks labeled as
What ingredients should you avoid in face masks if you have sensitive skin?
Avoid face masks with harsh or potentially irritating ingredients like fragrances, alcohol, sulfates, parabens, and synthetic dyes. Opt for products with minimal ingredients and natural extracts.
Do face masks for sensitive skin expire?
Yes, face masks, like other skincare products, have an expiration date. It's important to check the product's packaging for the expiry date and discard any expired masks to ensure their effectiveness and safety.
Are face masks bad for sensitive skin?
Face masks can be beneficial for sensitive skin when chosen wisely. Opt for masks specifically designed for sensitive skin to minimize the risk of irritation or adverse reactions.
Is an egg white mask good for sensitive skin?
Egg-white masks can be harsh and may not be suitable for sensitive skin due to their potential to tighten and dry the skin. It's advisable to choose gentler, hydrating masks instead.
Are clay masks good for sensitive skin?
Some clay masks can be suitable for sensitive skin, provided they are formulated with mild clays like kaolin and enriched with soothing ingredients. Always patch-test first to ensure compatibility.
Why Trust Pinkvilla
Dealing with sensitive skin had been a challenge, but Anoushka discovered a secret weapon – face masks that not only cleared her complexion but also boosted her confidence. These masks helped deeply cleanse her pores, removing impurities and excess oil. Daily use of these masks also helps improve the acne, blemishes, and breakouts leaving skin clearer and smoother. She looks forward to her mask sessions and hopes that you find these masks useful too! 
Our product experts study the specifications of every product we suggest and try them out to bring what's proven to be worthy of your money, time, and energy. We also have subject matter experts from various fields like Fashion, Skincare, Haircare, Home Decor, and Health and fitness on board to make sure our suggestions are credible and trustworthy. You can trust Select to be your faithful shopping guide for all the right reasons!
Author BIO
Anoushka is certified in Professional Skincare and is a Mass Media (Journalism) graduate from Mumbai University. As a More