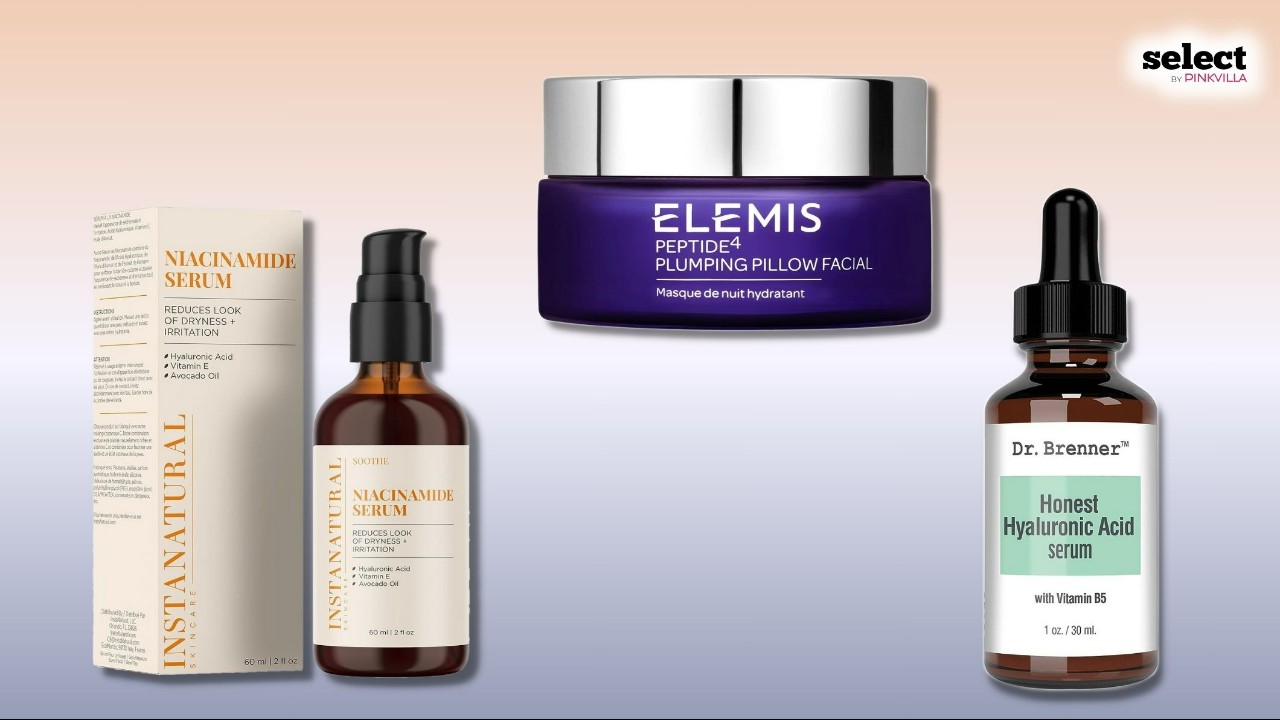 The products curated for this article are independently chosen by the
editorial team. If you make a purchase through the
links
mentioned below, we may receive a commission. Check out our
product
research & curation process
Plump skin looks naturally charming and fresh. Aging, environmental stressors, and lack of proper skin care can reduce the bounciness of skin. With these best skin-plumping products, you can maintain the soft texture of your skin to keep it supple and smooth. Our research indicates that keeping the skin hydrated is crucial for maintaining its natural texture. Apart from drinking an adequate amount of water, it's also important to upgrade your beauty regimen to provide sufficient hydration to the skin so that it doesn't become dry and saggy.
Using skin-plumping products can be a game changer for your skin as they deliver adequate moisturization and lock in the natural moisture of your skin. Preventing moisture loss can help reduce the appearance of signs of aging to make the skin radiant naturally. However, finding the right plumping products can be confusing. To help you find the best product, we have curated a list of our favorite products. Go through this article to see our recommendations.
Our top picks
Best Paraben-free Formula
Best Anti-aging Body Cream
Best Moisturizing Formula
Best for Combination Skin
13 Best Skin Plumping Products That Enhance Skin's Natural Glow And Texture
Hydration is the key to getting plumper-looking skin, and Asterwood Naturals Hyaluronic Acid Anti-Aging Serum delivers it efficiently. The magic ingredient, hyaluronic acid, penetrates deeply into your skin's natural barrier and draws in moisture to keep it soft and sparkling. Featuring rejuvenating properties, it unclogs enlarged pores and calms skin irritations, leaving it firm and bright. You can also use this anti-aging serum to maintain skin elasticity and prevent the appearance of fine lines and wrinkles. After trying out this product, we found that it also works well with vitamin C and retinol serums.
Pros
Paraben-free
Unscented formula
Long-lasting moisturization
Brightens your complexion
This body cream by Reshape+ is an ideal pick to enrich your skin with the goodness of collagen, green tea extracts, aloe vera, and chamomile — all of which protect the skin from free radical damage and water loss to prevent premature aging of the skin. These nourishing additives also reduce skin irritation and redness to even out your body's complexion. Embody confidence and renew your skin texture with this body cream curated with a superior formula to soften your body. Stretch marks, scars, and sun-damaged skin will stop bothering you as this product works its way on your body to deliver perfect care and nourishment.
Pros
Antioxidant formula
Cruelty-free composition
Moisturizes the skin
Rich consistency
Cons
Might not be suitable for crepey skin
This niacinamide face serum by InstaNatural helps reduce hyperpigmentation, frown lines, and wrinkles to add a beautiful glow and delicateness to your skin. The powerful infusion of niacinamide, hyaluronic acid, vitamin E, and avocado oil reduces skin dehydration and protects the skin from UV-induced damage to make the skin's protective barrier healthy and strong. Featuring a lightweight formula, this face serum melts into your skin and complements your innate charm and sparkle. This anti-aging serum is a go-to for giving your face a quick boost of nourishment for healthy and youthful skin.
Pros
Evens your skin tone
Soothing formula
Moisturizes your skin
Brightens your complexion
Glowing gorgeously can be easy with this glow toner by Advanced Clinicals. Owing to the addition of the antioxidant-rich vitamin C and ferulic acid, this facial mist clears out acne scars, dead skin cells, and blemishes, adding luminosity to your complexion. Make your skin visibly radiant and plump, as this product offers a much-needed break from uneven skin texture and tired skin. You can also use this rejuvenating mist to amp up your wrinkle treatment. This is designed for a quick touch-up of sparkle so that you can make dull days shine with your beautiful sparkle.
Pros
Antioxidant properties
Refreshing formula
Doesn't contain propylene glycol
Alcohol-free
Mineral oil free
With Elemis Peptide4 Plumping Pillow Facial, you can ease and rejuvenate your skin texture to wake up to soft and radiant skin. This premium facial gel is a powerful fusion of peptide4, star arvenis, and speedwell extracts, which boost the production of skin's collagen, increase skin cell turnover, and repair damaged skin cells to strengthen your natural moisture barrier. Night-time skin care can be fun and refreshing, with this product soaking up your skincare worries to offer a gentle and cooling sensation to dry skin types. Don't be surprised if this lovely overnight mask becomes your instant favorite.
Pros
Shrinks pores
Softens skin texture
Diminishes fine lines
Delicate fragrance
Soothes dry skin
Infused with a rich composition of hyaluronic acid, this anti-aging serum by Dr. Brenner is an incredible addition to your skincare routine for keeping fine lines, age marks, and wrinkles at bay. This serum features the richness of vitamin B5 to provide superior hydration to the skin without clogging the pores — a perfect pick to pamper your skin. With an oil-free formula, this product dissolves all impurities and dirt and keeps your face refreshed and clean. You can't stop complimenting your skin, as this beauty serum makes your skin visibly smooth and youthful.
Pros
Smooth application
Rapid absorption formula
Softens wrinkles
Moisturizing formula
Cons
Might not be suitable for sensitive skin
Provide lasting hydration to your skin with Sunday Riley's Ice Ceramide Moisturizing Cream which can work wonders for your skin. Featuring a lightweight formula, this luscious cream replenishes the skin texture and soothes dry and chapped skin. The magic ingredients, ceramides, and beetroot extracts help minimize blemishes, hyperpigmentation, and dark spots to reveal an even and bright complexion. Notice your skin softening as this moisturizing cream has a featherlight consistency that blends into your skin seamlessly.
Pros
Refines skin texture
Deeply moisturizes skin
Makes your skin glow
Calms dry skin
Prep your skin for better absorption of skincare products with this Naturium Hyaluronic Acid Essence. The key ingredient, hyaluronic acid, works its magic on your skin to boost the elasticity of the skin's natural barrier and soothe skin irritations, making your skin soft and dewy. With the deep penetration powers of this essence, you can retain the moisture of your skin to protect it from dryness and coarse wrinkles. Designed to maintain the pH of your skin, this essence soothes inflamed acne-prone skin. After putting it to the test, we found out that including this essence in your skincare routine can help get the best of serums and moisturizers.
Pros
Makes your skin firm
Rapid absorption formula
Non-sticky
Fragrance-free
Doesn't leave any residue
Add radiance and firmness to your skin with Facetory Ace Collagen Mask crafted to offer a premium skincare experience. This collagen mask is loaded with powerful anti-aging ingredients like hydrolyzed collagen and mushroom extract to boost collagen production and prevent the premature aging of the skin. With the pore-refining properties of this soothing mask, you can cleanse pores and balance sebum production to attain thoroughly purified skin. Get bright and healthy-looking skin with this mask, composed to pamper dull and dehydrated skin.
Pros
Lightweight
Sulfate-free formula
Unclogs pores
Gives a radiant finish
This anti-aging serum by Farmacy uplifts your skin texture to smoothen fine lines and wrinkles. It contains a superior fusion of hyaluronic acid, thyme extract, and collagen peptides to soothe inflamed skin, balance sebum production, and ease skin irritations. This blend also controls the moisture loss of the skin to keep it silky smooth. With deep-penetrating properties, it cleanses your skin — adding a beautiful glow that is hard to miss. Prioritize your skin with this serum, making your skin flawless and beautiful.
Pros
Vegan formula
Lightweight texture
Suitable for sensitive skin
Quick absorption formula
You can elevate your skincare game with this plumping and tightening serum by SNP. Fused with the richness of hyaluronic acid and peptides, this revitalizing face serum promotes the production of skin's collagen and elastin for lasting youthfulness. This serum features antioxidant properties that diminish pigmentation, age marks, and dark spots, leaving it refined and luminous. Protect the natural moisture of your skin and achieve flawless skin that can complement your love for soft and radiant skin.
Pros
Makes skin firm
Softens your skin
Gentle formula
Blends nicely
Lightweight texture
Kosas Plump Spray-on Serum is an ideal pick to indulge in a luxurious skincare experience. With star ingredients, including collagen, peptides, probiotics, artemisia flower extract, hyaluronic acid, proteins, and amino acids — this product strengthens your natural skin barrier, maintains the pH balance of your skin, and keeps your skin smooth and plump. Add a healthy glow to your skin and keep it relaxed and calm with the cooling properties of this serum. The rapid absorption formula makes this skincare essential a go-to for quick makeup applications.
Pros
Long-lasting hydration
Talc-free
Free from phthalates
Makes your skin firm
Sprucing up your skincare routine can be rewarding with this face cream by Revision Skincare. This nourishing cream is made of a unique blend of ceramides and herbal extracts that eliminate dirt and acne-causing germs from the skin, making it soft and clean. Revive dry and dehydrated skin to reveal your natural skin texture effortlessly with the regenerating properties of this product. This age-defying face cream adds volume and plumpness to your skin to minimize the appearance of wrinkles and fine lines. Enrich your skin with intense hydration and flaunt glass-like skin naturally.
Pros
Reduces fine lines
Makes your skin supple
Glides smoothly
Rich consistency
How to Choose the Best Skin Plumping Products?
1. Read the Label
One of the most important factors to consider before buying the best skin plumping product is ensuring that it's free from harsh additives like parabens, alcohol, mineral oil, sulfates, artificial dyes, etc. so that your skin doesn't feel dry and irritated. When skin becomes dry and irritated, it may as well look dull and pale, so you should read the label to ensure you're not exposing your skin to these additives.
2. Check the Ingredients
Various ingredients provide superior hydration and help retain the natural moisture of the skin to prevent it from getting dehydrated and damaged. You can prefer ingredients like hyaluronic acid, ceramides, natural extracts, aloe vera, collagen, chamomile, peptides, and other antioxidant-rich agents that nourish the skin deeply and slow down the aging of the skin.
3. Assess Your Skin Type
To get the best out of the best skin-plumping products, ensure you're getting a product that can benefit your skin type. If you have oily skin, green tea extracts, aloe vera, niacinamide, etc. can help unclog pores and reduce sebum production. However, if your skin is dry, it may benefit from the moisturizing compositions of avocado, jojoba, sunflower oil, glycerin, beetroot extracts, vitamins, etc.
When you have plump skin, half of your skincare worries seem to be easy to tackle. Plump skin texture reflects healthy and hydrated skin. However, our skin might not get proper hydration, which can make it pale and dull. With aging and other factors affecting the natural texture of the skin, it might be difficult to maintain the elasticity and bounce of your skin. With these best skin plumping products, you can pamper your skin and provide proper nourishment and care so that it doesn't become saggy or wrinkled. These products are gentle on the skin and penetrate deeply to bring out the magic of proper hydration. Happy glowing!
FAQ's
Can collagen make your skin plump?
Yes, collagen boosts the elasticity and hydration of the skin to keep it plump.
Which skincare ingredients plump skin?
Hyaluronic acid, collagen, and ceramides, to name a few.
Can you use multiple skin-plumping products?
Yes, you can use multiple skin-plumping products to maintain the moisture levels of your skin. However, using products with similar ingredients may not be effective. It's best to do a patch test to protect your skin from allergies.
How long does it take to see results from using skin-plumping products?
It may take a few days or weeks for skin-plumping products to create visible results.
Are there any side effects of using skin-plumping products?
Skin-plumping products don't have any potential side effects. However, you should ensure they are meant for your skin type and don't contain any allergens.
Can you use skin-plumping products with other skincare products?
Yes, you can use skin-plumping products with other skincare products.
Why Trust Pinkvilla
Anoushka, our skincare coach, says that aging and environmental factors can affect the plump texture of your skin. She advocates using hydrating skin plumping products to enhance the texture of your skin, even out your skin tone, and reduce the appearance of fine lines and wrinkles. She has been doing extensive research on the ingredients used to formulate skin plumping products. And, after doing extensive research, she has curated these products that help plump the skin. Out of these products, she recommends using Sunday Riley Ice Ceramide Moisturizing Cream to provide intense hydration to the skin.
Our product experts study the specifications of every product we suggest and try them out to bring what's proven to be worthy of your money, time, and energy. We also have subject matter experts from various fields like Fashion, Skincare, Haircare, Home Decor, and Health & Fitness onboard to make sure our suggestions are credible and trustworthy. You can trust Select to be your faithful shopping guide for all the right reasons!
Author BIO
Anoushka is certified in Professional Skincare and is a Mass Media (Journalism) graduate from Mumbai University. As a More