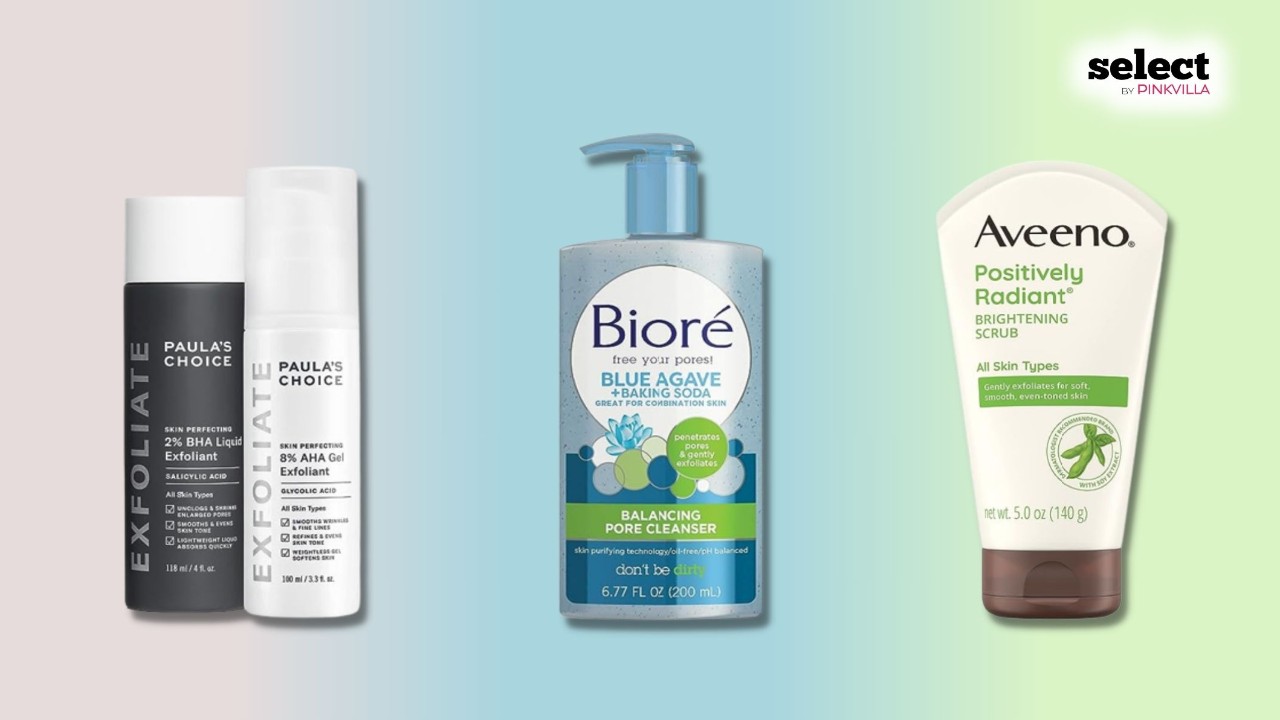 The products curated for this article are independently chosen by the
editorial team. If you make a purchase through the
links
mentioned below, we may receive a commission. Check out our
product
research & curation process
Combination skin can be a tricky puzzle to solve. It's that delicate balance between oily and dry skin, often leaving you wondering how to maintain a harmonious complexion. The answer lies in the best exfoliator for combination skin—one that gently sloughs away dead skin cells, banishes excess oil, and hydrates dry patches. Based on our experience, we have curated a list of the best physical exfoliators for the face that promise healthy skin.
Whether you struggle with an oily T-zone and flaky cheeks or frequent breakouts and rough patches, we've got you covered. Our handpicked selection offers a range of exfoliation methods, from physical scrubs to chemical exfoliants, each formulated to restore balance and reveal your skin's natural radiance.
What is Combination Skin?
Combination skin is a common skin type characterized by having a mix of different skin conditions in various areas of the face. Typically, individuals with combination skin experience both oily and dry patches. The T-zone, which includes the forehead, nose, and chin, tends to be oilier with enlarged pores, while the cheeks and other areas may feel dry or normal. Managing combination skin can be challenging as it requires skincare products and routines that address both oily and dry skin concerns. Proper care involves using products designed to balance oil production in the T-zone while providing adequate hydration to dry areas, ensuring an overall healthy complexion.
So, say goodbye to the conundrums of combination skin and hello to a revitalized, glowing face. Let's embark on this skincare journey together, where balance is the key to beauty.
15 Best Exfoliators for Combination Skin to Get the Best Results
The Aveeno Positively Radiant Facial Scrub is a skincare product designed to gently exfoliate the skin and improve its tone and texture. It contains rich soy extract and is oil- and soap-free. The scrub is hypoallergenic and suitable for all skin types. It helps to reveal radiant-looking skin by buffing away surface impurities, dead skin, and oil. The product is oil- and soap-free, which makes it gentle on the skin. Additionally, the scrub also contains naturally derived granules that exfoliate the skin without irritating it.
Pros
Moisturising
Skin-friendly
Affordable
Improved tone
Elevate your skincare routine with the Himalayan Salt Scrub Foot & Body Exfoliator, a natural wonder that brings the Himalayan Mountains' pristine purity and healing properties to your daily self-care ritual. This combination skin exfoliator is a harmonious blend of pure Himalayan pink salt, enriched with nourishing minerals, and a luxurious combination of essential oils, including lavender, peppermint, and eucalyptus. The result is a rejuvenating and invigorating exfoliating experience that revitalizes both your body and mind.
Pros
Deep Cleansing
Infused with Collagen
Blemish control
Detoxifying
This body scrub from M3 Naturals provides a quality exfoliating experience for the body, face, hands, or feet. It is available in a 12 oz container and is made with natural ingredients. The scrub is infused with collagen and stem cells, and it combines activated charcoal with dead sea salts to provide a premium exfoliating experience. The scrub is gentle and effective in removing dead skin cells, blackheads, acne, and scars while minimizing pores and reducing the appearance of fine lines and wrinkles.
Pros
Suitable for shower
Gentle formula
Deep cleanser
Organic
This leave-on exfoliator by Paul'as Choice gently dissolves built-up layers of dead skin to reveal a smoother, brighter, and more radiant complexion. It is formulated with 8% AHA (glycolic acid) and soothing chamomile and green tea. The weightless gel texture perfects the skin's surface and can be used up to twice daily after cleansing and toning. It revitalizes uneven skin tone, smooths the appearance of wrinkles, and eliminates dry, dull skin while providing lasting hydration and a brighter skin tone.
Pros
Combats redness
Anti-aging
Fights blemishes
Brightens skin tone
 Pamper your skin with this liquid cleanser from  Bioré Daily It contains a natural blue agave that works to soothe and condition the skin, while baking soda helps to excavate grime and oil from the pores. The cleanser is ideal for combination skin and is oil-free. The cleanser also gently exfoliates the skin with natural jojoba beads and conditions dry flaky spots for all-over smoothness.
Pros
Pore cleanser
Soothing formula
Gentle on skin
Smoothens skin tone
Treat your skin with this  InstaNaturalExfoliating Face Mask that provides both physical and chemical exfoliation to refine the skin's surface and support healthy cell renewal. It is a dual-action exfoliating mask that hydrates and renews the skin. The mask contains Glycolic Acid, Quartz Crystals, Pumpkin, Vitamin C, and Turmeric, which work together to provide both physical and chemical exfoliation benefits. The Glycolic Acid and Quartz Crystals provide physical exfoliation, while Pumpkin, Vitamin C, and Turmeric refine and brighten the appearance of uneven and dull skin tone. The mask deeply moisturizes the skin to improve its texture and appearance.
Pros
Blackhead Remover
Pore minimizer
Improves skin tone
High-quality ingredients
This exfoliating anti-aging gel cleanser is a gentle surfactant blend for a deep cleanse without dryness. The formula is non-drying with no beads and includes 10% glycolic acid at just the right pH level for an exfoliating kick. Glycolic acid is the smallest alpha hydroxy acid (AHA), which lets it break down the "glue" that holds those old problem skin cells together. The glycolic acid face wash has a low pH for effective exfoliation. The formula of this combination skin exfoliator is foaming and sulfate-free.
Pros
Oil-free
Reduces wrinkles
Anti-aging
Non-drying
The Acne-Free Blackhead Removing Scrub is a gel-based cleanser that contains 2% salicylic acid to minimize breakouts. The scrub is made with charcoal and jojoba to exfoliate the skin and remove blackheads. The formula is hypoallergenic and free of fragrance, gluten, nickel, preservatives, lanolin, and talc. To use the scrub, wet hands and face, squeeze the scrub into your hands and rub gently in a circular motion, rinse thoroughly, and pat dry.
Pros
For acne-prone skin
Safe for sensitive skin
Affordable
Cleansing formula
Treat your skin with a luxury bath with this cleansing bar, designed to help balance the needs of both oily and dry areas, ensuring your skin feels refreshed and clean without over-drying. It is formulated with a blend of nourishing ingredients, which helps cleanse away impurities, excess oil, and makeup, leaving your skin feeling refreshed. It contains ingredients like salicylic acid, which helps to unclog pores and control oil in the T-zone, while hydrating ingredients like shea butter and aloe vera soothe and moisturize dry areas.
Pros
Moisturising
Smoothing
Refreshing
Cleansing
Get a fresh start to your day with this coffee face scrub by UpCircle.It is suitable for all skin types and helps remove dead skin cells, unclog pores, and reduce the appearance of blemishes, leaving your skin smooth and glowing. Plus, it's cruelty-free, vegan, and free from harmful chemicals, so you can feel good about what you're putting on your skin. With every use, you're not only pampering your skin but also contributing to a more sustainable future by supporting the upcycling of coffee grounds.
Pros
Clean formula
Removes blemishes
Glowing skin
Flawless complexion
This water-activated exfoliant by Tatcha transforms into a creamy foam for smooth, polished skin with a healthy glow. It is a daily non-abrasive exfoliator that comes in different variations to cater to different skin types. The product is made with nourishing Japanese rice bran, silk protein, and other natural ingredients such as papaya extract, licorice root extract, and Japanese indigo. It is formulated for combination or oily skin and helps visibly tighten pores and smooth the skin.
Pros
Non-irritating
Natural ingredients
Foamy formula
Suits all skin types
This dermatologist-developed Clarifying Lotion is a part of the Clinique 3-Step Skin Care System. It is designed to be used twice daily to help detoxify and renew the look of the skin. The lotion contains a powerful blend of witch hazel, salicylic acid, and acetylglucosamine to help sweep away excess oil that can lead to breakouts. It preps the skin for moisturizer and makes it more receptive to hydration and treatment products.
Pros
Glowing skin
Helps fight blemish
Purifies pores
Healthier looking skin
This non-abrasive facial scrub for combination skin by Ongaro Beauty helps remove dead skin cells without drying out the skin. The exfoliator is powered by fresh fruit enzymes from pineapple, grapefruit, and papaya that detach and digest dead skin cells naturally. This organic fruit enzyme face scrub is a natural gentle face cleanser that helps to remove dead skin for a clear, smooth, and radiant complexion.
Pros
Cleansing
Gentle formula
Anti-aging
Hydrating
It's time to level up your skincare routine with an all-natural pink Himalayan body scrub and moisturizer for both women and men. It is designed to exfoliate the skin and remove dirt, bacteria, and toxins from the skin. The scrub has a soft exfoliant formula that helps bring back clear skin. It is a perfect blend of sea salt and aloe vera that helps to remove dead skin, blackheads, and acne while moisturizing the skin.
Pros
100% Authentic
Removes dirt
For all skin types
Flawless skin tone
Formulated with line-filling Hyaluronic Acid, seaweed, and organic red tea, this scrub delivers long-lasting hydration while nourishing the skin. The scrub for combination skin works to clear the skin, removing impurities and dead cells, contributing to an intense rejuvenation of the skin, and works to even out skin tone. The facial exfoliator contains powerful ruby crystals that provide immediate cell renewal by polishing and buffing away dead skin cells. The scrub may improve the clarity, tone, and evenness of the skin. It is gentle yet effective and can be used daily.
Pros
Reduces pore size
Removes fine lines
Organic
Dermatologist approved
How to Choose an Exfoliator for Combination Skin?
Choosing the right exfoliator for combination skin involves finding a product that can effectively address both oily and dry areas without causing further imbalance or irritation. Here's a detailed guide on how to make the right choice:
1. Identify Your Skin Needs
Firstly, assess your skin to determine its specific needs. Note which areas are oilier (typically the T-zone) and which are drier (usually the cheeks or perimeter of the face).
2. Exfoliation Type
There are two primary types of exfoliators: physical (scrubs) and chemical (acids). Chemical exfoliants are preferred for combination skin as they provide even exfoliation and are gentler on the skin. To address the concerns of combination skin, it's best to look for exfoliants that contain AHAs like glycolic and lactic acid. These ingredients help to gently exfoliate the skin's surface, improve texture, and address dryness without overstimulating oil production. If you have an oily T-zone, BHAs like salicylic acid can be beneficial in unclogging pores and controlling excess oil.
3. Avoid Harsh Scrubs
If you prefer physical exfoliants, choose ones with fine, gentle particles. Avoid harsh scrubs with large, abrasive granules that can cause microtears in the skin.
4. Fragrance-free and pH-balanced Products
Ensure the exfoliator is pH-balanced to maintain the skin's natural acid mantle. This helps prevent excessive dryness or oiliness. Fragrances can irritate sensitive skin, so opt for fragrance-free exfoliators to reduce the risk of reactions.
5. Patch Test
Always perform a patch test on a small area of your skin to ensure the exfoliator doesn't cause irritation or allergies.
6. Frequency
Start with a lower frequency of exfoliation, such as once a week, and gradually increase if needed. Over-exfoliating can exacerbate skin issues.
7. Hydration is Key
Regardless of your choice, follow up with a hydrating and non-comedogenic moisturizer to ensure your skin remains balanced and well-nourished.
8. Sunscreen
Exfoliation can make your skin more sensitive to the sun, so daily sunscreen application is crucial to prevent sun damage and further skin issues.
9. Consult a Dermatologist
If you're unsure about which exfoliator is best for your combination skin or if you have specific skin concerns, consult a dermatologist for personalized recommendations.
Remember that consistency is key when using exfoliators. Finding the right exfoliator for your combination skin can help maintain a balanced complexion by targeting oiliness and dryness effectively.
Proper Skincare Routine for Those With Combination Skin
A proper skincare routine for combination skin involves a balanced approach to address both oily and dry areas. Here's a detailed step-by-step guide:
1. Morning Routine:
Cleanser: Start with a gentle, pH-balanced cleanser. Avoid harsh, sulfate-based cleansers that can strip your skin. Gently massage it onto your face and rinse with lukewarm water.
Toner: Apply a hydrating and alcohol-free toner. Focus on the dry areas, but lightly swipe it across the entire face to balance the pH levels.
Serum (Optional): Depending on your skin concerns, you can apply a hydrating or oil-controlling serum. For dry areas, opt for a serum with hyaluronic acid, and for oily areas, look for one with niacinamide.
Moisturizer: Use a lightweight, non-comedogenic moisturizer. Apply more to the dry areas and less to the oily T-zone. Look for oil-free or gel-based options.
Sunscreen: Finish with a broad-spectrum SPF 30 or higher sunscreen. This step is crucial to protect your skin from UV damage and prevent further skin issues.
2. Night Routine:
Cleanser: Use the same gentle cleanser you used in the morning to remove makeup, sunscreen, and impurities.
Exfoliation (1-3 times a week): If you exfoliate at night, use a chemical exfoliant suitable for combination skin. Apply it after cleansing and follow the product's instructions carefully. Avoid exfoliating on the same night you use any retinol products.
Toner: Follow up with your hydrating toner, focusing on the dry areas.
Serum: Apply a serum tailored to your skin concerns. Consider a retinol serum for anti-aging benefits but use it sparingly in the dry areas.
Eye Cream: If you use one, apply an eye cream to address specific eye-area concerns.
Moisturizer: Use a slightly richer moisturizer at night, particularly for dry areas. You can also layer a lightweight hydrating oil (like jojoba or squalane) on dry patches.
Spot Treatment (if necessary): Apply acne or blemish treatment products only on affected areas.
3. Weekly Routine:
Mask (1-2 times a week): Use a hydrating mask for the dry areas and a clay or charcoal mask for the T-zone to control excess oil and minimize pores.
Additional Tips:
Balanced Diet: A balanced diet with plenty of water and nutrients can significantly improve your skin's health.
Consult a Professional:  Always patch-test new products to avoid potential irritations or allergies. If you have specific skin concerns or conditions, consider consulting a dermatologist for personalized recommendations.
CONCLUSION
Remember that the best exfoliators for combination skin are not one-size-fits-all, and adjustments may be needed based on individual skin responses. A proper skincare routine for combination skin should strive to maintain balance while addressing specific concerns in different areas of the face. The key to successful exfoliation is consistency and care. With the right knowledge and a commitment to self-care, you can conquer the challenges of combination skin and embrace the beauty of your unique complexion. Your skin deserves the best, so give it the care and attention it needs, and let your radiant beauty shine through.
FAQ's
Is exfoliating good for combination skin?
Yes, exfoliating is beneficial for combination skin as it helps remove dead skin cells, unclog pores, and balance oil production.
How many times should I exfoliate my combination skin?
Exfoliate 1-3 times a week, depending on your skin's sensitivity and needs, to avoid over-exfoliation.
What is the best chemical exfoliator for combination acne-prone skin?
Salicylic acid (BHA) is an excellent chemical exfoliator for combination, acne-prone skin, as it can penetrate pores and reduce breakouts.
What happens if you don't exfoliate?
Without exfoliation, dead skin cells can accumulate, leading to clogged pores, dullness, and potentially more breakouts.
How often should you exfoliate your combination skin?
Exfoliate 1-3 times a week, balancing the needs of both oily and dry areas.
What type of exfoliator is the best for combination skin?
Chemical exfoliators like AHAs and BHAs are generally better for combination skin, as they provide more even exfoliation.
Why is exfoliation important for combination skin?
Exfoliation helps maintain a balanced complexion by addressing both oily and dry areas and preventing skin issues.
How often should I exfoliate combination skin?
1-3 times a week is suitable for most combination skin types but adjust based on your skin's response.
What are AHAs and BHAs?
AHAs (Alpha Hydroxy Acids) and BHAs (Beta Hydroxy Acids) are chemical exfoliants. AHAs like glycolic acid exfoliate the skin's surface, while BHAs like salicylic acid penetrate pores.
Can I use physical exfoliants on combination skin?
Yes, but choose gentle physical exfoliants with fine particles to avoid irritation or microtears.
Are there exfoliators that cater to both oily and dry areas?
You can use a mild chemical exfoliator suitable for both skin types or target specific areas with different products.
Can exfoliation worsen dryness in my cheeks?
Over-exfoliation can worsen dryness. Adjust the frequency and type of exfoliation to prevent this issue.
Why Trust Pinkvilla
Anoushka, our skincare expert, knows how to find the best and the latest in skincare. Exfoliation is an important step in skincare and that's why she has meticulously gone through each product description, multiple customer testimonials, and various online reviews, before recommending any product. Here she has shortlisted the best exfoliators for combination skin that promise a radiant complexion.
Our product experts study the specifications of every product we suggest and try them out to bring what's proven to be worthy of your money, time, and energy. We also have subject matter experts from various fields like Fashion, Skincare, Haircare, Home Decor, and Health and fitness on board to make sure our suggestions are credible and trustworthy. You can trust Select to be your faithful shopping guide for all the right reasons!
Author BIO
Anoushka is certified in Professional Skincare and is a Mass Media (Journalism) graduate from Mumbai University. As a More