It is a bitter November night and Anthony Mbare is shivering in a car in rural Wiltshire, south-west England, waiting to see his next client.
It's 3C and he has been here for almost two hours but he cannot turn on the heater because the car battery might die. A petrol-station coffee to warm him up is £3 he cannot afford. He blows on his hands, wriggles his toes and huddles under a blanket.
At around 9pm, Mbare knocks on the client's door. She is "middle class", elderly, kind and terminally ill. For the next 30 minutes he will provide personal care and help her get ready for bed. By the time he makes it home, he will have seen 10 clients and been out for more than 16 hours, having had his first appointment at 7am. Today is a good day: he will make £61.20. Some days it is as little as £15.
Mbare is one of thousands of care workers hired from abroad to help tackle a chronic staffing shortage in social care. In the year to March 2023, 57,693 people were granted skilled worker visas to take up jobs in the sector, with most recruited from lower-income countries outside the EU.
For Mbare, moving to the UK had seemed like a chance to transform his family's future. The father of three uprooted his life in Kenya to come: he sold his belongings, left his job and paid £2,500 in "admin" fees to a domiciliary agency which, he claims, promised him a full-time, minimum-wage job – 10 times what he could make back home.
But last week, less than a year after he arrived, he says he was forced to return to Nairobi – "£10,000 in debt" and with no job to go back to. He claims his employer fired him and terminated his visa sponsorship after he raised concerns about working conditions. It then failed to provide him with a reference, he says, thwarting his chances of finding another care sector sponsor – and leaving him unable to remain in the UK. The company denies wrongdoing and disputes Mbare's account.
When Mbare began working in the UK in September 2022, he found the job tough but rewarding. He says he formed close bonds with his clients – mostly elderly people receiving end-of-life care – and was treated by some relatives as "part of the family".
But the conditions were not what he had expected. Before leaving Kenya, he says he was told by his sponsor, Merit Healthcare, that he would work 40 hours a week for £10.20 per hour. A contract seen by the Observer says his annual salary would be £21,200, split into even monthly payments.
However, when he arrived, he received far fewer hours, which he said left him struggling to afford basic living costs. Sometimes he would set off for the day before 7am and return at 11pm but spend as little as two or three hours providing care to clients, split into half-hour chunks.
With long gaps between appointments, and no pay for driving or waiting time, he found himself with long periods unpaid. He could have gone home to rest instead of waiting but says he could not afford the extra fuel.
Payslips for September to January 2023 show Mbare made between £980 and £1,100 each month – hundreds less than he was expecting. At that rate, his total annual income would have been around £12,000 to £13,000. With debts and school fees to pay, Mbare persevered at first – desperate to make enough after rent and bills to send money to his family.
Then, four months in, he says Merit insisted he agree to a vehicle policy requiring him to pay the costs of road tax, insurance and upkeep for a company car used for driving between clients, which it had previously funded. Alternatively, he could buy a car at cost price and have a monthly fee taken from his salary. Mbare says the changes would have cost him hundreds of pounds each month. "I thought, 'I don't want to be a slave,'" he says. "I didn't know how I would ever pay it back."
Documents show that Mbare raised concerns with a manager, hoping the situation could be resolved. Days later, the company fired him and told the Home Office it was cancelling his visa sponsorship. In a termination letter on 20 January 2023, Merit said he was being dismissed for failure to comply with the new vehicle rules. It also accused him of "insubordination" by "inciting other employees to disagree with our policies". The company told the Observer it had fired Mbare for "legal and valid reasons" but could not supply further details due to data protection rules.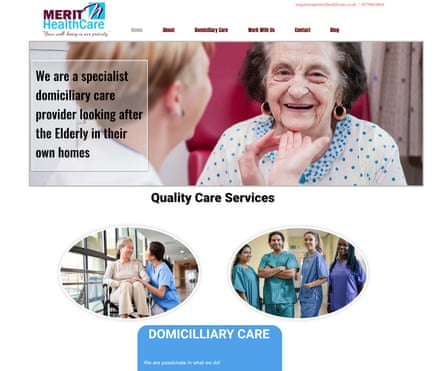 Over the following weeks, Mbare tried to appeal against the decision, and wrote to the Home Office requesting help. But he received no reply and, on 1 August, received a letter saying that, unless he found another sponsor, he would have to leave the country within 60 days. He interviewed for other care jobs and was offered them but says the process stalled as he did not have a UK reference. On 26 August, having exhausted all other options and facing deportation if he did not leave, he flew home to Kenya.
Now back with his family in Juja, a town north-east of Nairobi, the former carpenter says he does not know how they will repay the £10,000 in debts he accrued in agency fees, training charges, flights, relocation costs and interest on loans, which he had expected to be able to repay through the UK job. He expects he will have to sell the house his family built. "I thought this job would make my life better," he says.
His story has sparked calls for reform of the "tied" visa system in the UK care sector, which campaigners say leaves migrant workers at risk of exploitation and abuse.
Under the rules, health and care workers must be sponsored by an individual employer, which their visa is then tied to. Critics say the system leaves workers dependent on their employer for the right to work in the UK, making it difficult for them to switch jobs and less likely to speak out for fear of repercussions.
Fizza Qureshi, the chief executive of Migrants' Rights Network, said the charity knew of a "vast number of cases where migrant workers are being trapped in their current jobs because employers are withholding references, or threatening them if they try to change employers". She added: "This case is symptomatic of a system that is being blatantly used to abuse and extort migrant workers."
Adis Sehic, a senior policy officer at the Work Rights Centre, said the threat of deportation was frequently used as a tool to control employees. "The current system places too much power in the hands of rogue sponsors," he said.
Narmi Thiranagama, a policy officer at Unison, said: "The way the hostile environment combines with the underfunded social care sector ends up with the worker paying the price."
The Gangmasters and Labour Abuse Authority – part of the Home Office – has also acknowledged that tied visas drive exploitation. In its June 2023 intelligence report, it said "the most common vulnerability" of victims, many of whom are in the care sector, was them being "tied into a certificate of sponsorship or visa". This led to them "being forced to work for the employer even if the conditions were unacceptable, and the employer using the threat of cancelling the sponsorship if the worker complained".
Mbare believes that if the tied system was not in place, leaving him free to switch to another care sector employer, he "definitely" would have stayed in the UK and been able to repay his debts. But, compared with others he has spoken to, he believes his UK experience was "pretty mild".
He knows of care workers who paid agencies up to £8,000 for jobs in the UK, and are now working long days only to be paid £700 at the end of the month. "There's a woman who's calling me saying she's been eating bread and water every day," he says.
Others have sold their land and emptied their parents' pension pots to pay agencies that promised them "so much money and so much work". "They have given everything to help their children travel abroad to try and provide a more comfortable life. Now they can't even provide survival."
Mbare said he could not believe such exploitation could happen in the developed world. "My love for the UK has completely gone," he said. "I have tried to warn others. I tell them: it's not what it looks like. The government knows this exploitation is happening but no one is doing anything about it."
Justine Carter, director at Unseen UK, which runs the UK modern slavery helpline, said reports of exploitation in the care sector were "exploding" – with 708 potential victims identified in 2022, compared with 63 in 2021. Cases include workers being charged up to £20,000 to secure jobs; forced to work long hours or given fewer hours than they were promised; or being paid in a way that did not reflect the time "actually being worked".
"The tied visa creates an environment where it's easier for that person to become much more vulnerable," she said.
She added that expenses associated with providing care – "whether that's costs of a worker or costs to get them to and from clients" – should always be borne by the employer.
Mbare's story also raises questions about checks performed on companies granted sponsor licences to recruit workers from abroad. Visa sponsors are bound by licence conditions and employment laws, and can be inspected by the Home Office to ensure compliance. In the case of Merit Healthcare, Mbare says he wrote to the department five months ago, providing details of working conditions and raising concerns about his termination, but received no reply.
The Home Office declined to answer questions about Mbare's case, but said it "strongly condemned" any companies that hired migrant workers "under false pretences" and that any accusations of illegal employment practices would be "thoroughly looked into". "Those found operating unlawfully may face prosecution and/or removal from the sponsorship register," it said. By law, care workers coming to the UK under the health and care visa route must be paid at least £20,960 per year.
Merit Healthcare Ltd, which is based in Swindon, Wiltshire, and rated "good" by the Care Quality Commission, said it followed Home Office rules and denied any wrongdoing. It said hours and pay could fluctuate due to unforeseen circumstances, such as a client dying, which could explain why Mbare's earnings were different to the figure stated in his contract.
The company denied its vehicle policies were unfair, and said it had changed its rules because drivers had been having accidents in company cars, increasing insurance premiums. It said Mbare had refused a "reasonable solution" to which other workers had agreed.
In relation to the claim it withheld a reference, Merit says its policy was not to provide references if doing so could "negatively impact an applicant's chances of securing employment elsewhere". It denied charging recruitment fees to candidates (which are illegal in the UK) but said that "like any other business, any ad hoc costs related to the running of the business and, in particular, relocation to the UK can be passed on to a worker". Documents seen by the Observer show Mbare was charged an admin fee of £2,500 to "prepare your paperwork" and "issue you the certificate [of sponsorship]".
A spokesperson for Merit said Mbare's story was a "partial account of true events" and the "real" issue was government underfunding of social care. "We dispute the claim that the work offered was different or not expected/foreseeable," he said. Merit's website says it provides quality care for clients and an "unbeatable package of benefits" for workers.