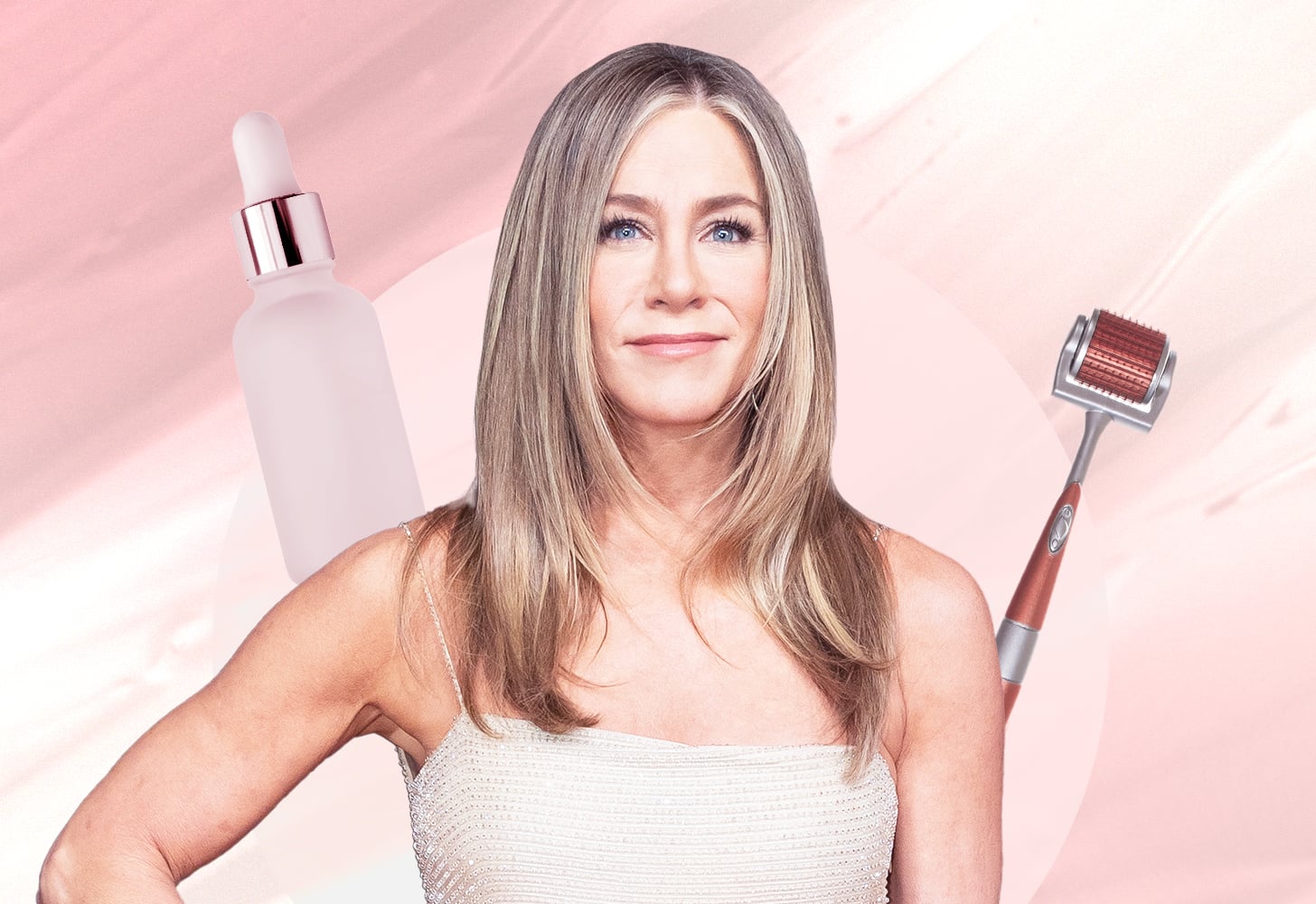 Once upon a time, Kim Kardashian told The New York Times that she would consider eating poop if it made her look younger — and it's still not the weirdest thing a celebrity has done in the name of anti-aging skin care. The latest celebrity skin treatment to enter the chat? Sperm facials, courtesy of Jennifer Aniston.
In a new interview with The Wall Street Journal, the "Friends" actor revealed that she underwent a salmon sperm facial at the recommendation of an aesthetician. "First of all, I said, 'Are you serious? How do you get salmon's sperm?'" Aniston told the publication. She added that she's not sure if she saw a difference after the treatment, which, for something that requires the extraction of a fish's reproductive cells, seems disappointing to say the least.
Though Aniston's sperm facial experience is currently causing a stir on social media, the treatment has been studied since the 1980s and is a steadily rising beauty trend in South Korea. As with most buzzy skin-care ingredients, the use of fish semen, or milt, claims to be a breakthrough anti-aging solution.
"When it comes to skin care, the quest for a holy grail ingredient will always continue," New York City-based dermatologist Joshua Zeichner, MD, tells POPSUGAR. "Salmon milt has been shown to improve skin, hydration, plumpness, texture, and wrinkles. The effects on the skin are thought to be due to high DNA levels. DNA is composed of amino acids, which have long been used in skin care for their hydrating and cell-renewing benefits."
The treatment is typically carried out via injections or microneedling in order to get the best results. "The advantages are countless," says celebrity aesthetician Ildi Pekar. "To ensure the serum penetrates deeper into the skin, we utilize a microneedling technique. This method amplifies the efficacy of the treatment, promoting healthier and more resilient skin."
There are some scientific studies backing the skin benefits of salmon sperm, but the data is limited, resulting in a great deal of skepticism; some experts are not even familiar with the treatment at all. "I know nothing of sperm facials and would definitely not recommend," says Bronx-based aesthetician Mareyem Touray. Other experts POPSUGAR contacted responded in a similar vein, saying that while they weren't familiar with the treatment, it seemed gimmicky.
Aesthetician Nerida Joy, however, not only sees the benefit of sperm facials but had worked with Aniston in the past. While she says the treatment is helpful for hydrating dry skin or repairing a compromised skin barrier, the oily nature of the ingredient could exacerbate acne-prone skin. "[Those with] oily skin that suffer with acne breakouts, either hormonal or food-related acne, may find this DNA additive in a skin-care formulation to be too overnourishing, therefore could definitely add to their acne breakouts," she says.
Another major consideration with salmon sperm facials is the potentially inhumane extraction of the ingredient. Even experts like Joy are wary of the process. "[Salmon sperm] is carefully extracted from the testicles, where it is abundant and is considered not to be inhumane, which honestly, I find hard to believe," she says.
Rachel Lee Lozina, an aesthetician at Blue Water Spa in Oyster Bay, NY, says the ethics of the treatment are up to the individual. "Is it humane? This depends on how sensitive you are toward animals," she says. "If you think disturbing their natural habitat for beauty is inhumane, then no."
In terms of the efficacy of the treatment, Dr. Zeichner says the jury is ultimately still out. "Whether it provides superior benefits compared to traditional anti-aging ingredients, like glycolic acid, or retinol remains to be proven," he says. "But if nothing else, it certainly offers a unique skin-care experience."
Image Source: Getty / Marc Piasecki olhakozachenko Hvoenok Iana Kunitsa Photo illustration by Becky Jiras