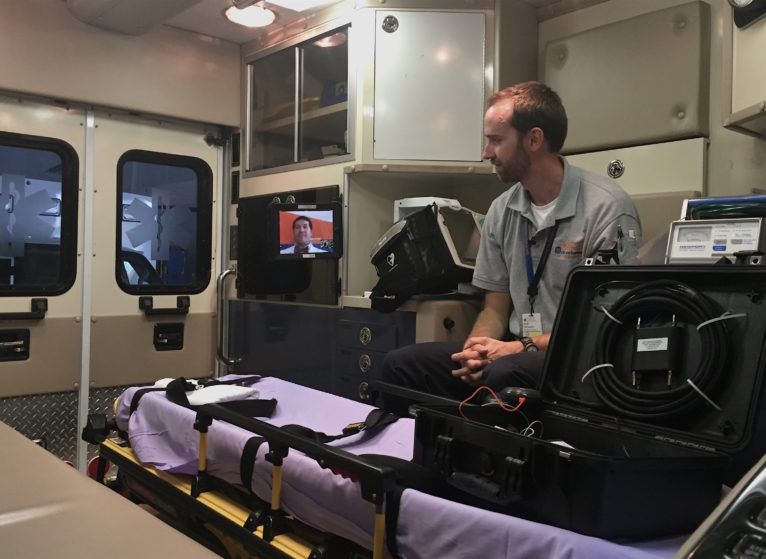 Sentara Martha Jefferson Hospital and UVA Health are strengthening their stroke care collaboration to better serve the stroke care needs of people in Central Virginia and beyond.
As part of this enhanced collaboration, the two hospitals will work in tight coordination to ensure patients having an acute stroke are evaluated appropriately at the initial point of care. If needed, stroke patients requiring complex care who present at Sentara Martha Jefferson Hospital will be transferred to the Comprehensive Stroke Center at UVA Health University Medical Center in Charlottesville.
Sentara Martha Jefferson Hospital decided to reclassify from a Comprehensive Stroke Center to a certified Primary Stroke Center. The reclassification will occur in October.  After evaluating current services and those available in the community, it was determined that the region does not need two Comprehensive Stroke Centers.
As a Primary Stroke Center, Sentara Martha Jefferson Hospital will continue to treat the vast majority of stroke cases. UVA Health will perform thrombectomies, which is a surgical procedure needed in a small percentage of stroke cases. For patients who need this level of care, the two hospitals are creating a transfer pathway so patients will bypass the emergency department and go straight to a procedural room to receive intensive medical and surgical care, specialized testing or interventional treatments at UVA Health's Comprehensive Stroke Center.
"By increasing our stroke program coordination, we're shaping a future where collaboration elevates our care, enhancing stroke care in Central Virginia and beyond," said Rita A. Bunch, MPH, president of Sentara Martha Jefferson Hospital. "Through the joint efforts of our dedicated teams, we are united in our commitment to serving the community, and in line with our steadfast dedication, Sentara Martha Jefferson Hospital is fully equipped to provide exceptional care for over 80 percent of stroke cases in our community."
The two hospitals will also work closely with local emergency medical services providers, building on their knowledge of stroke treatment and concentrating on the best practices for evaluating stroke patients. 
"The fact that Charlottesville has two high-quality hospitals means that our community has exceptional access to stroke care," said Wendy Horton, PharmD, MBA, chief executive officer of UVA Health University Medical Center. "Prompt access to stroke treatment is crucial for better outcomes. The most important thing for the community to know is to get to the nearest hospital at the first signs of a stroke and trust that we are tightly coordinated to get patients to a UVA Health procedural room if the highest level of intervention is deemed necessary."
Recognizing Stroke Symptoms
If someone is experiencing the signs of a stroke, call 911 immediately. About 1.9 million brain cells die every minute a stroke goes untreated, according to the American Heart Association, and many stroke treatments are time sensitive. For example, a clot-busting medication can be given to eligible patients within the first few hours of symptom onset. Promptly reaching a hospital increases your chances of receiving these potentially life-saving treatments.
Seeing these symptoms in someone? Think BE FAST:
Balance: sudden loss of balance or coordination
Eyes: double vision or lack of vision in one eye
Face: an uneven smile, one side of the face drooping
Arm: one arm or leg is weak
Speech: slurred speech or trouble getting the words out
Time: call 911 at once
Reducing Your Risk
There are several steps you can take to reduce your risk of stroke:
Maintain a healthy blood pressure. 
Eat a healthy diet, limiting your intake of foods high in saturated fat, cholesterol, salt and sugar.
Maintain a healthy weight.
Stay active by engaging in moderate-intensity exercise for at least 150 minutes per week.
Quit smoking, as it doubles the risk of stroke (call the QUIT NOW Virginia toll-free line at 1-800-784-8669 for help).
Avoid drinking too much alcohol, which can increase blood pressure and risk of stroke.
See your primary care doctor regularly and ask about checking for elevated blood sugars for diabetes management and prevention.