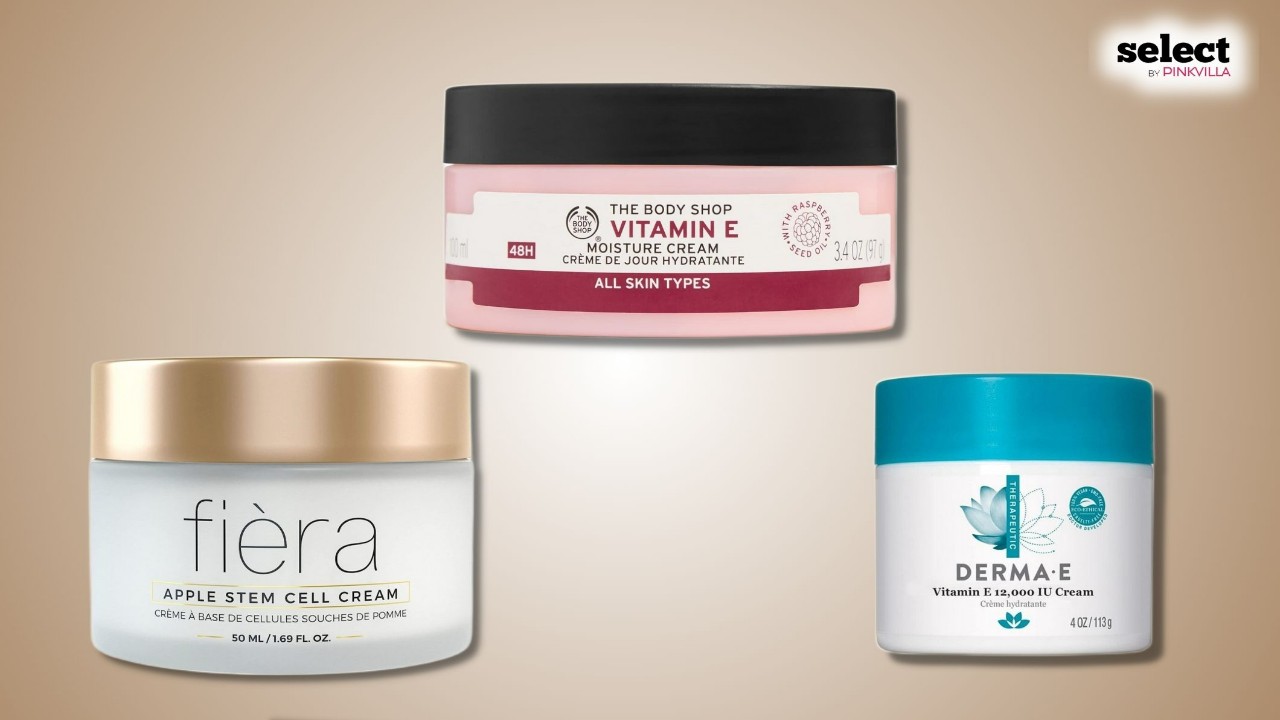 The products curated for this article are independently chosen by the
editorial team. If you make a purchase through the
links
mentioned below, we may receive a commission. Check out our
product
research & curation process
Known for its strong antioxidant properties and deep moisturization effects, Vitamin E has become a vital staple when it comes to skincare. Among many skincare ingredients, vitamin E stands out as a true powerhouse. Whether you're looking to combat the signs of aging, tackle dryness, or simply enhance the natural glow, the best vitamin E creams are your go-to solution to get flawless, radiant, and smooth skin. Incorporating vitamin E-rich creams in your skincare routine can help tackle dullness, sunburns, spots, blemishes, and many other skin problems.
As per our expertise, this star ingredient strengthens the natural barrier of your skin, giving you a healthy glow, and smooth texture that is free from flaws. With all that being said, it's crucial to include a moisturizer in your beauty regimen that's enriched with the purest form of vitamin E. To help you ease your search, here we thoughtfully sorted a list of high-quality Vitamin E-infused creams and moisturizers that are suitable for all skin types.
Our top picks
Best to replenish moisture
Best for dry and sensitive skin
100% vegan-friendly option
Best to reduce acne spots and scars
Best for non-greasy effect
Discover 15 Best Vitamin E Creams for Youthful-looking Skin
Experience the ultimate nourishment with the Fruit of the Earth Vitamin E Skin Care Cream. Enriched with the goodness of active ingredients like sunflower seed oil, aloe vera, wheat germ, collagen, and vitamin E- this cream helps in keeping your body, hands, and face looking younger. Comes with a pack of 2 jars, this vitamin E-rich cream is brimmed with the best emollients that can do wonders on dry and flaky skin. Enriched with nature's antioxidants, this cream offers a luxurious blend that replenishes moisture, leaving your skin feeling soft and supple. Whether you're seeking to soothe dryness or enhance your skin's radiance, this Vitamin E-infused cream is your go-to solution.
Pros
Good for sensitive skin
Quickly absorbed
Non-greasy
Helps reduce the scars
A moisturizer with vitamin E is all you need to tackle skin aging and this age-defying formula by Jason Moisturizing Crème with Vitamin E is specially designed to renew and rejuvenate your skin. This jar of vitamin E cream delivers deep long-lasting effects of hydration as it is infused with avocado oil, aloe vera gel, vitamins A, C, and E, and nutritious avocado oil. This ultra-light formula helps to replenish moisture and makes the skin smoother and plumper. Packaging may vary, but the quality remains consistent. Elevate your skincare routine with this luxurious crème that leaves your skin supple and smooth.
Pros
Cruelty-free
Paraben free
Sulfate-free
Made of gentle ingredients
Pamper your dull and dehydrated skin with the rejuvenating touch of Genes Vitamin E Creme Swiss Collagen Complex once and we are sure that you will come back for more. This cream is specifically formulated for dry and sensitive skin as it contains a Swiss collagen complex that gently revives the flaky and dull skin. Packed with the goodness of skin-loving ingredients like vitamins E, A, and D, it helps to prevent rashes, treat sun damage, and provide nourishment that lasts long.
Pros
Suitable for sensitive skin type
Long-lasting effect
Lightweight
Quick absorbing
Suitable for daily use
Cons
Might feel expensive to some
This multipurpose vitamin E skin care cream cares for both your face and body. With the enriching properties of pro-vitamin B5 and aloe vera extracts, this cream is a soothing oasis for your skin, delivering a blend of multiple benefits. From protecting your skin against harmful radicals to smoothening and softening the texture, DERMA E moisturizer is an all-star product that is ideal for various uses. Embrace a rejuvenating experience as this cream revitalizes your skin, leaving it nourished, moisturized, and ready to face the day.
Pros
Dermatologist recommended
Cruelty-free
100% Vegan
Comes with a light refreshing scent
All natural ingredients
Cons
Might feel a little heavy
Faulty packaging
Experience the luxurious care of De La Cruz Vitamin E Cream Moisturizer which locks your skin moisture to get that firm, smooth, and supple feeling. Comes with a convenient 3-pack, you can use this cream as a daily moisturizer or as an anti-aging night cream. Crafted for all skin types, it can effortlessly smoothen out wrinkles and dry patches on the face and neck. Enriched with ingredients like avocado, and almond oil along with the blend of aloe vera, this vitamin-rich moisturizer is all you need for a smoother, healthier complexion.
Pros
Suitable for all skin types
No petroleum
Gluten-free
No artificial fragrances
Non-GMO
Loaded with a blend of avocado oil, argan oil, sweet almond oil, cocoa butter, and a natural form of vitamin E, this is one of the best vitamin E creams for the skin, especially hand and body. Comes in a travel-friendly compact container, Palmer's Vitamin E cream offers a deep moisturizing experience that rejuvenates and softens your skin. This nourishing blend of ingredients blend and absorbs quickly in the skin, leaving it feeling velvety smooth and thoroughly hydrated. With this moisturizer, enjoy the indulgence of healthier, more radiant skin from the palms of your hands to your entire body.
Pros
Formulated with natural ingredients
Heals and repairs skin
Perfect for dry and damaged barrier
Suitable for sensitive skin
Can also be used on Eczema prone skin
If you are looking for a vitamin E cream that offers an anti-aging effect, then look no further. FIÈRA Moisturizing Face Cream is fused with apple stem cells that promote healthy skin cell turnover. This scientifically proven formula is rich and quick absorbing and is a perfect solution to combat dark spots and wrinkles. Enriched with potent ingredients including Hyaluronic Acid, vitamins E, A, and shea butter it delivers both day and night care. Use a pearl-sized amount in a gentle upward stroke for better results.
Pros
Anti-ageing formula
Quick absorb into the skin
Non sticky
Lightweight
Super hydrating
Cons
Might feel too heavy on oily skin type
Immerse your skin in the goodness of The Body Shop Vitamin E Moisture Cream for a non-greasy glow. Designed for all skin types, this cream delivers hydration that moisturizes and protects deeply. With its signature Vitamin E infusion, it offers a luxurious 48hrs long-lasting moisture that rejuvenates and promotes skin health. You can use it twice a day to achieve well-hydrated and protected skin. Made with raspberry extract, and hyaluronic acid, this cream suits people with combination skin type.
Pros
Oil-free
48hr hydration
Natural ingredients
Super light and refreshing texture
Dermatologically tested
Unlock intense moisture and concentrated nourishment with NOW Solutions Vitamin E Cream. Packed with the highest concentration of Vitamin E, this cream offers a rejuvenating experience that deeply hydrates and revitalizes the natural moisture of your skin. To make natural vitamin E work even better, this moisturizer with vitamin E contains wheat germ oil and Rhodiola extract which help fight harmful radicals and protect your skin from pollution.
Pros
Reduce acne spots and scars
Suitable for daily use
A little goes a long way
Super moisturizing
Webber Hydrating Cream is specially designed to improve the look of scars, burns, wrinkles, and dry skin. Packed with Vitamin E, this 120 ml jar offers a rejuvenating touch that nurtures and revitalizes your skin. Whether you're dealing with acne scars, stretch marks, aging, or dryness, this cream is the right solution. Apart from providing hydration, this vitamin E-rich cream can also reduce fine lines and wrinkles and promote younger-looking skin with every application.
Pros
Non-greasy
Smooth
Rectify signs of aging
Provide lasting hydration
Can improve stretch marks
Enriched with age-defying antioxidants that work to invigorate your skin, Vital Care is the best vitamin E skin care cream to rejuvenate your skin. The doses and blend of other ingredients like ascorbic acid and glycerine help renew and protect your skin from the effects of aging. Elevate your skincare routine with this formula, designed to provide essential care that leaves your skin looking youthful and revitalized.
Pros
Moisturizing
Good for sensitive skin
Prevent wrinkles
Comes with multi-purpose usage
Fragrance free
This vitamin E lotion is your go-to solution for sunburn relief and dry and itchy skin. Formulated with the essence of Aloe Vera, green tea, hemp oil, grape seed, and tea tree, this moisturizer provides care for both your body and face. Embrace the benefits of organic goodness that soothes and moisturizes, leaving your skin feeling refreshed and revitalized. This product complements people with dry, damaged, and oily skin types. Enjoy the comfort and recovery of well-nourished, hydrated skin with every usage.
Pros
24 hr hydration
Cruelty-free
Dermatologist recommended
Strengthens skin barrier
Doesn't clog pores
Crafted with the hydrating properties of glycerine, cucumber, aloe vera, and vitamins A & D, this cream is designed to relieve dry skin and offer potential relief from minor skin irritations. Elevate your skincare routine with the blend of nutrients, all while being vegan and vegetarian-friendly. Get ready to indulge your skin in the power of natural ingredients to make it feel refreshed and comforted.
Pros
Made with skin-friendly ingredients
Contains essential oils and vitamins
Vegan and vegetarian
Soothe minor skin irritations
Cons
Might give a burning sensation
Indulge in the nourishing benefits of Cococare Vitamin E Cream which comes with a great dosage of 12,000 IU. This cream is a treasure trove of the goodness of Vitamin E, offering a healing touch for your skin. Elevate your skincare routine with a cream that delivers potent care all while making your skin feel moisturized and revitalized. It also contains mineral oil to promote healthier-looking skin. All you have to do is massage it into the skin gently to get that re-hydrated, well-nourished, and softer skin. This Cococare vitamin E cream is your go-to solution for effective hydration and a radiant complexion.
Pros
Works great for skin repair and sunburn
Great for sensitive skin
Super hydrated
Very soft
Cons
Faulty packaging
Might take a lot of time to show the results
Stop looking for skin care products with vitamin E as Mill Creek Vitamin E cream is here to your rescue. Infused with 20,000 IU of Vitamin E, it will help you slay your skincare routine by offering a radiant, lasting, and non-sticky potent touch of nourishment to your skin. Just use your fingertips to gently apply this cream for an overnight intense beauty treatment. Reap the maximum benefits with its daily usage and promote healthier-looking skin.
Pros
No artificial colors and fragrances
Free from parabens
Non-sticky
Absorb finely
How to Choose the Best Vitamin E Cream?
Before investing in or selecting a vitamin E cream, determine your own skin type (dry, oily, combination, sensitive) and look for creams labeled specifically for your skin type.
Check the ingredients when investing in a vitamin E product. Look for terms like (tocopherol or tocopheryl acetate). This is the best form of this vitamin and should be present in your skincare product. To reap the additional benefits, you can also opt for other beneficial components like hyaluronic acid, aloe vera, antioxidants, and natural oils.
Look at the IU (International Units) of Vitamin E in the cream. Higher IU generally indicates higher potency, but a balanced concentration is usually more effective.
Make sure to identify your skincare goals before you buy a vitamin E cream. Decide whether you want to invest in this cream for moisturizing, anti-aging, reducing scars, or want to get relief from sunburn relief. Next, make your decision and carefully examine the list of ingredients according to your skincare goals. For example, hyaluronic acid for hydration, antioxidants for anti-aging, or aloe vera for soothing.
Determine if you prefer a lightweight lotion, a rich cream, or a gel-based formula based on your preference and skin type. Always try to opt for non-greasy formulations that are lightweight and quick-absorbing. Also, choose fragrance-free or lightly scented products, especially if you have sensitive skin.
How to Use Vitamin E Face Creams?
Start with clean skin. Use a gentle cleanser to remove dirt, makeup, and any other impurities.
If you use a toner in your routine, apply it after cleansing and let it dry.
If you use any serums or specialized treatments, apply them before your Vitamin E cream.
Now, take a small amount of the vitamin E cream and gently dot the cream onto your face, focusing on areas that need extra attention. Distribute it evenly across your face and neck. A pea-sized amount can be applied if you are a beginner. Also, do a patch test especially if you're trying a new product. Apply a small amount to a small area of skin and observe for any adverse reactions.
Use upward and outward motions to massage the cream into your skin. This helps improve circulation and ensures the cream is absorbed well.
Benefits of using Vitamin E Cream
Vitamin E is a potent antioxidant that helps protect your skin from damage caused by free radicals. These radicals can contribute to premature aging and skin issues.
Vitamin E has excellent moisturizing properties that help prevent dryness and keep your skin hydrated. It creates a protective barrier that retains moisture.
Vitamin E is known to aid in the healing process of the skin. It may help reduce the appearance of scars, minor burns, and other skin irritations by promoting skin cell regeneration.
Regular use of Vitamin E creams can help improve skin elasticity and reduce the appearance of fine lines and wrinkles. It supports collagen production, which contributes to firmer and more youthful-looking skin.
Vitamin E can help soothe and calm sunburned skin. Its anti-inflammatory properties can provide relief from redness, pain, and peeling associated with sunburn.
Vitamin E creams can contribute to a more even skin tone by fading dark spots and promoting a brighter complexion.
With its moisturizing properties to deeply rejuvenate, and boost skin quality, vitamin E has rightfully earned its place as a vital skincare ingredient. Our selection of the best vitamin E creams not only helps you to get rid of the acne spots, scars, and blemishes but it also improves your skin texture. Moreover, it helps in boosting the collagen levels of your skin while maintaining a healthy PH balance. If your skin is oily, remember to choose a vitamin E cream that doesn't have oil or feel greasy. Pay attention to the formulation, consistency, and other ingredients to get that natural-looking healthy tint of glow and hydration. Ingredients like hyaluronic acid, glycerin, and ceramides mixed with vitamin E help you reap the maximum benefits.
FAQ's
Can vitamin E creams help fade scars and marks?
Yes, vitamin E creams have the potential to help fade scars and marks on the skin.
Can I use a vitamin E cream with other skincare products?
Yes, you can use a vitamin E cream alongside other skincare products. Make sure that complement each other and don't cause any reactions.
Can I use vitamin E creams under makeup?
Yes, you can use Vitamin E creams under makeup, however, check the formulations and avoid using creams that are too oily or greasy as it makes your makeup application difficult.
How often should I use a vitamin E cream?
Choose the frequency of the application according to your skin type or concern. But typically, it's recommended to use it once or twice a day.
Are there any side effects of using Vitamin E creams?
Using Vitamin E creams generally has few side effects including skin irritation or allergic reactions like skin rash, itching, redness, or swelling. It's advisable to do a patch test before use.
Is vitamin E cream good for aging skin?
Yes, the antioxidant properties of vitamin E are beneficial for aging skin as it help fight against skin damage and improve overall skin texture.
Can you use vitamin E cream on your face every day?
Yes, you can use vitamin E cream on your face every day.
Can vitamin E reverse wrinkles?
Vitamin E can help improve skin texture and elasticity, which may have a positive effect on the appearance of wrinkles.
Why Trust Pinkvilla
After struggling with dull and lifeless skin, Anoushka, the skincare expert, realised the importance of adding Vitamin E to her daily routine. She began using moisturizers enriched with Vitamin E and within 2 weeks noticed a drastic change with the texture and suppleness. She put to test 15 best vitamin E creams that are suitable for all skin types, skin textures and give a natural glow. 
Our product experts study the specifications of every product we suggest and try them out to bring what's proven to be worthy of your money, time, and energy. We also have subject matter experts from various fields like Fashion, Skincare, Haircare, Home Decor, and Health & Fitness onboard to make sure our suggestions are credible and trustworthy. You can trust select to be your faithful shopping guide for all the right reasons!
Author BIO
Anoushka is certified in Professional Skincare and is a Mass Media (Journalism) graduate from Mumbai University. As a More