PICTURED: School In-Reach staff (from left) Lucy Bolton, team leader; practitioners Angharad Thomas, Emma Jenkins and Ellen O'Flynn; Claire Norman, lead nurse for CAMHS; practitioners Mark Parry, Ceri-Ann Hunt, Lyndsey Vaughn-Gibson, Conor Lloyd, Amy Glass, Laura Beavan and Kelly Austin along with Donna Williams, clinical nurse specialist. 
Young people in Swansea and Neath Port Talbot who may be struggling with their emotional health and wellbeing are getting earlier mental health support, thanks to a growing schools in-reach service.
The CAMHS (Child and Adolescent Mental Health Service) School In-Reach team focuses on early intervention rather than waiting for problems to escalate, which can lead to young people then needing a referral to CAMHS.
It has already prevented hundreds of schoolchildren needing referrals into mental health services.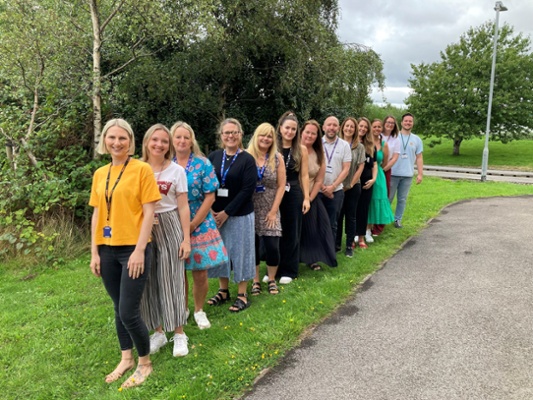 The service's nurses and practitioners share their expertise with school staff on techniques to manage mental health difficulties among children, and provide schools with targeted training and bespoke workshops.
Children have also been able to access CAMHS support more promptly, if required.
The service works with around 275 primary and secondary schools in Swansea Bay, having started initially as a pilot project in one school just five years ago. It helps pupils up to sixth form level, while it also supports parents of children who are home-schooled.
Its success has also reduced the amount of referrals of five to ten-year-olds to its mental health service by 221 cases (17 per cent) over a three-year period.
It has now been recognised by the national Royal College of Nursing (RCN) Awards, which received 920 entries from across the UK, with the School In-Reach team standing out and nominated for the Mental Health Nursing category.
It is the second Swansea Bay service to be shortlisted, with the virtual wards team also in the running in the Nursing Older People category.
Claire Norman, lead nurse for CAMHS, said: "Early prevention is our aim and education plays a massive part in that.
"We provide school staff with support as they are the thread that runs through the child's lives as the children spend most of their time in school.
"There are different strategies that we look at depending upon need. It could be that we ask the teacher to offer the pupil some quiet time, check in's or support as a trusted adult. We use a stepped approach, but ultimately if that doesn't work and the child is struggling, they can have a screening appointment which will identify additional support, including access to CAMHS.
"We aim to stop children bouncing between services. We have to understand what the child is dealing with, and giving the confidence to schools and families to know the support that is needed."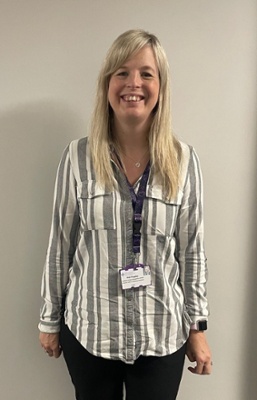 Each school has a dedicated emotional health and wellbeing practitioner and clinical nurse specialist. It also stretches beyond the classroom.
Lucy Bolton, team leader for the School In-Reach service, said: "We do a lot around interventions with young people, along with group and individual sessions but we've extended that to families. We do parental workshops and can offer 1-1 advice where we feel it is required.
"While teachers and the children are very important, if we don't support and give advice to families then we're missing a trick."
PICTURED: Fran Pugsley, emotional health and wellbeing practitioner, is part of the CAHMS team.
The service is now hoping to earn more success at the RCN Awards in Liverpool in November.
Donna Williams, clinical nurse specialist who has worked within CAMHS for the last 18 years, said: "It was a lovely surprise for the work of the team to be recognised with a nomination for the RCN Awards.
"Having the opportunity to showcase our work as finalists will support the drive, enthusiasm and passion to continue to develop our service.
"It gives our team a massive boost to know that our work is making a difference to the lives of children and young people. Being nominated for this prestigious award is further evidence of the progress we are making as a team."
The health board's eight virtual wards will also be hoping for success at the ceremony later this year.
They provide wraparound support in the community to people with complex health and social needs.
Rather than a ward being made up of hospital beds, the patients' own beds become part of a virtual ward, meaning they still receive face-to-face care but in the comfort of their homes instead of a hospital.
A multi-disciplinary team made up of health and care professionals, such as doctors, nurses, pharmacists and therapists, discuss how to plan and manage each patient's care, ensuring face-to-face assessment and intervention is carried out.
Staff use digital technology to pull the large teams together virtually, making communication and care planning more efficient and effective.
Since being introduced in 2021, the service has saved over 28,000 bed days in admission avoidance or reduce hospital stay.
Emily Davies, Swansea Bay's head of nursing for transformation, said: "Going the extra mile for our patients is what nursing is all about, and we strive to ensure the very best outcomes for our patients and families on a daily basis.
"Our virtual wards initiative has been a fast-paced rollout of a new service. To be recognised in this category is rewarding."