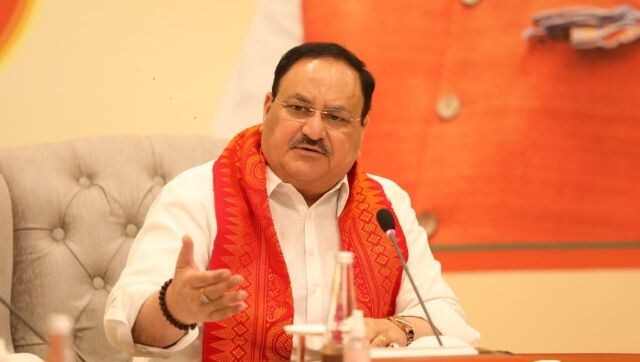 Bharatiya Janata Party chief JP Nadda on Friday said the Narendra Modi government at the Centre was "proactive" as it took care of people even before they faced any problem, which resulted in a reduction in poverty in the country.
Addressing a public gathering in Khargone in Madhya Pradesh to highlight achievements in nine years of Modi rule, Nadda said poverty had dipped from 22 per cent nine years ago to 10 per cent, while the "very poor" category was now less than 1 per cent of the population.
While the PM had launched several welfare programmes, the Congress had hit below the belt by calling him names, lowly, illiterate, chaiwala (tea seller) etc, Nadda said.
"The Narendra Modi government is proactive and pro-responsive. It takes care of people even before they face any problems. It can be seen in Central schemes like Ayushman Bharat, which is aimed at protecting people's health, and the PM Kisan Samman Nidhi (direct benefit transfer to farmers)," Nadda said.
The Ayushman Bharat scheme, under which cover of Rs 5 lakh per family is provided, is among the biggest health schemes in the world and benefits 40 per cent of the country's poor irrespective of caste, creed and religion, he said.
Slamming Congress leader Rahul Gandhi, the BJP national president said the former had gone to London and spoken about the need to restore democracy in India, whereas it was his grandmother and former PM Indira Gandhi who had imposed an Emergency in 1975, leading to 1.78 lakh people being jailed.
Nadda said just one house was allotted under the Indira Awas Yojana in a panchayat in his constituency when he was an MLA in 1993, while the Modi government had built nine crore houses in the past nine years under the PM Awas Yojana.
Nadda said world leaders were full of praise for Modi and cited examples like Australian Prime Minister Anthony Albanese calling his Indian counterpart "the boss" and former US National Security Advisor John Bolton describing him as a "global leader.
Tesla CEO Elon Musk has claimed he is a fan of Modi, while a former US president has also spoken highly of the prime minister, Nadda added.
"We have surpassed Britain to become the fifth largest economy in the world. Before that (under UPA rule till 2014), we were known for corruption and 2G, coal, chopper and Commonwealth scams," he said.
The Congress, which is using objectionable terms for the PM, is forgetting that 140 crore Indians were firm with him, Nadda asserted.
"According to an international report of repute, the poverty rate in the country has dipped to 10 per cent from 20 per cent nine years ago. Besides, the per cent of very poor people was less than one now," he claimed.
PM Modi was concerned about farmers and, therefore, he announced yearly assistance of Rs 6,000 for them (under the PM Kisan Samman Nidhi scheme), he said.
"Madhya Pradesh Chief Minister Shivraj Singh Chouhan is equally concerned about farmers and he has also announced Rs 6,000 annual assistance for them," he added.
Slamming the previous Congress government in MP under Kamal Nath, Nadda said it was corrupt and had stopped welfare schemes that had been started under BJP rule.
"For this, you (people) can stop him in November (when Assembly polls are likely to be held). Nath had removed a chapter on the Kargil war from the school (syllabus) in MP and insulted the Army. Now you end the chapter of Kamal Nath in November," he said.
He said CM Chouhan had announced the creation of one lakh (government) jobs in the state, and more than half of that had already been provided.
Before addressing the rally, Nadda took part in a roadshow in the town that falls in the Nimar region of the state.
Incidentally, the BJP lost all six Assembly seats in Khargone district in the 2018 Assembly polls.
Khargone Lok Sabha seat comprises ten Assembly constituencies spread over Khargone and Barwani districts. Nine of these seats were won by the Congress in the 2018 polls.
Elections to the 230-member Madhya Pradesh Assembly are scheduled for the end of this year.
Read all the Latest News, Trending News, Cricket News, Bollywood News,
India News and Entertainment News here. Follow us on Facebook, Twitter and Instagram.