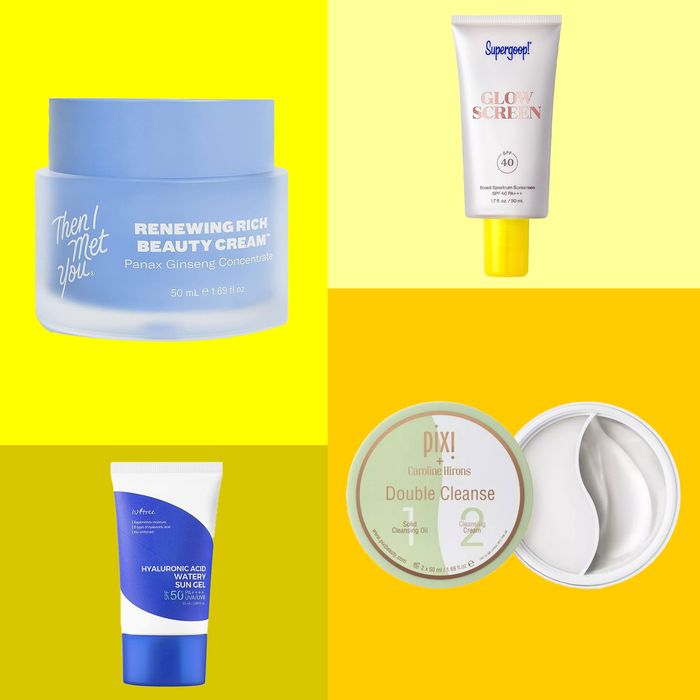 Photo-Illustration: The Strategist; Photos: Retailers
I'm not entirely sure how this is possible, but it's been over six years since the Strategist first published my article "The Google Doc I Send to Friends Who Ask About My Skin." Since then, so much has changed, both personally and when it comes to my skin-care routine: I've completed aesthetician school; published a book, Let's Face It; launched a skin-care consultancy; and perhaps most important, become a devout user of tretinoin (more on that later).
As you may or may not know, my skin is insanely dry and severely eczema prone, as well as acne prone, a combination that's historically been a real pain to buy products for. But over the years, through trial and error (and a few days of shedding like a snake), I believe I've found the perfect balance — a lineup of skin care that helps me effectively quench my dry skin and keep my acne at bay, totally free of irritation, cystic zits, and redness.
You'll notice pretty quickly that almost all of the products in my routine are moisturizing: squalane-infused hydrating toners, skin-plumping serums, humectant-rich moisturizers, and the like. This is because, for a dry-skinned girl such as myself, I can only use tretinoin if every other product in my routine is working to ensure my skin stays optimally moisturized. Otherwise, I will look like a lobster undergoing a violent metamorphosis — I've experienced it before and it is, frankly, not chill at all.
So without further ado, below, an eczema girlie's guide to using strong retinoids. Enjoy!
This hydrating toner has become a total staple in my medicine cabinet — I believe this is my third or fourth bottle of the stuff. It has an extremely lightweight, watery consistency that sinks right into your skin with no stinkiness. But aside from it being nice and cooling to apply, the formula also works wonders on my complexion — the calming green tea, soothing centella asiatica, and deeply hydrating squalane and hyaluronic acid all work together to not just deliver a big moisture boost but reduce redness and inflammation. Whatever my skin is dealing with, whether that's breakouts, dehydration, or a bit of irritation, this product helps heal, hydrate, and calm all of it down and leaves my skin looking a whole less red and blotchy.
It wouldn't be a Google Doc article without Cosrx Snail Mucin Essence — a tried-and-true skin-care product that helps with my dry skin, acne, fine lines, and pretty much anything in between. There's a reason why it's a product that's remained dear to my heart for so long — even after years of being a beauty journalist — and why the kids on TikTok just can't get enough of it. The formula is a hydrating, thick goo that instantly plumps and moisturizes your skin. But perhaps more important, it has incredible healing benefits, specifically when it comes to my acne— if I have a pesky zit or a scab from picking, a few nights of snail mucin in my routine will knock most of the swelling down and help speed up the healing process of the scab. I can't tell you how many catastrophic, post-picking scabs this product has nurtured back to health. This is probably my tenth bottle, which is how you know I really love it.
Because I use tretinoin, it's of the utmost importance that I apply a pretty hard-core moisturizer in order to avoid any of that peeling or flaking that can sometimes come with a powerful retinoid. Knowing how expensive this product is, I tried and tested a few others in the hopes of finding a cheaper alternative to offer. But truthfully, nothing really held a candle to this moisturizer, which for whatever reason, my skin absolutely adores. It's a rich (but not pore-clogging) moisturizer that uses antioxidants, fatty acid, and ceramide-rich ingredients like ginseng, squalane, and baobab to deeply hydrate and plump the skin throughout the day or night. Unlike a lot of other moisturizers I've tried, it applies beautifully (so it's suitable for underneath makeup) and is thick enough to quench my skin without looking at all greasy. The only caveat is that it does have a slightly earthy, almost smoky scent to it, which can often happen when products don't have any fragrance-masking ingredients in them. But in my opinion, that's a small price to pay for such a wonderful product.
I'm always on the lookout for sunscreens that are moisturizing, sit well underneath my makeup, and leave my skin looking super-dewy. And this SPF from ISNTREE is exactly that! It's a lightweight, chemical sunscreen that hydrates the skin without leaving a sticky film behind. It's never once broken me out — which can sometimes occur with sunscreens — or made my eyes sting when I sweat a bit. I also wore this every day on a recent vacation in Greece in the baking-hot sun and didn't even get so much as a flush.
If I want to even out my skin, I use Supergoop!'s Glowscreen instead. It's almost like a broad-spectrum pearlescent skin tint — it's not going to cover any acne, but it will work as a very light veil of coverage with a beautiful sheen. I love both of these sunscreens so much, I truly couldn't pick.
I picked this up at my local Target last time I was in Los Angeles. This is such an extraordinary budget-free cleanser, and it was made in collaboration with skin-care guru Caroline Hirons (whom I adore!). It's a cleansing duo, so it comes with a cream and balm cleanser in one container. Both use an incredibly gentle, fragrance-free formula that cleans the skin without leaving it feeling the least bit stripped or tight. The balm instantly melts away any makeup or sweat from the day, and unlike other balm cleansers, doesn't leave your eyes feeling weird and foggy when you take off eye makeup. And the cream cleanser has a very hydrating, super-gentle formula that delicately cleanses the skin without any harshness whatsoever. If I've been sweating or have any makeup on, I'll go in with the balm, wash it off, then the cream cleanser. If it's a no-makeup day and I've just been loafing around the house, I'll just use the cream for a less aggressive cleanse.
This is an all-star product in my skin-care arsenal — it's something I will always, and I mean always, have next to my sink in case I break out. Panoyxl uses 10 percent benzoyl peroxide, which is an ingredient with antimicrobial properties that helps to fight the bacteria that causes acne. A benzoyl peroxide with a concentration this high can be spooky, especially for those with dry or particularly sensitive skin. But here's the thing: Since it's a face wash (rather than a leave-on serum), the product is only on your skin temporarily, so you're delivering that intense ingredient into your pores while reducing the possibility of dryness or flakiness. This is the only way my skin has been able to tolerate the ingredient while also benefiting from its amazing acne-fighting properties. I don't use this product all over my face, but instead, after cleansing with a balm, I go in with panoxyl and focus it exclusively on areas where I tend to break out — for me that's the chin, jaw, and along my hairline. I tend to use this product two to three times a week to ensure my breakouts stay away.
I've written about why caffeine is so great for the dark under-eye area before. But to quickly debrief, caffeine temporarily constricts the blood vessels under your eyes, taking away some of that darkness caused by shadowing. It works like a morning cup of coffee, so it's not a long-term fix, but if you want to make the area look a little brighter for a meeting or lunch date, this eye cream will help you do that. It's also a nice hydrating gel that preps your under-eye area really well for a bit of coverage — I've found foundation and concealer just glide on top. I picked this up at drugstore in London and have used about three tubes of it so far.
I was prescribed Altreno by Dr. Joshua Zeichner, a dermatologist based in New York City in 2021. Unlike most tretinoins, which can feel quite pasty, this one in particular is formulated with collagen, hyaluronic acid, and glycerin, so it has more of a lightweight-gel texture and hydrating formula. Out of any skin-care products I've ever used, Altreno has without a doubt been the most game changing when it comes to reducing my breakouts, getting rid of acne scars, and filling in any fine lines and wrinkles. I definitely struggled with some purging and flakiness when I first started using it, but it was so worth it for the final results: My skin is probably the brightest, smoothest, and clearest it's ever been. I do still break out sometimes, but I've found that all of the zits are extremely extractable (not to be so gross, but when I do pop them, the whitehead comes out very easily) so it rarely leaves a mark. When I first started out, I used this product two or three times a week, but I now use it every other day on top of my moisturizer. Very few insurance plans cover Altreno, so you'll likely have to pay the out-of-pocket fee of $115. If you're curious about how to integrate tretinoin into your routine if you've never tried it, here's an article I wrote this year.
Of course, we can't prescribe you Altreno here. But a service my coworkers at the Strategist love for getting tretinoin is Dermatica. You send in bare-faced selfies and fill out a form, and the company creates a custom formula based on what you're hoping to achieve and your skin type. I haven't tried this myself, but it looks awesome, especially if you don't have easy access to a dermatologist.
I'm a picker, there's no two ways about it. (I wrote all about my struggles with dermatillomania here.) One of my favorite ways to combat pimples while keeping my fingers away from my face is with pimple patches. I particularly love these from Starface, which are adorable enough to leave the house in. They help extract the whitehead from your blemish without any popping necessary, and they have saved me countless times from going to town in my magnifying mirror (which I have since thrown out). They come in all different colors, but my favorite are the black ones.
The Strategist is designed to surface the most useful, expert recommendations for things to buy across the vast e-commerce landscape. Some of our latest conquests include the best acne treatments, rolling luggage, pillows for side sleepers, natural anxiety remedies, and bath towels. We update links when possible, but note that deals can expire and all prices are subject to change.