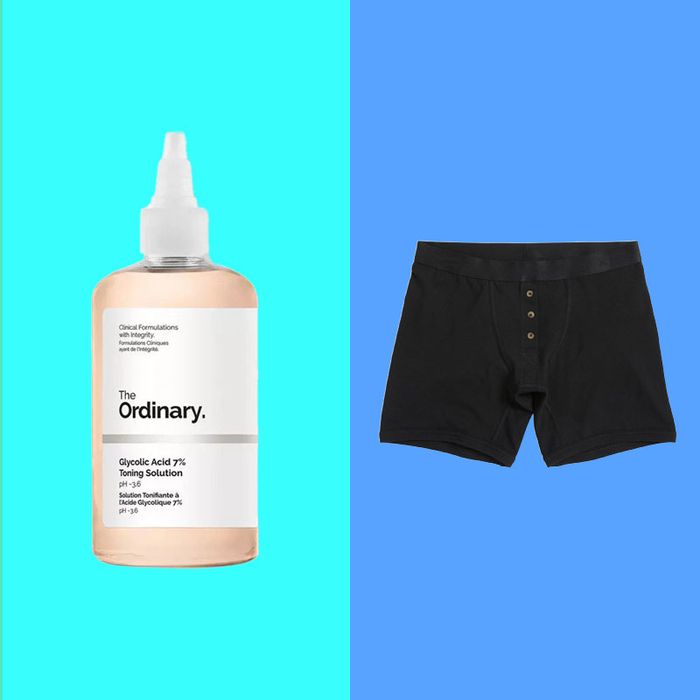 Photo-Illustration: The Strategist; Photos: Retailers
"When a child transitions, it often comes with a new set of clothing," says Vanessa Ford, the parent of an 11-year-old trans child — plus gender-affirming underwear, swimwear, and skin care and a handful of other purchases. "How do you navigate that if you're on a tight budget?" Three strategies came up again and again: hand-me-downs; shopping at inexpensive stores like Target and Old Navy; and thrifting, both IRL and online. We spoke to over two dozen trans people and their families about the products they swear by, from a comfy binder you can sleep in to a serum for reducing ingrown hairs.
For children's sizes 14 and below, parents are big fans of this retailer, which organizes clothing by age group rather than gender. It's a go-to for soft, comfy, and well-fitting basics and swimwear in a ton of colors.
"Their entire store is dedicated to women with larger bodies," therapist and YouTuber Chloë Goldbach says. "I've gotten a handful of shoes there — flats, boots, sandals." For a goth vibe, she recommends Demonia: Combat boots go up to a size 12 in women's, with some unisex styles up to size 14.
Two transmasc people we spoke to mentioned the brand for better-fitting basics, including a boxy, heavyweight cotton T-shirt designed to pair with a binder that solves the perennial too-long-tee problem. They also have swim trunks and jeans designed to minimize curves.
Ask family or friends — or check out your local LGBTQIA+ center, often a nexus for clothing donations. (They're also good places to donate clothes your kid outgrows.) They might find their new favorite outfit. "I got this lacey black dress from a friend at my old school," said Zaid, a 17-year-old trans girl in Alabama. "I feel extremely powerful when I wear it." Florida-based nonbinary activist X Gonzalez swaps clothing with friends; anything that doesn't find a new home is donated, which can also be part of the fun. X has dropped off femme clothing at their campus free store and loves seeing it around: "I'm like, I am so grateful to be a part of your journey."
"Ninety percent of my closet is from the thrift store," says artist Charlie Caulfield. Goldbach especially likes the nonprofit thrift-store chain Out of the Closet: It's "comforting seeing other trans or queer people working there." (Revenue supports the AIDS Healthcare Foundation, and the stores offer free on-site HIV testing.) Try secondhand online marketplaces like Depop, ThredUp, eBay, and Poshmark. "eBay is an incredible marketplace for clothing on a budget, and if you set up alerts, you don't have to do much digging at all," says Caulfield. A tip for shopping online: Get a soft tailor's measuring tape, which is $5 or less at craft stores or on Amazon, since sizing can be inconsistent.
"You can buy a $7 suit at the thrift store and get it tailored, and it looks like a $500 suit," says E.R. Anderson, a trans man who runs four support groups for trans and nonbinary people and their families out of Charis Books & More in Decatur, Georgia. "That's my No. 1 budget tip to make you feel like a million dollars if you are a masculine person, even if all you do is wear that suit around your bedroom with the door closed."
Multiple families vouched for its swimwear and undies. "Having my daughter feel comfortable in her underwear was key," says Betsy Colton, the parent of an 8-year-old trans daughter. "It gives her the confidence to be in a swimsuit."
Three trans women mentioned the brand for Tuckituppp for tucking underwear that can double as swimwear bottoms. (They also sell matching bikini tops.) "They're designed with very gentle fabrics, and they come in all sorts of different colors," says Evan Bialosuknia, who was the first trans homecoming queen at her Orlando, Florida, high school. She also likes Tuck Kits: "It's very important that you tuck in a safe way. Tuck Kits are essentially giant pads with an adhesive; you put the pad on the sensitive area and you put the sticker over it and you tuck like normal." You can wear them with "literally anything: string bikinis or leggings."
Transfemmes "still want cute underwear that fits without spilling out of it," writes Strategist contributor Devan Diaz. She buys these Los Angeles Apparel high-waisted panties in bulk and generally recommends "high-cut briefs that nod to the '80s," which usually have a wider front.
"As a nonbinary person, I'm always looking for ways to express my feminine side outside of dressing up for events," says actor Tomás Matos. They love these comfortable Calvin Klein sports bras: "I want to be able to step into my divine feminine and express my nonbinary finery at Target or when I'm at the gym."
Tons of trans people recommend the brand for high-quality apparel and underwear for all genders and body types — including flat-front boxers, tucking underwear, and leak-proof period boxer shorts. One parent of a trans son loves their light compression tops in particular. Origami Customs is another popular retailer for underwear and swimwear. Sizes go up to 5XL, custom sizing is free, and they have detailed, gender-affirming fit guides.
Binders are compressive garments used to flatten the chest. They can be a huge help in alleviating dysphoria, but it should be noted that they can cause chest, back, and shoulder pain and shortness of breath when worn for long periods of time. Experts advise taking days off and paying close attention to fit, especially if the person wearing it is still growing.
Gc2b's binders are among the most frequently recommended. Writer Sarah Gannett recommends sizing up: "It's both my most comfortable binder and gives me the flattest chest profile."
Urbody's half tank compression top is 100 percent cotton and safe to sleep in.
Amor Sensory's binder, designed by an autistic trans person, eliminates scratchy labels and bulky seams.
Underworks makes binders and compressive T-shirts. "The full tank binders are so comfortable," says Stellan Knowles, a 21-year-old trans man from Memphis.
Some people prefer using tapes, like TransTape or kinesthetic tape, to bind — they offer a fuller range of movement and can be worn for days at a time. (Do a test strip first to make sure you're not allergic to the adhesive.) Will, a 20-year-old trans man from Idaho, first started using TransTape to lift weights in gym class: "I wasn't able to bind during that, and that was a huge source of dysphoria for me," he says. The brand has become his go-to. If you're having trouble with adhesion, he recommends prepping the skin with a drying soap (and always apply to clean, lotion-free skin) and soaking in coconut oil to remove it.
Tapes may also be a better option than binders for people with limited mobility: Logan Adams, a disabled trans activist, found traditional binders "torturous," and taping offered "accessibility and freedom." He uses KT tape, which is less hard-core sticky than Trans Tape and thus easier to remove. Trans Tape "worked a bit too well for me," he says. "I have limited use of my hands and would have a hard time removing it." (I don't like to sleep in tapes, so I also prefer a lower-adhesion tape that's easier to take off at the end of the day.) He describes KT tape as "the perfect balance. I could be flat for days, shower and swim with my chest taped, and take it off easily when I needed to."
For many trans people, finding a great scent can be a shortcut to feeling good in their body. "When my uncle allowed me to buy myself men's deodorant, I quickly realized certain scents give me gender euphoria," says Knowles. "Since then, the most gender-affirming gifts I've gifted myself have been men's lotion, soap, and cologne. (Especially Calvin Klein's Eternity, oh my God!)"
ELF and NYX cosmetics make budget-friendly eyeshadow and lipstick sets in a variety of colors.
Use color theory to mask stubble. "Before I got laser on my face for hair removal, I lived by the Charlotte Tilbury color corrector," says actor Tommy Dorfman. "It's lightweight and helped remove my shadow."
For emo kids, Dragula cohosts the Boulet Brothers love Black Moon Cosmetics' Sleepwalker black lipstick. "The coverage is exceptional, and it dries so consistently," says Swanthula Boulet.
"My best friend Wendi Miyake gave me a lanyard of Lip Smackers lip balms when we were 12-year-old budding queens gallivanting the streets of our hometown, Kalihi, Hawaii, on the island of Oahu," says author Janet Mock. "They were my first most cherished and prized tokens — my girlhood initiation into the divine feminine."
"It's worth the pain," says Alexis Myers, 25. Artist Asanni Armon recommends that "Black people, people with melanin and darker skin tones, and people with thicker hair" look for a salon or technician that uses a nd:YAG laser, which is more effective on darker skin. "This qualifier is an absolute must."
It "helped a lot when I was first getting facial hair and it was really light," says TikToker Jesse Sullivan. "It helped with my gender dysphoria so much because it made my mustache look darker; people started saying 'he' when I was out because of it."
"The big thing that comes along with feminizing hormone therapy is that it often dries the skin out," says Dr. Markus Boos, a dermatologist at Seattle Children's Hospital. This affordable tub of CeraVe Moisturizing Cream is our favorite moisturizer for dry skin, and it's also fragrance free and good for sensitive skin.
For masculinizing hormone therapy, acne is a common side effect. An over-the-counter wash that contains benzoyl peroxide helps; I use PanOxyl's Acne Foaming Wash, which allergy-prone skin tolerates well. It's also a favorite of Strategist beauty writer Rio Viera-Newton: "After a few nights of using this product, all the textural issues, blackheads, and congestion along my chin and jaw started to fade away," she writes.
If you're dealing with ingrown hairs, "Chemical peels and over-the-counter products that have glycolic acids work very well" at reducing them, says Armon. "My favorites so far have been The Ordinary 7% Glycolic Acid and Topicals Faded serum (to get rid of the dark marks)."
The Strategist is designed to surface the most useful, expert recommendations for things to buy across the vast e-commerce landscape. Some of our latest conquests include the best acne treatments, rolling luggage, pillows for side sleepers, natural anxiety remedies, and bath towels. We update links when possible, but note that deals can expire and all prices are subject to change.