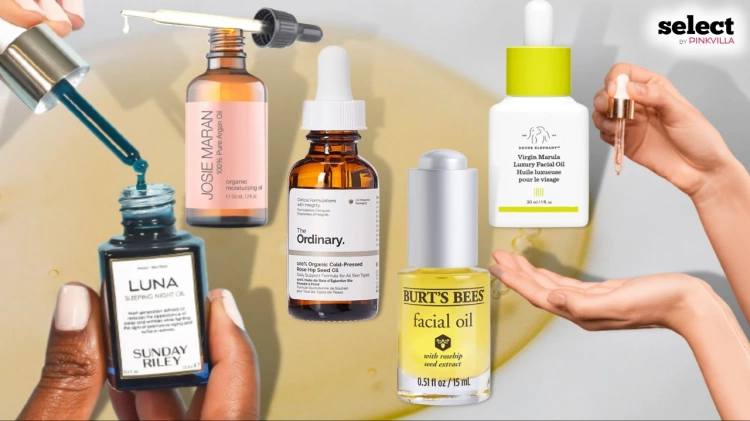 The products curated for this article are independently chosen by the
editorial team. If you make a purchase through the
links
mentioned below, we may receive a commission. Check out our
product
research & curation process
Wrinkles and fine lines may be a clear indicator of maturity and intelligence, but we still wish we could retain the glow and supple skin. An easy way to deal with that is adding the best anti-aging face oils to your daily skincare routine. These face oils are made with essential ingredients like retinol, coconut oil as well as aloe among other things that helps in boosting collagen production. Using an anti-aging face oil followed by a sculpting face massage every night works miracles on wrinkles and fine lines. 
These face oils are no less than magical portions that can reverse aging. They help boost collagen and elastin production (structural proteins) that repair and nourish the skin and stimulate the formation of new and young skin cells (1). They provide smooth and glossy skin and add plumpness to offer a natural look. 
Based on our observations and research, we bring you some excellent anti-aging face oils that give you a 20-year-old-like young skin. All our reviews are based on real-time experiences after trying out the products so you can be least assured of their safety. 
12 Best Anti-aging Face Oils for a Beautiful And Youthful Skin
To have a radiant glow, dab a few drops of BURT'S BEES Facial Oil to awaken your skin. Infused with fatty acids, anti-oxidants and vitamins, the oil rejuvenates your skin and eliminates dullness (2). Hydrating agents- rosehip, jojoba, and evening primrose provide all-day freshness and let your skin breathe and feel relaxed. The oil is clinically tested to combat premature signs of aging and moisturize skin for a subtle look. The blend is concentrated, so people with hypersensitive skin may prefer a patch test before using the product.
Pros
100% Natural
No SLS
Paraben free
Zero phthalates
No petrolatum
The exotic skin moisturizer is a fusion of 6 essential organic oils- olive, sweet almond, jojoba, grape, sunflower and vitamin E that works well on your complete body. Unlike regular face and body oils, this one by Ancient Greek Remedy possesses cold-pressed oils. These oils retain their anti-oxidant, anti-inflammatory and other crucial properties as they are not exposed to heat. Moreover, the product can effectively manage skin conditions such as psoriasis, rosacea & eczema. It helps hydrate skin, clear acne, reduce pore size and prevent breakouts. Overall it's a complete remedy for most of our skin woes.
Pros
All botanical ingredients
Soften dry hands and cuticles
Pesticide free
GMO-free
Vegan
The 30ml bottle is infused with 100% pure rose hip seed oil that offers an array of benefits. The oil contains essential fatty acids like linoleic acid that strengthen cell walls and inhibits water loss (3). This hydrates your skin and reduces dullness to ensure a vibrant look. It helps enhance collagen production to improve skin elasticity and firmness. Also, the oil exhibits anti-inflammatory properties and calms irritation due to skin diseases. Not just for women, the product is suitable for men too.
Pros
Gentle smell
Absorbs quickly
Promotes healthy skin
Unisex
UV protected packaging
Cons
No safety seal
Strange consistency
Drunk Elephant's facial oil is an ultralightweight and fast-absorbing formula that penetrates deeply into skin layers to fight aging signs. Marula oil reduces blotchiness, wrinkles, fine lines and redness while boosting skin's elasticity (4). And other active components such as vitamin E, flavonoids and phenolic compounds lock moisture and reduce skin stress. We have found from using this product that applying 1-2 drops of oil consistently, can significantly decrease aging signs and gives skin a quick hydration boost.
Pros
Anti-oxidant rich
Cruelty-free
Smoothens skin
Thick consistency
Cons
Might not be suitable for super-reactive skin
After a long hectic day, all you need is LUNA sleeping night oil to relax your skin. The retinol-based face oil increases skin cell proliferation and blur fine lines and wrinkles (5). It makes your skin bright and radiant and ensures a healthy and revitalized look. The oil is perfect for sensitive skin or new retinol users that replenishes skin throughout the night and gives a fresh feel in the morning. Besides, other botanical extracts like chia seed, blue tansy and avocado seed oil work together to heal and soothe skin. 
Pros
Clinically proven formula
Not tested on animals
B-corp certified
Sustainable
Minimizes pores
Get your hands on this quick skin-nourishing formula by Josie Maran. This oil is a multi-tasker that not only feeds your skin with essential nutrients but also heals and conditions cells. It soaks in your skin like magic and intensely hydrates it for a drizzly glow. Having argan oil as a base ingredient, the formula reduces course lines, dryness and wrinkles in just 4 weeks (6). The 1.7 fl oz bottle is best suited for complete body care from head to toe and pampers your skin with love. 
Pros
No synthetic fragrance
Mineral oil free
Phthalate free
Vegan
No sulfates
Enriched with all Japanese natural ingredients, Amaki Tsubaki Oil deserves a spot in your AM skincare routine. The blend is a perfect mixture of Japanese camellia (Tsubaki flower) and rice bran that reverses aging signs and fades skin imperfections (7). The oil possesses antioxidant properties to tackle loose skin texture, prevent oxidative damage and promote a lucid, spot-free appearance. Moreover, other plant ingredients such as jojoba and argan moisturize the dermis; chamomile repairs skin and lavender and sunflower cleanse and unclog pores. 
Pros
Natural oil
Boosts youthfulness
Non-greasy formula
Non-drying
Gentle on skin
Cons
Might cause bumps on delicate skin
This ultra-rich formula packs the goodness of super berries and works as an excellent elixir for multiple dermal disorders. It's rich in antioxidants and visibly reduces aging signs. Maqui, açaí and goji berry extracts provide a balanced and glowing complexion. All three ingredients work simultaneously to rejuvenate, hydrate and reduce redness while supporting cell renewal. Additionally, organic compounds such as omegas (3, 6, 9) and squalene oil intact moisture (8) (9), and vitamin C illuminates and hydrates dry skin (10). Our research indicates that the product increases collagen development to provide a soft and supple skin. 
Pros
Never-greasy portion
Flash-absorbing
Night and day face oil
Pro-grade vegan
Here's the best way to begin and end your skincare routine: Apply a few drops of Kora's plumping oil to your face and neck. Its natural blend of organic noni (Hawaiian plant) (11), pomegranate oil, and sea buckthorn oil will even, replenish and brighten your skin. The fatty acid-rich formula will shed dry flakes and reveal your younger skin so you can appreciate a dewy and flawless every day. The ingredients add and increase bounce and elasticity naturally by boosting the production of structural proteins like elastin so you can get your fav celebs like skin.
Pros
Certified organic ingredients
Soothes irritation
Prevents inflammation
No artificial fragrance
Honey Grail is specially crafted for dry skin to get rid of that scaly texture and flakey skin. The blend replenishes skin with amino acids, vitamins and omegas; thanks to its ingredients- honey, sea buckthorn and essential oils. Super dewy radiance is a holy grail, but the good part is you don't have to put much effort if you use a few drops of this best anti-aging face oil. You can also apply it to your hair to eliminate pesky flyways and add shine. 
Pros
Non-comedogenic
Lightweight
Highly absorbable
Fades wrinkles and fine lines
Pamper your skin with the Herbivore Phoenix facial oil and let it feel happy. The mixture is a luxurious blend of botanical oils and CoQ10, Co-enzyme Q10- an antioxidant molecule (12). The molecule fights free radicals and defends the skin from environmental stresses. While extracts like rosehip oil help in moisture renewal and feeds undernourished cells. Further, these ingredients facilitate collagen and elastin formation that improves skin appearance and blurs skin imperfections. Drawing from our experience, the oil's smell won't irritate you if you're sensitive to fragrance.
Pros
100% Natural
Cruelty-free
Revitalize dry skin
Sustainable packaging
Cons
Might stain skin, clothes
If you've a sensitive skin, you'd love to add REN's retinol oil to your PM care regime. Made with plant active (Biden pilosa) (13), the oil is an alternative to conventional retinol-containing oils. This one is purely crafted from plant-based retinol. It knock outs anti-aging signs- fine lines and wrinkles without irritation. It quenches your dehydrated skin's thirst and maintains hydration levels. Further, the blend strengthens the skin's moisture barrier and increases suppleness for a glowing complexion. 
Pros
Clean ingredients
Vegan
Not tested on animals
Sustainable packaging
Cons
May cause rashes on super-sensitive skin
Now that you have gone through our recommendations for the best anti-aging face oils. Don't forget to check out our user guide below for more details. 
How to Choose the Best Anti-aging Face Oil?
These are some points you need to keep in mind while shopping for the best anti-aging oils for face; 
Ingredients 
When it's about buying an anti-aging face oil, don't skip on ingredients. Popular ingredients include essential oils, anti-oxidants, vitamins, fatty acids (2), etc. Essential oils boost moisturization and maintain the skin barrier, anti-oxidants protect against environmental stresses, vitamins like C and E boost complexion, and fatty acids repair damaged cells. 
Also, Retinol (Vitamin A substitute) shows anti-wrinkle benefits. However, retinol may be irritating to some allergic folks, so they must avoid using it. 
Skin concerns 
If you're targeting specific skin concerns, carefully go through the ingredients list. Some ingredients are specially added to solve particular skin woes. For instance, vitamin E is anti-inflammatory and can tackle irritation and redness. 
Skin type 
Consider your skin type first before applying face oil. Make sure it suits your skin and keeps rashes, redness and other allergic signs at bay. 
Texture 
Lightweight formulations typically work well on normal, oily, or combination skin types. While heavy oils can be the best option for dry skin. 
Be patient 
You won't get results on the same day you apply the product. Be patient and maintain a consistent skincare routine. You may expect visible results within 4-6 weeks. However, the duration can alter based on your normal skin physiology. Also, you can consult a dermatologist in case of confusion. 
How to Use Anti-aging Face Oils?
Here are the steps to use the best anti-aging face oils: 
Wash your face with a cleanser to remove dirt and excess oil. 
Follow up with an anti-aging oil. Take a few drops as per your needs. Don't overuse it. 
You can blend it with a moisturizer or serum for better results. Or you can apply it directly. But ensure it's not highly concentrated and feels gentle on the skin. 
Let it dry and absorb into the skin. 
Wash your face after a couple of hours. 
Conclusion 
Anti-aging face oils are a secret to bringing back your youthful glow. No matter what your skin type is-you can still cherish a beautiful, young skin and feel that nostalgia. With so many options available, it's challenging to purchase the most suitable product. Here's when you need to check out some factors that determine your purchase. From ingredients to texture, we have all got covered in our user guide. Make sure your best anti-aging face oil helps you achieve your skincare goals without causing any side effects. Also, you can go through our recommendation list based on a thorough research and actual experiences. Grab any and unlock your true beauty. 
Author BIO
Anoushka is certified in Professional Skincare and is a Mass Media (Journalism) graduate from Mumbai University. As a More
FAQ's
Which oil is the best for anti-aging?
Oils containing botanicals like argan, jojoba, rosehip, etc., with vitamins and fatty acids, are best for reducing aging signs.
Which is the best face oil for mature skin?
Anti-aging oils that promote collagen production and defend your skin against oxidative stresses and free radicals are best for mature skin.
Which oil is best for face collagen?
Essential oils extracted from rosehip, chia seeds, argan, marula, squalene, etc., accompanied by fatty acids and vitamins, increase collagen development.
Why Trust select
Anoushka is a skincare expert and a budding journalist. She loves to try new skincare products and with each ingredient, she is certain that nothing is as important as glowing, healthy skin. It is after a lot of research that she has curated a list of hte best anti-aging face oils. 
Our product experts study the specifications of every product we suggest and try them out to bring what's proven to be worthy of your money, time, and energy. We also have subject matter experts from various fields like Fashion, Skincare, Haircare, Home Decor, and Health & Fitness onboard to make sure our suggestions are credible and trustworthy. You can trust select to be your faithful shopping guide for all the right reasons!