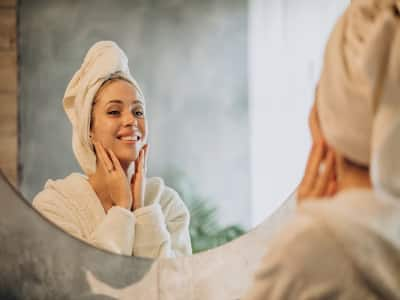 Here are some important nutrients for skin health that can help build beauty internally and assist in skin healing.
Thousands of application brands for glowing skin, acne reduction, and so on are available in the market, and I am sure they fill your makeup compartments too. You are what you eat, and so the same reflects on your skin. While a good skin regime is paramount to skin health as we age, nutrition should be a prime area of focus, says Maitri Trivedi, Nutritionist, Pure Nutrition Naturals.
She expounds, "Specific vitamins and minerals have immense benefits for the skin, which reduce the oxidative stress that causes skin aging, reduced glow, and acne. These nutrients work wonders and target inner well-being and skin health from within. Applications like creams, exfoliants, and serums cannot detoxify the body of toxins or reduce oxidative stress from within. Increased toxins in the body, reduced nutritional intake, and dehydration can all affect your health and impact your skin. Hence, heightened inflammation due to environmental toxins and adulterated foods that find a way into your body can affect skin glow on a large scale!"
The nutritionist listed some of the nutrients that can help build beauty internally and assist in true healing. These include
Collagen
Naturally produced in the body, collagen supports bones, skin, and muscles. However, over a certain age, the natural collagen production in the body starts to slow down, which can manifest in visible aging. Thus, supplementation with Collagen, Vitamin C, and Selenium can help boost the body's collagen production, deliver anti-aging benefits, and reduce wrinkles, and fine lines.
Vitamin C
Vitamin C is our all-rounder vitamin. It is a versatile antioxidant that helps reduce oxidative stress and the free radical damage caused due to the intake and build-up of toxins. Thus, Vitamin C aids in reducing the visible signs of aging and improving skin glow and health. Apart from this, Vitamin C aids in the formation of collagen, which helps improve skin elasticity! Adequate amounts of vitamin C can be obtained from bell peppers, citrus fruits, broccoli, spinach, and other sources, while supplementation can always be another good alternative.
Glutathione
Increased free radicals can damage the body's cells and increase inflammation. Glutathione is a potent antioxidant molecule that plays a role in many chemical reactions, helps detoxify, and thus protects from the harmful effects of pollutants and drugs.
Other nutrients that can be incorporated into your meals are Zinc, Vitamin D, Vitamin A, and Selenium, all of which target inflammation and reduce oxidative stress.
Make sure your inner health reflects on your skin! Remember, outer skin care can only achieve so much without proper nutrition. So, let's make sure we choose a holistic approach that would make us feel beautiful from within!
Total Wellness is now just a click away.
Follow us on