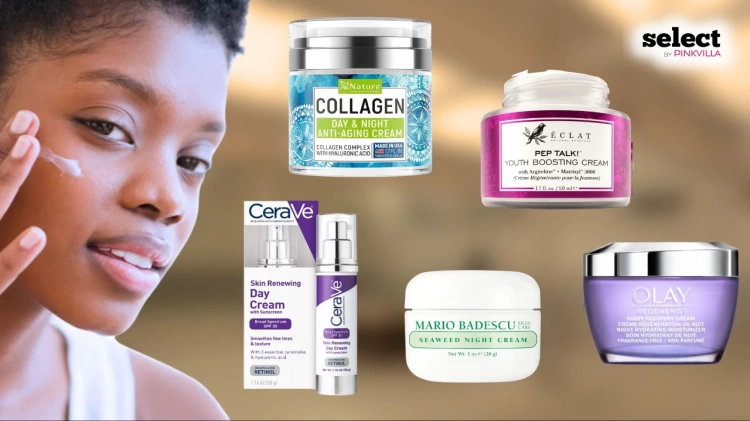 The products curated for this article are independently chosen by the
editorial team. If you make a purchase through the
links
mentioned below, we may receive a commission. Check out our
product
research & curation process
Dodge going under the knife for crepey skin or visiting a cosmetic surgeon at a hefty price when a simple solution is right around the corner — the best anti-aging creams for oily skin. Opting for them can be a reasonable and much-appreciated choice for your skin and pocket. But people with oily skin may be wary of using them thinking that they will make their skin greasier or shiner. Thank god that's not the scenario! Anti-aging creams are a godsend for oily skin, as they not only control oil but also help subside wrinkles, fine lines, and other such issues. 
Dehydration, hyperactive skin glands, and heredity all contribute to oily skin and resultantly cause sagginess, wrinkles, and other aging issues. Meanwhile, the good news is that you can slow down the aging process by investing in anti-aging creams designed to moisturize the skin and keep its pH balanced. Many anti-aging regimens include an abysmal amount of products that can make the routine hectic. To shorten the process, why not fetch the finest creams that comprise all anti-aging benefits in one? With several factors to consider while looking for 'The One' for your oily skin, our team experts have made an exclusive list to help you invest in the best one for yourself. 
Scroll down to take a look at our top recommendations!
14 Best Anti-aging Creams for Oily Skin to Restore Youthful Skin
LilyAna Naturals retinol cream comes with anti-aging properties and delivers youthful skin at an affordable price. This cream, made in the United States, has a brightening and lifting effect, renewing the skin and removing dryness. This product is formulated with aloe vera, hyaluronic acid, vitamin E, green tea, shea butter, and jojoba oil to improve your skin's elasticity and diminish the signs of aging. Its delicate formula is also perfect for sensitive skin and aids in protecting it from UV damage and sun spots.
Pros
Cruelty-free
Free from harsh chemicals
Lightens blemishes
Reduces redness
Smoothes skin
Non-comedogenic
The night cream by Mario Badescu, enriched with seaweed, collagen, and hyaluronic acid, provides optimal hydration without drowning the skin with heavy chemicals. To be noted, mineral-rich bladderwrack(kelp), elastin, and sodium hyaluronate are infused into the cream for a radiant glow. Addedly, this efficient night cream forms a protective barrier on the face providing a youthful complexion without clogging the pores. Reviewers laud the cream for being "extra moisturizing," with one saying it was "almost miraculous in helping my skin recover" from the dry winter air.
Pros
Oil-free
Improves skin's elasticity
Non-comedogenic
Ideal for all skin types
Reduces fine lines
One of the best brands for skincare, Olay (definitely works for my mom), has introduced this cream containing a powerful amino-peptide complex. The mixture regenerates the skin's surface, significantly reducing the appearance of deep wrinkles. Furthermore, its highly absorbent formula penetrates ten layers deep into the skin without clogging the pores. Addedly, the skin-friendly formula is devoid of parabens, phthalates, SLS, and petroleum and is ideal for your face and body. It comes at a great price point and is unscented, making it perfect for bringing back your youthful glow!
Pros
Effective formulation
Smoothes fine lines
Long-lasting effects
Affordable pricing
Non-greasy
Cons
Packaging could be improved
The opaque and lightweight face cream by Eclat Skincare is just the pick when fine lines start to appear on your face and neck. It is fortified with antioxidants, peptides, and fatty acids to reduce the appearance of aging signs while improving your skin's tone and texture. Also enriched with collagen, safflower seed, matrixyl 3000, hyaluronic acid, argureline, and jojoba oil, the super-absorbent cream nourishes and replenishes oily skin. Last but not the least, our team experts love the design of the cute pot, as it speaks quality with a reasonable price tag.
Pros
Reduces wrinkles
Good packaging
Affordable pricing
Sensitive skin-friendly
This cream by IT Cosmetics is a supercharged, mild moisturizer, perfect to rebuild the skin's moisture barrier. It comprises a potent combination of hyaluronic acid, ceramides, peptides, and antioxidant vitamins that leave your skin feeling youthful and radiant. The key ingredients, niacinamide, and squalane, repair the skin's barrier and restore the appearance of healthy, vibrant skin. To note more, it is suitable for sensitive skin and definitely one of the best anti-aging creams for oily acne-prone skin as it contains no harmful parabens or chemicals. 
Pros
Provides 48 hours of hydration
Vegan
Plumps the skin
Dermatologically-tested
Paraben-free
Mineral oil-free
This powerful wrinkle treatment promises a more youthful and lifted appearance than ever before. Fortified with bakuchiol, a natural alternative to retinol that is kinder on the face, it efficiently improves aging skin's texture, evens out tone, and eliminates dullness. Plus, it strengthens and hydrates the skin barrier with the help of hyaluronic acid, aloe vera, squalane, ceramides, and cica. All in all, Burt's Bees Firming moisturizing cream is the best anti-aging cream, oily skin individuals can rely on for everyday use.
Pros
Cruelty-free
Paraben-free
Improves moisture barrier
Nutrient-rich
Works on sensitive skin
Cons
Some complaints about sticky texture
CeraVe, another brand that placed skincare on the map, brings forth a skin-renewing day cream containing three essential ceramides (1, 3, 6-II) to help restore the protective skin barrier. Encapsulated with retinol, it further exfoliates the face gently without irritating it, resulting in more luminous skin, while hyaluronic acid retains the skin's natural hydration levels. That's not all – the broad spectrum SPF 30 sunscreen in the cream helps protect the skin from detrimental UVA/UVB rays, making it perfect for individuals who are out and about all day!
Pros
Fragrance-free
Absorbent
Non-comedogenic
Keeps the skin's natural defenses intact
Dermatologically-recommended
Nature Theory all-day and night cream is fortified with natural ingredients that slough off the dead skin cells for healthier skin. Hyaluronic acid, aloe vera, retinol, coconut, avocado, jojoba oil, chamomile, collagen, and vitamin E, provide a significant firming and tightening effect to your skin. The face cream also consists of pure ingredients rich in antioxidants that are beneficial for all skin types. Plus, with a 24hr long-lasting formulation, one can be rest assured that their skin is in safe hands all day!
Pros
Deals with wrinkles
GMO-free
SLS-free
Ideal for daily use
L'Oreal Paris Collagen Moisture Filler boasts off a lightweight yet powerful formulation that hydrates the skin without leaving a greasy residue. It is fortified with collagen, glycolic acid, and glycerin skin-plumping protein to help minimize the appearance of wrinkles and fine lines. On top of that, one reviewer who had previously relied on Botox to reduce wrinkles stated this cream completely eliminated their need for the surgery. The two-pack set of this miracle all-day and night face cream is a super-saver on cost and perfect for a dewy glow!
Pros
Unscented
Non-comedogenic
Rebuilds collagen
Fast action results
Cons
Some complaints from sensitive skin
One of the top-rated and best-selling products on Amazon, eb5 Intense Moisture anti-aging cream is packed to the brim with skin-beautifying botanicals. The main ingredient is the oat kernel protein, rich in vitaminsD and B, often used in skincare for its anti-inflammatory, moisturizing, and soothing properties. Also, the cream provides intensive hydration with the goodness of comfrey root (allantoin), antioxidants, and other potent ingredients. All in all, with trials and tests, we believe this anti-aging cream is worth splurging on!
Pros
Reduces inflammation
Renews skin's strength and tone
Free of radicals
Dermatologically-tested
Hypoallergenic
The night cream consists of beeswax, raw honey, propolis, olive oil, and royal jelly for a skin-nourishing experience. Just as the name suggests, apply it while you sleep for the vitamins and minerals to encourage healthy collagen and cell regeneration for all ages pursuing radiance and glow. Addedly, with a USDA-certified organic formulation, the thick cream suits all skin types. To be noted, the natural formulation enriched with beeswax is gentle on the skin, but some reviewers have said that the cream is tough to apply on the face and neck during the wintertime. 
Pros
Travel-friendly
Non-comedogenic
Hypoallergenic formula
Deeply hydrates the skin
Harnessing the goodness of Indian beauty routines, this Turmeric + Vitamin C cream provides luster and glow to your skin with consistent use. Furthermore, its effective anti-aging properties boost the skin's capacity to produce elastin and keeps it refreshed throughout the day. Adding to that, the formula contains aloe vera extracts, sodium hyaluronate, Centella asiatica extracts, and Sophora angustifolia extracts (Chinese herbal plant) that deal with dark circles, dry or textured skin, dullness, and uneven complexion. Based on our trials and tests, it is one of the most-suited anti-aging creams for oily skin.
Pros
Free of radicals
Ideal for sensitive skin
Budget-friendly
Natural ingredients
Cons
Might turn pale skin yellow
Deal with fine lines and wrinkles without emptying your bank with the Eve Hansen Vitamin C night repair cream. When the world is fast asleep (along with you), this cream repairs your skin sabotaged by environmental stressors and evens out your tone. The night cream is made with organic ingredients like vitamin B5, shea butter, aloe vera extracts and green tea that stimulate collagen production for a glistening glow. When we tested out this product, we found out that using this cream before going to bed allows you to wake up with firmer and smoother skin.
Pros
Made with organic ingredients
Cruelty-free
Paraben-free
Portable design
Easy to apply
Just as the name suggests, the brand brings the best of nature to you, in a tub! This face cream for oily and dry skin is precisely crafted with rich ingredients that will not clog pores or leave a residue. It preserves your skin's glow and texture with a pH-balanced composition that contains powerful nutrients, including ginseng, organic green tea, hyaluronic acid, and vitamin B3. Adding to that, the organic extracts of aloe vera and rose in this cream calm inflamed skin and make it feel as good as it looks!
Pros
Vegan
Lightweight formula
Ideal for sensitive skin
Non-comedogenic
Cons
Packaging could be improved
Now that you have seen our product recommendations for the best anti-aging creams for oily skin, glance through our buying guide to make an informed purchasing decision.
How to Choose the Best Anti-aging Cream for Oily Skin?
Listed below are the key points we must keep in mind before purchasing anti-aging creams for oily skin – 
Key Ingredients: If you're blessed with oily skin, controlling sebum production can help your skin to mature gracefully. While harsh, drying cleansers may feel better on your skin after usage, they are simply a temporary solution. People with aged skin should choose a cream that contains retinol, niacinamide, hyaluronic acid, vitamin C and E, peptides, and ceramides. These ingredients work like natural hydrators and the results last longer on the skin than most chemical formulations. 
Sun Protection: Sun damage has a greater impact on your skin as you age than the amount of sebum it generates. To maintain the glow and even skin tone, opting for sunscreen-infused creams is a must. Just make sure it has broad-spectrum coverage and an SPF of 30 or higher.  While outdoors, reapply your sunscreen every two hours.
Price: Beneficial anti-aging creams are available at various price points. Though one may think that opting for something on the pricier side is better, that's a myth you should be aware of. Choose products by reading the labels to see what ingredients are there, that make this purchase so expensive. If you think it's worth a try, then do opt for a splurge-worthy pick.
Be Realistic: The results will not show up in one day. We recommend maintaining a daily skincare regimen that brings about the change gradually. Mostly, we advise not to give up on the process after a week or two, but to let the process last 2-3 months to see better results in treating wrinkles and fine lines.
How to Use the Best Anti-aging Cream for Oily Skin?
Here is how to use the best anti-aging creams for oily skin effectively – 
To enhance your skincare regimen, we suggest opting for a cleanser first that removes excess oil or grime present on the face.
After washing your face, follow up with a face serum (filled with antioxidants and vitamins) of your choice to nourish your face.
Now, apply a dime-sized quantity of your anti-aging cream on your face and neck.
Top up with a suitable oil-free moisturizer. If it contains SPF, even better.  
Bringing back the youthful glow can be possible with the right ingredients and formulas present in the best anti-aging creams for oily skin. Though many products claim to provide anti-aging benefits, we advise reading the labels to check the authenticity of the content and if they are reasonably priced. Retinol, squalane, hyaluronic acid and many more natural ingredients are best-suited for oily skin. So, check thoroughly if the product you are buying comprises these and age-defying properties for better and satisfactory results. Lastly, test out your product in advance, and use them consistently for a charming and youthful appearance!
Author BIO
Anoushka is certified in Professional Skincare and is a Mass Media (Journalism) graduate from Mumbai University. As a More
FAQ's
Which is the best cream for oily skin?
Creams that comprise plant-based moisturizing and hydrating ingredients and come with lightweight formulations are the best for oily skin.
Is hyaluronic acid good for oily skin?
Hyaluronic acid is an excellent choice for oily skin since it doesn't clog the pores or leave behind any residue. Rather, it hydrates and nourishes the skin.
Should I use a face cream if I have oily skin?
Yes, creams are necessary for oily skin as they control oil production while moisturizing and hydrating the skin, thereby providing a radiant complexion.
Why is my face still greasy after applying a cream for oily skin?
If your cream includes a high concentration of oils, it may leave your skin feeling greasy after use. We recommend opting for water-based creams and light formulations to avoid such predicaments.
Why Trust select
Anoushka, the budding journalist, is also our in-house expert. The certified beauty expert has done complete research and studies to curate this list of the best anti-aging creams for oily skin that provide intense hydration and nourishment. 
Our product experts study the specifications of every product we suggest and try them out to bring what's proven to be worthy of your money, time, and energy. We also have subject matter experts from various fields like Fashion, Skincare, Haircare, Home Decor, and Health & Fitness onboard to make sure our suggestions are credible and trustworthy. You can trust select to be your faithful shopping guide for all the right reasons!