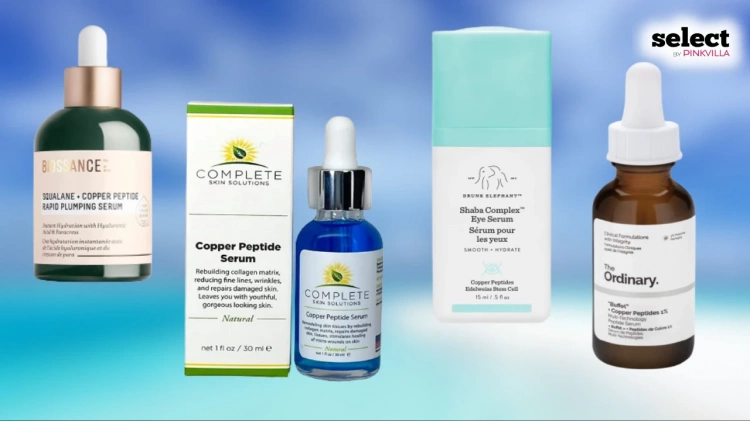 The products curated for this article are independently chosen by the
editorial team. If you make a purchase through the
links
mentioned below, we may receive a commission. Check out our
product
research & curation process
Copper peptide is a breakthrough skincare ingredient with anti-aging properties that significantly improves your skin's texture. That's why more and more people leaning toward the best copper peptide serums are no longer a secret in the beauty industry. They are creating ripples with their transformative results, and capturing the attention of skincare enthusiasts and professionals alike. Unveiling the secret to radiant, youthful skin, these serums are driving a revolution in skincare. Loaded with the healing power of copper peptides, they offer a host of benefits, from enhancing collagen and elastin production to reducing inflammation and providing robust antioxidant protection. As an antidote to aging, copper peptide serums also visibly reduce fine lines and wrinkles, firm the skin, and impart a smoother, more vibrant texture. Addedly, they help in revitalizing tired skin, and infusing an extraordinary glow that lasts. 
Here we are introducing you to the 10 best copper peptide serums that have proven their mettle in skincare. Handpicked for their high efficacy and impressive results, these serums are set to redefine your skincare routine. So, why wait? Gear up to discover these magical elixirs and find your perfect match for smoother, younger-looking skin. Let your skincare journey take a fascinating turn!
Our top picks
Suitable for All Skin Types
10 Best Copper Peptide Serums That Firm Sagging Skin
Here comes a hydrating superstar for flaky skin – Complete Skin Solutions' copper peptide serum. This serum works tirelessly to detoxify and protect your skin against harmful UV rays. Its rejuvenating action further boosts the production of elastin in your skin to impart a youthful glow and brighter complexion. To note, the magic lies in its amino acid complex that effectively fills fine lines, making them less prominent. Plus, with a 100% satisfaction guarantee, the best copper peptide serum ensures you love every drop and that it works excellently in tandem with micro-needling to give your skin the complete solution it truly deserves.
Pros
Anti-aging properties
Brightens the skin
Intensely hydrating
Rejuvenates dry skin
No fragrance
Easy application
Cons
May not be a budget-friendly option
The Ordinary's Buffet + Copper Peptides 1% serum is your pick if you wish to attain healthier skin. This advanced product is filled with a large number of age-defying ingredients and a unique blend of peptides. Both components can synergistically reduce signs of aging. So, why wait? Bid farewell to your dull skin and let the additional 1% concentration of pure copper peptides enhance its health with natural collagen and elastin production. Meanwhile, allow hyaluronic acid to add a hydrating boost, reduce fine lines and impart a dewy glow as you apply the magical elixir. To be noted, with regular use of this product, your skin transitions from dull and weary to radiant and rejuvenated. 
Pros
Anti-aging properties
Firms your skin
Gluten-free
Hydrating
Travel-friendly
Radiance-enhancing
Your acne-prone skin will find relief with the advanced formulation of JJ Labs Skin Solutions' copper peptide serum. A premium amalgamation of potent ingredients, such as a copper peptide, hyaluronic acid, allantoin, CoQ-10, aloe vera, green tea, and echinacea, this serum enhances the appearance of aging skin, reduces wrinkles and blemishes. To note more, CoQ10 acts as a powerful antioxidant, protecting your skin from early aging. Meanwhile, aloe vera moisturizes and cools your skin, enhancing cell regeneration. On top of that, echinacea enhances your complexion while hyaluronic acid intensely moisturizes your skin. All in all, It works as a lightweight copper peptide moisturizer leaving your face looking and feeling youthful just in a few days.
Pros
Affordable
Unscented
Soothes irritation
Dissolves blackheads
Pore minimizing serum
Tightens your skin
A fusion of potent ingredients, MYM's copper peptide serum packs a punch in skin rejuvenation and repair. With a combination of Copper-3-Peptide and apple stem cells, this high-potency serum tackles various skin issues from wrinkles to sun damage and more. The unique formula also rebuilds skin structure, stimulating collagen production and reducing inflammation. Meanwhile, apple stem cells work diligently by reducing wrinkle severity by up to 15% in 15 days. Adding to that, its refreshing apple scent is a delightful bonus. Lastly, crafted for combination skin, it's considered the best copper peptide serum for acne scars and an all-in-one solution for a youthful glow with spotless texture. 
Pros
Affordable
Anti-aging properties
Minimizes acne scars
Reduces freckles
Reduces stretch marks
Corrects hyperpigmentation
Cons
Might not suit sensitive skin
This product is all about unleashing a powerhouse of ingredients to battle signs of aging! Drunk Elephant's Shaba Complex eye serum, manufactured in the USA, is tailored for sensitive skin. This silky serum addresses fine lines, wrinkles, dark circles, puffiness, and age spots. Infused with potent doses of black tea ferment and copper peptides, it supports a firmer-looking appearance around the eyes, staving off aging signs. Addedly, the serum also maintains the commitment to skin health, eliminating any questionable ingredients. Last, but not least, its formulation is free from any harsh additives. 
Pros
Lightweight
Travel-friendly
No fragrance
Cruelty-free
Suitable for sensitive skin
Biossance's Squalane + Copper Peptide rapid plumping serum guarantees immediate and long-lasting hydration. It is a non-sticky, silky blue elixir that surpasses traditional hyaluronic acid serums in moisturizing prowess, flooding the skin with three potent hydrating factors. Furthermore, it is easily integrable into your daily skincare routine, as a dollop of this serum massaged onto your face, neck, and chest can offer unparalleled hydration. Also, its commitment to clean beauty is apparent with its all-natural ingredients. The best part? Suitable for all skin types, this serum provides a superior skincare experience with a conscience.
Pros
Vegan
Cruelty-free
Paraben-free
Portable
No synthetic fragrance
Long-lasting effect
Cons
May not be preferred by those who love fragrant products
Skin Biology, Inc. CP serum is a dynamic fusion of active peptides to revolutionize skincare for oily skin. This serum caters to oily skin, focusing on balance and revitalization. To note more, the potent peptides perform meticulously, enhancing skin's texture, reducing fine lines, and promoting a healthy glow. Furthermore, along with its concentrated ingredients, it presents a refreshing aloe scent, introducing a therapeutic touch to your skincare regime. As a serum, the consistency it contains, integrates into your daily routine, facilitating a fast-absorbing action for immediate impact. All you need is to keep applying the serum twice a day for better nourishment and enjoy an all-natural moisturizer with copper peptides.
Pros
Affordable
Enhances skin's texture
Reduces fine lines
Refreshing aloe scent
Lightweight
Encourages healthy glow
Cons
Might be less effective on dry skin types
Brought to you by Plant Gift, the blue copper peptide serum caters to the needs of all skin types, especially sensitive skin. Plus, designed to iron out wrinkles and expression lines, this anti-aging powerhouse breathes new life into your complexion. Addedly, known as one of the best copper peptide serums, it repairs and rejuvenates your skin, while also providing UV radiation protection. More than just a corrective serum, it further offers hydrating and moisturizing effects, banishing dryness and dullness. To be noted, from the very first application, you can expect a radiant glow and simultaneously enjoy the refreshing scent of aloe with this nourishing skincare product.
Pros
100% natural
Paraben-free
Protects from harmful UV rays
Hydrated the skin
Inexpensive
Boosts collagen production
Featuring a 15% concentration of next-generation L-ascorbic acid (vitamin C) and enriched with Tripeptide-1 (Copper Tripeptide-1), this serum revolutionizes anti-aging skincare. It also contains hyaluronic acid as an active ingredient and works effectively to delay the signs of aging, leaving your skin rejuvenated. To note, a few drops applied evenly over the face and neck, morning and evening, introduce you to an age-defying experience. And, as part of your complete skincare regime, this copper peptide serum assures visible transformation and lasting results. Whether you are going out every day for work or still enjoying working from home, this serum can be used twice a day for visible results.
Pros
Travel-friendly
Easy application
Paraben-free
Improves natural charm
Reduces scars
Prevents skin sagging
Unscented and suitable for all skin types, Skin Perfection's copper peptide serum booster regenerates mature and aging skin. It works effectively to also minimize large pores and wrinkles, promoting a youthful glow. This natural serum also aids skin regeneration, bestowing a renewed and youthful appearance. Furthermore, it integrates effortlessly into serums, gels, lotions, creams, moisturizers, masks, or hair products, assuring a mindful addition to your skincare routine. The bonus? The 15ml bottle contains around 300 drops, enough to make 30+ skincare products at a 1% concentration. And, as one of the best copper peptides for hair growth, you can apply this serum once or twice a day for optimal results.
Pros
Unscented
Suitable for all skin types
Multifunctional
Cost-effective solution
No synthetic preservatives
Rejuvenates the skin
So now, with a better understanding of how copper peptide serums work, you're ready to start your journey to smoother skin. Through our practical knowledge, we have carefully created a list of the 10 best copper peptide serums. Just a click, and you have a newly-found best friend for your skin. Happy skincare shopping!
What is a Copper Peptide Serum?
Copper peptide serums are a skincare product that utilizes copper peptides as its main active ingredient. Copper peptides are naturally occurring complexes in our bodies that combine particles of copper with peptide molecules. They are extremely important for your skin's health. Using these serums every day may help boost collagen production, increase elasticity, and enhance wound healing. Addedly, since copper peptide can do wonders, it is used in skincare products for skin rejuvenation, anti-aging, and healing.
How to Choose the Best Copper Peptide Serum?
Choosing the best copper peptide serum requires considering several factors, such as skin type, the formula of the product, possible side effects, benefits, and price point.
Consider Your Skin Type –
When looking for the best copper peptide face cream, you have to pick the one that suits your skin type the best. People with dry skin should go for serums enriched with hydrating agents. Hyaluronic acid or glycerin may turn out to be beneficial. On the contrary, for oily or acne-prone skin, try oil-free or non-comedogenic formulations. People with sensitive skin must go for unscented serums with natural ingredients.
Know About the Formula of the Product –
A high-quality copper peptide serum should contain a sufficient amount of copper peptides to provide satisfactory benefits. Look for products where copper peptides are listed in the first few ingredients. 
Moreover, the inclusion of other advantageous ingredients like antioxidants, vitamins, and moisturizing compounds can further boost the performance of the serum.
Understand its Side Effects –
Generally, copper peptide serums are considered safe for use. However, in rare cases, they might cause minor irritation or sensitivity. So, plan a patch test before incorporating the product completely into your routine.
Think About the Benefits –
Top-tier copper peptide serums provide a plethora of benefits, including enhancing skin's elasticity, boosting collagen production, facilitating wound healing, and exhibiting anti-inflammatory actions. Regular application can improve your skin's texture, reduce fine lines, and work on scar reduction as well.
Focus on the Price Point –
The price of copper peptide serums will vary from one brand to another. The price difference depends mostly on the quality of the ingredients and the concentration of copper peptides. It's important to balance the quality and affordability of the product. Higher-priced serums often contain a higher concentration of copper peptides and other beneficial ingredients. However, there are also affordable options that deliver good results.
How to use the Best Copper Peptide Serums?
Before starting, it's essential to understand the role of a copper peptide serum in your skincare routine. Regular use of copper peptide serums may reduce fine lines and wrinkles, brighten skin's texture, and support wound healing and scar reduction. 
Based on our first hand experience, we have created a guide on how to use a copper peptide serum for the best results. Take a look – 
Choose a gentle cleanser to remove dirt, oil, and impurities.
Apply a toner or essence, whichever you prefer.
Take a few drops of your chosen copper peptide serum and apply it all over your face. Avoid the eye area.
Wait for a few moments. Let the serum get absorbed fully into your skin and start working gradually.
Apply a small amount of moisturizer to lock the serum for additional hydration.
For those applying the serum in the morning, use a sunscreen that will safeguard your skin from harmful UV rays.
To achieve the best results with a copper peptide serum, it's typically recommended to use it once or twice a day consistently for a long time. Regular, proper application of your copper peptide serum will pave the way for healthier and younger-looking skin. 
Healthy skin is your right, and these 10 best copper peptide serums are here to claim their throne. Whether you desire to rewind time or just add extra elasticity, they're your loyal knights in shining armor. Embark on your journey towards radiant skin, embracing the rejuvenating power of copper peptides. Let the whispers of wrinkles and sagging be silenced, and let your skin speak volumes about your inner vibrancy. 
Now, without further ado, pick your potion, indulge in the skincare ritual, and let your youthful glow be the timeless tale everyone foretells. Just a little reminder! Always keep in mind that skin improvements take time; hence, don't expect overnight results. You have to maintain a routine and patiently allow the serum to gradually improve your skin's health and appearance. So, here's to healthier and happier skin, courtesy of copper peptide serums!
Author BIO
Anoushka is certified in Professional Skincare and is a Mass Media (Journalism) graduate from Mumbai University. As a More
FAQ's
Can I use copper peptide serums every day?
Yes, you can use copper peptide serums every day. It's usually recommended to use it in your skincare regime, either in the morning or at night.
What can you layer with a copper peptide serum?
Copper peptide serums can be layered with moisturizers, sunscreens, or hyaluronic acid-based products. Always apply the serum before thicker creams or lotions to enhance absorption.
Should copper peptide serums be refrigerated?
Copper peptide serums don't necessarily require refrigeration but storing them in a cool, dark place helps to maintain their effectiveness and prolong shelf life.
What should you not mix with copper peptides?
Avoid mixing copper peptides with vitamin C or any other direct acids like glycolic, lactic, or salicylic acid. They can make the copper peptide-based solutions less effective and may potentially cause skin irritation.
Why Trust select
Anoushka, the budding journalist, is also our in-house expert. The certified beauty expert has done complete research and studies to curate this list of the best copper peptide serums that are key to attaining youthful skin. 
Our product experts study the specifications of every product we suggest and try them out to bring what's proven to be worthy of your money, time, and energy. We also have subject matter experts from various fields like Fashion, Skincare, Haircare, Home Decor, and Health & Fitness onboard to make sure our suggestions are credible and trustworthy. You can trust select to be your faithful shopping guide for all the right reasons!