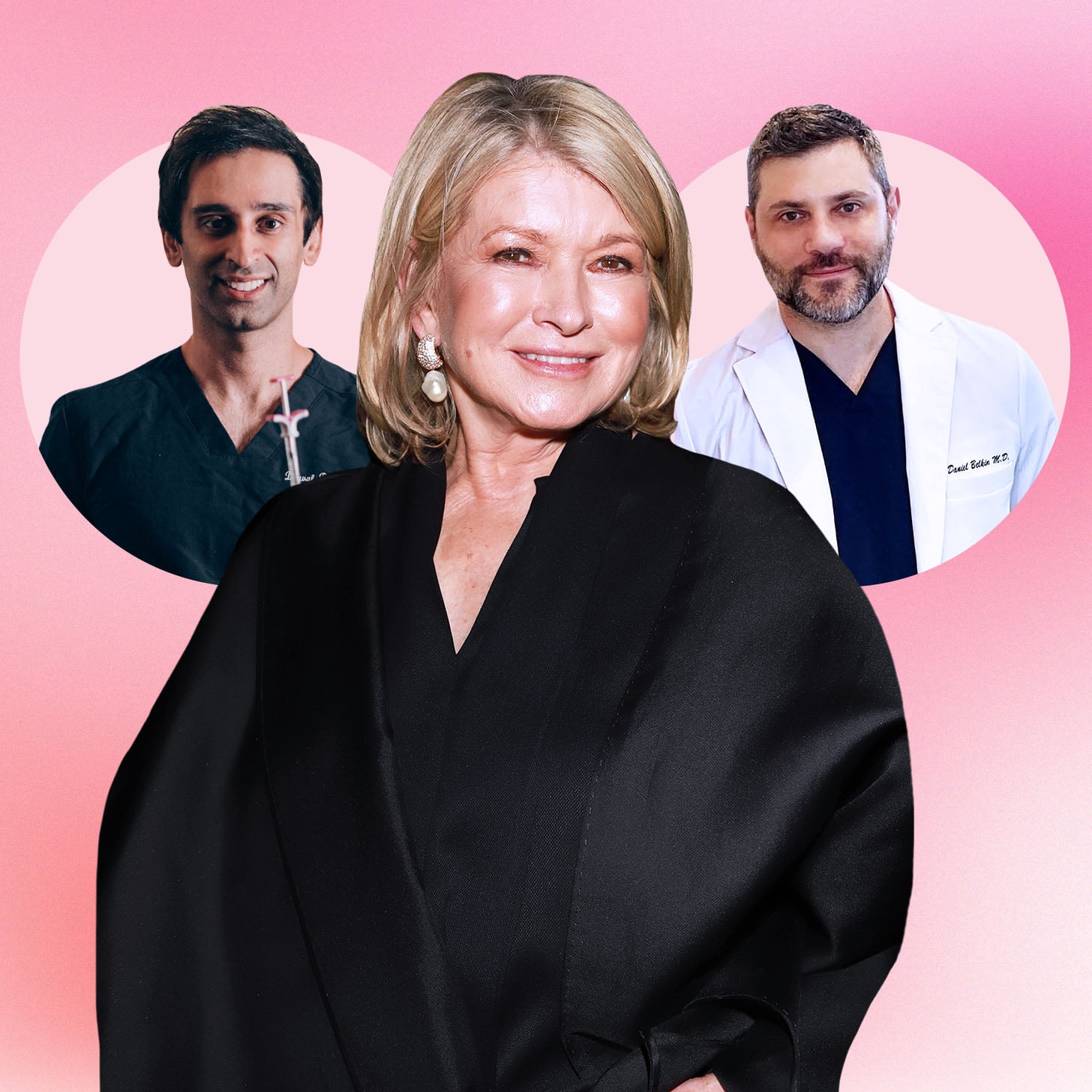 Image Source: Getty / Arnold Turner, Stringer; Dhaval Bhanusali / Dan Belkin; and Photo Illustration by Ava Cruz
Earlier this month, Martha Stewart made history by gracing the cover of Sports Illustrated's latest Swimsuit Issue, making her the magazine's oldest cover star at 81. The images of Stewart lounging in the sand were met with endless praise, followed by the question: what the hell is the secret to her amazing skin?
In an interview with Variety shortly after the cover's debut, the star made it clear that, despite what many people speculate, she's never had plastic surgery and what she has done by way of cosmetic procedures isn't much. It's aspirational, to say the least, but we want to know more.
There's no one correct answer for any skin-care goal or concern, but if there's anyone we trust to share some general guidelines to live by, it's Stewart's dermatologists, Dan Belkin, MD, and Dhaval G. Bhanusali, MD. Ahead, they share some of their secrets to looking good now — and decades from now.
Tip 1: Lifestyle Matters
Before we dive into the skin-care dos and don'ts, Dr. Belkin and Dr. Bhanusali want to make one thing clear: it's not just skin deep. "I have to always get the elephant out of the room with somebody like Martha: she's literally the healthiest human being I've ever met," Dr. Bhanusali tells POPSUGAR. "She grows her food on her farm, she gets up every morning and has the best green juice on Earth. I've had it before — it's incredible."
Nobody's perfect, of course, but there are things you should try to steer clear of if you're concerned about your skin's long-term health. "We all know that cigarette smoking and excessive sun exposure vastly accelerate the loss of elasticity and skin aging, not to mention that they are known carcinogens," Dr. Belkin says.
Overall health is closely linked to skin health, but that's not all — Stewart is also happy. "That inner glow — I know it sounds super cliché, but it's honest, and you see it with people all the time," Dr. Bhanusali says.
Tip 2: Consistency Is Key
Consistency matters — in fitness, in diet, and in your skin's overall health. If you want to stay on top of things and have the best skin of your life, Dr. Bhanusali recommends getting into a regimented schedule. This goes for your skin-care routine, but also extras. "If you're going to do an [annual] laser, which I always recommend after the age of 30, get it in your calendar and don't stray too far, too fast away from it," he says. He recommends you set it and forget it — just like your six-month dental cleaning or yearly physical. "We want to keep it steady."
Tip 3: Minimalist Approaches Work
Both doctors live by the philosophy that less is more. "Diagnosis should guide treatment," Dr. Belkin says. "Every time I see someone I constantly re-evaluate the problem I am attempting to improve, even if the 'problem' is simply prevention." This ensures you're not overdoing it, or doing too much of the wrong thing. "There's no reason to do filler or laser or tightening just for the sake of doing it," he says.
When referring to tiny cosmetic tweaks that can make all the difference in the long run, Dr. Bhanusali says, "I like little subtle movements — we always start with the noninvasive, lowest-hanging fruit, and then we work our way up as necessary." With all of his patients, his goal is to maintain. "I don't like making people look like something they're not."
Tip 4: It's OK to Change Your Treatment Plan
There's a popular misconception that once you start doing something to your face, you're locked in for life, but whether you're talking about Botox, filler, lasers, or a topical, that simply isn't true. "In fact, even after a treatment of Botox has worn off, you will still be better off than you were before, because of the months you spent not making those wrinkles and in some cases, even retraining the muscles of the face," Dr. Belkin says.
Tip 5: Retinol Reigns Supreme
Retinol is a holy-grail skin-care ingredient, and Dr. Bhanusali thinks everyone should be on it (as long as your skin can tolerate it, of course). "A lot of people really sleep on retinoids and how much they can really do," Dr. Bhanusali says. If he could go back in time and change one thing, he'd have started using retinol in college. If you have acne, it can be helpful to go on some form of it as early as your late teens, but especially by the time you're in your 20s, he recommends everyone use it for cellular turnover. "There's a lot of things that retinoids can help with."
Tip 6: After 30, Consider Lasers
If your 20s are for starting retinol, your 30s (and onward) are for incorporating lasers once a year. "We are playing the long game," Dr. Belkin says. There are a variety of lasers out there that target different things. Some personal favorites of the doctors for the average person 30 and over include Halo and Fraxel (a staple in many dermatology offices). They create tiny micro holes in the skin, triggering cellular turnover and new tissue to grow. "Nonablative resurfacing has been shown to reduce precancerous changes associated with sun damage," Dr. Belkin adds.
If you're younger, like in your 20s, a milder alternative that Dr. Bhanusali likes is Clear + Brilliant, which is great for acne marks and discoloration. "I look at lasers as a fresh coat of paint, if you will," Dr. Bhanusali says. "Once or twice a year, give yourself a fresh layer of skin — it just sits well, it's tighter, it looks better, and it's healthier."
Tip 7: Choose the SPF You Want to Use
Repeat after us: SPF is needed daily, rain or shine, inside or outside. It's your number-one defense against premature signs of aging and skin cancer. That said, anything is better than nothing, but if you're going to be a sunscreen highbrow (which we, for the record, totally support), Dr. Belkin is partial to tinted formulas. "Tinted sunscreen usually has iron oxide as one of its blockers, which effectively blocks UVA and even visible light — both of which can contribute to facial aging and hyperpigmentation."
Tip 8: Skip the Dupes
Don't get us wrong: we love discovering a good dupe and saving a little cash where we can as much as the next person (and so does Dr. Bhanusali), but he recommends keeping quality top of mind. "Most people don't realize, not all ingredients are made the same," he says. Using a vitamin C serum as an example, he explains that a cheaper formulation might only "last three minutes outside of the bottle, and the higher-quality ones, there's a reason why they're a bit more expensive. It's really hard to stabilize that ingredient." Quality matters.
Tip 9: Stop Overexfoliating
If there's one thing Dr. Bhanusali wished people would stop doing, it's overexfoliating, which leads to a compromised skin barrier. "People should really nurture their skin," he says. "[Most] people only need to exfoliate once, maybe twice a week, if that." It all goes back to overdoing it. Just remember, with skin, less is usually more.