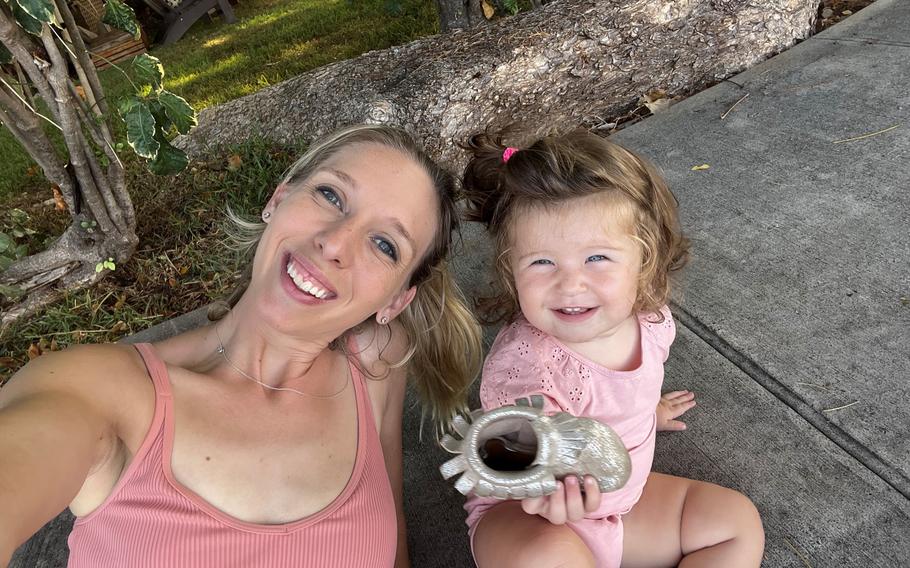 Two women will be arraigned in a Honolulu courtroom Tuesday on charges that they pinched, slapped, shoved, squeezed and smothered a 15-month-old child in their care at Joint Base Pearl Harbor-Hickam, according to online court records and the child's parents.
Bella Kuykendall was harmed over three days in August when she attended the Navy's Ford Island Child Development Center on the Hawaii base where the women worked as caregivers. The charges are specifically for abuse that occurred Aug. 24, according to court documents.
Army Capt. JD Kuykendall said his wife Kate Kuykendall immediately noticed bruising on the girl's legs and an uncommon redness on her cheeks. The toddler's demeanor had also changed, and they knew something was not right.
"These women were so comfortable with what they were doing to her," Kate Kuykendall said.
Base officials said they reviewed footage Aug. 26 — the same day that Kate Kuykendall informed the director of the day care of her concerns — and then investigated the allegations of child abuse.
However, the Kuykendalls said their concerns were downplayed.
Base officials have declined to say whether the women were fired or disciplined, or how long they might have continued to work with children after the allegations were made. Base officials also declined to say whether they found any internal failures led to the child abuse.
"[Joint Base Pearl Harbor-Hickam] has taken measures, in coordination with [human resources] and labor relations and in accordance with Navy policy, to maintain the safety of the children and initiate any prescribed personnel and corrective actions. However, we are not at liberty to discuss specific personnel actions or decisions," base officials said in a statement.
Using the Freedom of Information Act, JD Kuykendall was able in December to review the video recordings from the classroom and saw happened to his daughter.
He said the video showed that three child care workers pulled Bella's hair, pinched her inner thighs and shoved her. A worker rolled the toddler tightly into a blanket and placed her face down. Unable to free her own arms or legs, the girl cried and struggled for nine minutes. In other instances, the workers shoved Bella's face into a cot, hit her in the back and covered her face with the blanket, Kuykendall said.
Two of the child care workers, Analyn DeGuzman and Marilyn Kanekoa, are each charged with assault in the third degree, a misdemeanor, which is punishable with up to one year in jail and a $2,000 fine, according to the Department of the Prosecuting Attorney for Honolulu.
DeGuzman did not have an attorney listed online, and one listed for Kanekoa did not respond to a request for comment.
A third woman who worked at the child care facility and was seen on video abusing the girl is not facing charges. Kuykendall said the video captured another child being repeatedly pushed to the ground, but he does not know what the Navy did in response. The civilian charges only identify Bella as a victim.
The Family Advocacy Program, the military agency that prevents and responds to instances of child abuse, determined the case did involve child maltreatment, base officials said. Even with this determination, which happened in September, not much was done, the Kuykendalls said.
After Thanksgiving, the parents said the day care sent a letter home to all parents that briefly described an incident of abuse had occurred at the facility.
JD Kuykendall said he believes what led to charges against the women was an email that he sent to the inspector general of the Naval Criminal Investigative Service, or NCIS, that detailed the women's actions based on his own review of the video.
NCIS agents reviewed it and sent it to the Honolulu police, JD Kuykendall said. Charges were filed against the two women in May.
Base officials also did not answer questions about other possible victims or other employees acting inappropriately, citing the ongoing civilian investigation.
"Employees suspected of child maltreatment are immediately removed from the classroom pending the Incident Determination Process. Letters are sent to the parents at the end of that process in cases where maltreatment is substantiated," base officials said.
The Navy doesn't maintain records of civilian criminal charges against its civilian employees, said Destiny Sibert, spokeswoman for Navy Installation Command Headquarters. Therefore, she could not provide information on how often situations such as this occur.
"However, instances of abusive behavior among [child development center] staff are extremely rare," she said. "Navy Child and Youth Programs' top priority is ensuring the safety and well-being of children entrusted to their care."
A similar situation did occur within the last year at a Marine Corps base in Arizona.
Two women working at a day care at Marine Corps Air Station Yuma faced civilian felony charges for abusing children in their care. Both pleaded guilty and await sentencing, according to online court records.
The Marines Corps said in April that this is the service's only case where a former employee was charged and later convicted of child abuse or endangerment in civilian court.
Kate Kuykendall initially put Bella and her older sister, who is 4 years old, into the Ford Island day care because she was hired as a special education teacher. After the abuse, she tried to move Bella to a different day care on base but couldn't shake her mistrust of the system and quit to stay home with the girls.
"I have a lot of guilt," Kate Kuykendall said. "I just want to trust somebody to watch my kid."