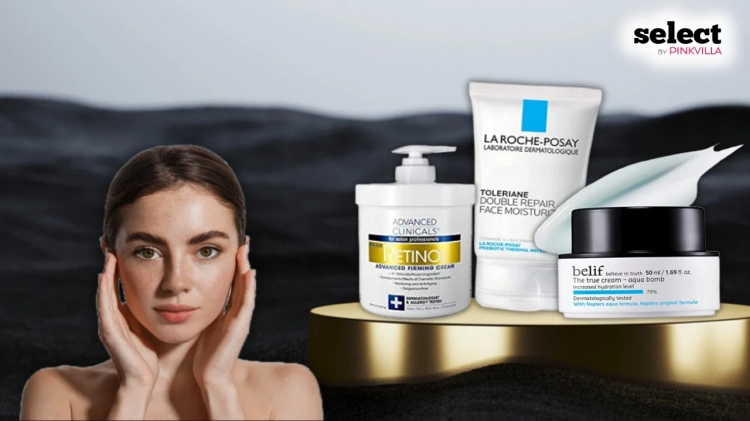 The products curated for this article are independently chosen by the
editorial team. If you make a purchase through the
links
mentioned below, we may receive a commission. Check out our
product
research & curation process
A good skincare regime is all we need to have flawless skin. But this isn't easy as it looks. You may have been using topical medications like tretinoin or retinol for various skin issues. The problem is these can lead to fluctuations in the natural state of your skin. As a result, the most common symptom we see is dryness (1). Although tretinoin and retinol can effectively treat acne, scars, fine lines, etc., they can absorb your skin's moisture and cause flakiness, especially tretinoin as it is the most concentrated and synthetic form of retinol. This is why you need the best moisturizer to use with tretinoin cream to help you restore lost moisture. 
Based on our observations, a quality hydrating moisturizer in combination with sufficient amounts of tretinoin is the key to balancing the effects of both. While moisturizers can hydrate your skin, tretinoin can reduce hyperpigmentation, acne, and pimples. 
As per our expertise, we've enlisted some effective moisturizers you can use with tretinoin to combat skin issues without drying it out. But before that let's first know more about tretinoin creams. 
What Is Tretinoin Cream?
Tretinoin is a topical form of vitamin A that has anti-inflammatory properties to treat acne (1). It also works as a chemical exfoliator to remove dead skin and rejuvenate new cells. But many times, most people try using tretinoin cream without any prescription. This can cause severe skin problems such as dryness, burning, and redness, and may worsen the situation. So, it's better to use it as per your doctor's recommendation. Your healthcare provider can also suggest that you get yourself a good moisturizer to use with tretinoin cream to control flakiness and increase moisture retention. 
Our top picks
Best Anti-aging Formulation
11 Best Moisturizers to Use With Tretinoin Cream to Combat Dryness
The CeraVe night lotion is made with 3 essential ceramides, which can help maintain your skin's natural barrier and reduce irritation (2). It also incorporates hyaluronic acid and niacinamide that retains skin moisture and delivers optimum hydration throughout the night (3). It's a clinically tested moisturizer recommended for oily, sensitive, dry, and acne-prone skin. 
Pros
Non-comedogenic
Allergy tested
Paraben-free
Oil-free
Unscented
When it comes to managing flakiness for all skin types, this belif cream can be a great product to consider. With active ingredients such as ceramide and glycerin, it can help you get calm and radiant skin (2), (4). It's infused with bioactive components such as squalene and lady's mantle that control sebum and maintain skin moisture levels. It works like magic and absorbs quickly within a few seconds. Besides, it's clinically tested to enhance hydration up to 70% and promises an improved moisture barrier within 7 days. 
Pros
Reduce dullness
Lightweight
No greasiness
Beautiful smell
The La Roche-Posay Toleriane double repair moisturizer is one of the most reliable options you can apply to balance tretinoin effects. The dermatologically tested formula repairs your skin barrier and provides a 48-hour moisture lock, all thanks to its active components — prebiotics, ceramide, and glycerin. Moreover, its oil-free, non-comedogenic formulation hydrates and restores healthy-looking skin. Our analysis of the product revealed that it works well on sensitive skin. 
Pros
Decrease peeling
Paraben-free
Allergy-tested
Fragrance-free
Reduces skin discoloration
Cons
Might have packaging defects
Nothing could be better than a multi-purpose formula that not only fights acne but reduces aging symptoms too. This Advanced Clinicals product is a dual-function cream that diminishes deep wrinkles, fine lines, saggy skin, and other signs of aging skin while combating acne. It's composed of organic compounds, including chamomile, aloe vera, green tea, and glycerin, that work together to make the skin firm. With age, our skin loses elasticity and moisture, but this blend promotes collagen production to deliver perfectly radiant and youthful skin. 
Pros
No alcohol
No animal products
Sulfate-free
Long-lasting
Easy to use
Neutrogena and tretinoin can be your best friends to deal with dullness, wrinkles, acne, dark spots, and numerous other dermal issues. Formulated with retinol and avobenzone, homosalate, and other SPF components, the Neutrogena face moisturizer is clinically proven to provide clear skin in 1 week and reduce dark spots and fine lines in just 4 weeks (5), (6). Besides, it protects the skin from sun damage and prevents sunburn. Not just that, it features a combination of retinol and hyaluronic acid that add plumpness to the skin by restoring its natural moisture. 
Pros
Brighten's skin tone
Visible results in 1 week
No mineral oils
Zero parabens
The 1.7oz tub of anti-aging moisturizer by Nature Theory is the complete skincare regime that you need. The cream is crafted with pure anti-oxidant-rich ingredients and is suited for all skin types. It features hyaluronic acid, hydrolyzed marine collagen, retinol, and vitamin E as the base components which enhance collagen production and improve overall skin health. The anti-aging face moisturizer supports cell renewal and restores the skin's natural water balance to provide lustrous and youthful skin. Thus, this a great moisturizer to use with tretinoin cream to have a natural glow. 
Pros
Non-greasy
Hydrates dry skin
Absorbs quickly
Smoothen pores
This cream is specifically made for neck and décolleté. For those who are frustrated with a saggy neck and double chin, this Kleem Organic product is the ultimate solution. It's a perfect fusion of organic components- retinol, vitamins, and collagen that tightens neck skin, decreases wrinkles, and lifts the jawline. In addition, the cream eliminates signs of aging and nourishes skin cells resulting in a firmer, younger, and more attractive neck. Our research indicates that applying this blend twice a day with gentle massages derives faster and more effective results. 
Pros
Penetrates quickly
GMO-free
Allergy tested
No artificial colors
Cruelty-free
Bless your skin with LilyAna Naturals cream after a long tiring day. This lightweight formula is filled with the goodness of botanicals like green tea, jojoba oil, shea butter, etc., that feed your dermis and add moisture. It's a balanced blend of wrinkle-fighting and anti-aging activities. Use it twice a day to reveal your original complexion and have naturally alluring skin. Furthermore, the vitamin A-containing cream minimizes acne scars, redness, and uneven skin texture and tone, so you can appreciate your true beauty. 
Pros
Zero residue
Smooth texture
Minimize sun spots
Non-comedogenic
Cons
May cause breakouts (dermatologist's recommendation needed)
Sagginess, aging, wrinkles, spots, and other skin disorders are our skin's inevitable enemies. But the Medix 5.5 Retinol Body Lotion can solve our skin problems. This lotion is a scientific blend of plant extracts like ferulic acid with vitamin E, green tea, chamomile, retinol, etc., that decreases visible redness and irritation and increases luminosity and plumpness (7). Also, the mixture defends your skin against environmental stress factors like pollution that cause acne, pore-clogging, blackheads, etc. 
Pros
Clinically tested
Softens skin texture
Age reversing formula
Non-irritating
Antioxidant-rich
This Bella Beauty product is one of a kind formula that possesses 2.5% active retinol with green tea, hyaluronic acid, vitamin E, and other organic compounds that decrease hyperpigmentation and wrinkles. It allows the skin to regain its elasticity that may have been reduced due to dermal diseases, UV exposure, or bad lifestyle habits. Besides, the blend is rich in antioxidants and activates collagen to minimize fine lines and boost skin tone. With improved skin firmness and zero pigmentation, you can feel confident all day long.
Pros
All-natural
Cruelty-free
Vegan
For all skin types
The retinol cream works at the molecular level to deeply treat skin cells and show better results. The 3.5 Fl Oz bottle is an effective treatment for pimples, cysts, blackheads, breakouts, and aging signs. Enriched with retinol, peptides, vitamins, etc., this face cream acts as a skin rejuvenator and wrinkle filler, especially in the forehead, face, and under-eye areas. It's also an exfoliator that gently resurfaces dull skin and fastens skin turnover. Use it consistently to get desired results.
Pros
Rose smell
Vegan-friendly
GMP Certified
Fades age spots
Cons
Might not be suitable for hypersensitive skin
Now that you've gone through our recommendations for the best moisturizers to use with tretinoin cream, we suggest you check our buying guide for a better understanding before picking one. 
How to Pick the Best Moisturizer to Use With Tretinoin Cream?
For this, go through the factors below:
Ditch moisturizers with harsh chemicals, sulfates, parabens, benzoyl peroxide, salicylic acid, etc. Use gentle moisturizers with ingredients like ceramides, glycerin, botanicals, etc. 
Allergy-tested formulations 
It's good to pick allergy-tested or hypoallergenic formulations to prevent reactions, especially when you have sensitive skin. For acne-prone skin, the formula should also be non-comedogenic so it doesn't cause breakouts. 
As you're a tretinoin user, your skin is sensitive to sun exposure and UV radiation. So choose one with suitable SPF levels. 
Professional Recommendation
Never hesitate to consult your doctor in case of doubts. This will reduce the chances of causing side effects. 
Now that you've understood how to choose the best moisturizer to use with tretinoin cream, let's know how to apply one. 
How to Use Moisturizer with Tretinoin Cream?
Using a moisturizer to use with tretinoin is a 3-step process. 
Apply the cream and wait for at least 20-30 minutes. 
Apply the moisturizer in a specific quantity as recommended by your doctor. 
Let it set properly, and wipe it off with a gentle cleanser after a few hours. 
Tretinoin exhibits numerous skin benefits right from treating acne to repairing sun-damaged skin. But it can induce dryness and flakiness if not used accurately. However, moisturizers always come in handy to neutralize the "dryness effect" of tretinoin. But this doesn't mean you can use any moisturizer that isn't relevant to your skincare goals. Doing so can only cause problems. Thus, you must check for the factors like ingredients, allergy severity, etc., before buying or applying a moisturizer with tretinoin cream. And do consider an expert's recommendation in case of any doubts or complications. 
Sources 
1. Tretinoin
https://www.ncbi.nlm.nih.gov/books/NBK557478/
2. Ceramides and skin function
https://pubmed.ncbi.nlm.nih.gov/12553851/
3. Efficacy Evaluation of a Topical Hyaluronic Acid Serum in Facial Photoaging
https://link.springer.com/article/10.1007/s13555-021-00566-0
4. Glycerol Improves Skin Lesion Development in the Imiquimod Mouse Model of Psoriasis: Experimental Confirmation of Anecdotal Reports from Patients with Psoriasis
https://www.ncbi.nlm.nih.gov/pmc/articles/PMC8395744/
5. Avobenzone
https://www.sciencedirect.com/topics/pharmacology-toxicology-and-pharmaceutical-science/avobenzone
6. Homosalate
https://www.sciencedirect.com/topics/medicine-and-dentistry/homosalate
7. Ferulic Acid: Therapeutic Potential Through Its Antioxidant Property
https://www.ncbi.nlm.nih.gov/pmc/articles/PMC2127228/
Author BIO
Sayantani is a certified hair and makeup professional turned writer with 2+ years of experience in the same genre. Ap More
FAQ's
What to avoid when using tretinoin?
During the initial 6 months, avoid exposure to extreme wind, sunlight, or cold weather. Your skin may experience dryness, irritation, or sunburn for the first 2 or 3 weeks, but you can support the treatment with a nourishing moisturizer.
Why Trust select
Our product experts study the specifications of every product we suggest and try them out to bring what's proven to be worthy of your money, time, and energy. We also have subject matter experts from various fields like Fashion, Skincare, Haircare, Home Decor, and Health & Fitness onboard to make sure our suggestions are credible and trustworthy. You can trust select to be your faithful shopping guide for all the right reasons!